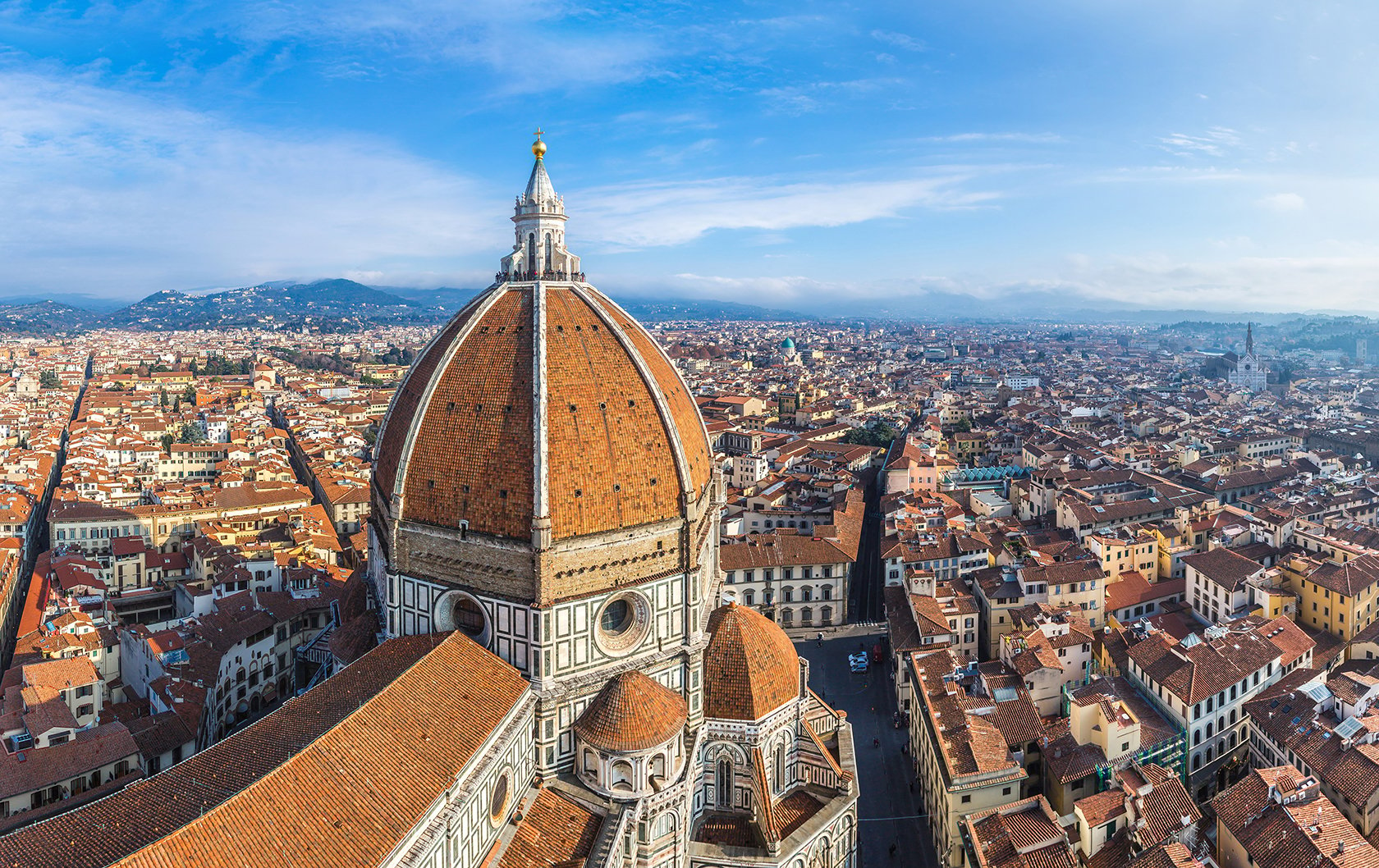 As one of Italy's top travel destinations, Florence is a city so rich with history and charm that it can be a challenge to know where to start. We've created this guide to help you plan a perfect week that includes all the top museums and sights, best gastronomic experiences, beautiful walks and perfect day trips in Tuscany. We've also included our favorite hidden gems and a variety of options and ideas if you're planning a return trip or already know and love Florence. Check it out and then contact our team to help you find that perfect vacation apartment rental in Florence!
Day 1: Discovering the Historic Heart of Florence
Whether it's your first visit or you've been traveling to Florence for years, there's something special about stepping into Piazza di San Giovanni and coming face to face with the Santa Maria del Fiore Cathedral. You can often catch a glimpse of its geometric white, green and pink marble design while approaching along the narrow side streets. But when it's there in front of you, especially looking up at Brunelleschi's dome, it's hard to pull your eyes away. Start your visit with a stroll around the cathedral, also called the Duomo, and then visit inside to stand under the massive dome that is decorated with 16th-century frescoes by Giorgio Vasari and Federico Zuccari. If you have a head for heights and don't mind a lot of steps, you can climb up to the top of Brunelleschi's dome or the 278-foot tall bell tower.
Just opposite the entrance to the Duomo you'll spot the stand alone octagonal Baptistery, which is one of the oldest buildings in Florence. It was built between 1059 and 1128 in the Florentine Romanesque style, which greatly influenced the later Renaissance style you'll see around Florence. Don't miss the sets of bronze doors with carved relief panels. The doors on the east side closest to the Duomo by Lorenzo Ghiberti are so beautiful that Michelangelo called them the "Gates of Paradise." You can learn more about the Duomo in the fascinating Museo dell'Opera del Duomo located behind the cathedral.
The area around the Duomo is fun for shopping and exploring. It's rich with historical sights like the 14th-century church Orsanmichele, one of our favorite hidden gems in Florence.
Day 2: Renaissance Masterpieces & Santa Croce
Home to one of the greatest collections of art in the world, the Uffizi Gallery is a must while you're in Florence. Don't lose any time waiting in line by booking an Uffizi Gallery Priority Pass or, even better, an Uffizi Gallery Guided Tour with Skip-the-Line Ticket to be led through the collection by an experienced guide. However you choose to visit, you'll have the chance to see firsthand some of the most important masterpieces by artists such as Giotto, Botticelli, Leonardo, Michelangelo, Caravaggio and many more. Be sure to pace yourself and afterwords stroll over to beautiful Piazza della Signoria where you'll find the Palazzo Vecchio, Florence's town hall, and many beautiful statues, including a copy of Michelangelo's David.
In the afternoon, meander over to the Santa Croce neighborhood to visit the Basilica of Santa Croce, which is full of artistic and architectural treasures. Check out our Santa Croce guide for tips on what to see and do, where to shop and the best restaurants.
Day 3: Gastronomic Delights in Florence
Savoring delicious Tuscan fare is something you'll enjoy every day in Florence. Not sure where to start? For the tastiest experience, head out on a Taste of Florence Food Tour or a Florence Private Food Tour. Want to learn more about Italian wines while in Italy? Discover local wines and pairings on this 3-hour Florence Tuscan Wine Private Tour. If you're like us and fall in love with all the delicious pizza and Tuscan dishes you'll enjoy while dining out, then consider spending some time learning how to recreate those specialties at home. Learn how to make your own Italian Homemade Pasta, have fun with the the always popular Pizza and Gelato Cooking Class, or enjoy a Four Course Lunch Cooking Class or a Florentine Dinner Cooking Class.
Day 4: Beautiful Gardens & Florence Views
Florence is beautiful from every angle, but one of the loveliest spots by far is the view overlooking the city from Piazzale Michelangelo. Follow our self-guided Florence Walking Tour from the Ponte Vecchio past a 14th-century entrance tower to Florence, through a rose garden and up to Piazzale Michelangelo for a stunning view. Spend more time in the area by climbing a little further up to the beautiful San Miniato al Monte Basilica. On the way up or back down, spend time visiting the Museo Stefano Bardini and Bardini Gardens or head back across the Arno to visit the remarkable Bargello Museum to see masterpieces of the Renaissance, like Donatello's David, in a historic building that is almost as beautiful as the art on display.
Day 5: A Day with the Medici
One name you'll hear a lot of in Florence is Medici and that's because this wealthy and powerful family ruled Florence during the Renaissance and were patrons to the most influential and important artists of the day. Get to know more about them on the Florence Medici Private Tour that takes you from artistic treasures in their family church to the Palazzo Medici-Riccardi and the Medici Chapel in the San Lorenzo church. After the tour, head across the Arno to the Oltrarno neighborhood to visit the Palazzo Pitti which was the Medici family's lavish home. Then skip the line to the Boboli Gardens and imagine the life the Medici's lived with these as their private gardens in the heart of Florence.
The Pitti Palace and Boboli Gardens are just the beginning of the treasures you can discover in the Oltrarno. Check out our guide to the stylish and fun Oltrarno neighborhood for more ideas!
Day 6: Best of Tuscany Day Trip
Florence is so well situated for exploring Tuscany and top destinations across Italy. If you'd like spend more time exploring and less time in museums, enjoy easy day trips to Siena, the Cinque Terre, Bologna and even Venice. Wine enthusiasts will want to head out on day trips to the best wineries in Tuscany while during the summer months there are beautiful beach day trips from Florence, too.
Have limited time and want to see the top sights in Tuscany on a worry-free day? On our recommended Best of Tuscany Day Trip you'll visit the historic center of Siena and see its magnificent cathedral and then enjoy a traditional Tuscan lunch and wine tasting at a Chianti vineyard followed by time spent in the famous hilltop town of San Gimignano and finish the day with a visit to Pisa. You'll return to Florence having experienced the beauty and unforgettable flavors of Tuscany!
Day 7: Seeing David & Shopping in Style
Although you'll surely spot the famous David statue in front of the Palazzo Vecchio in Piazza della Signoria, that isn't the original statue carved by Michelangelo. To see that you'll want to visit the Galleria dell' Accademia, which is just a short stroll north from the Duomo. Of course, you won't be the only one eager to see this masterpiece, so save time by booking the Accademia Gallery skip the line tour to avoid waiting in a long queue. While the David is certainly a show stopper, you'll also see other important works by Michelangelo as well as 15th-century paintings by Botticelli, Ghirlandaio, Uccello and more.
Spend a leisurely afternoon strolling over toward Santa Maria Novella church, where you can stop to see an impressive crucifix by Giotto and works by Botticelli, Masaccio and more. Around the corner, visit the Officina Profumo-Farmaceutica di Santa Maria Novella — the world's oldest pharmacy — which is a great spot to pick out special gifts to take back home. Spend the afternoon shopping along elegant Via dè Tornabuoni or the smaller side streets. Or head to the Museo Salvatore Ferragamo to learn more about Florence's fashion history.
Ready to book your perfect week in Italy? Check out our Florence vacation apartment rentals and contact our team for assistance booking your stay!