Get the most out of a day in Venice. It is a small city with many attractions, so we've put together 5 travel tips for vacationers staying in Florence. Some of these tips save you time, some save you money and all of them come from our years of experience in Italy tourism.
1.) Florence to Venice by train.
Book the the 8:30 or 9:30am train from Santa Maria Novella station to Venice Santa Lucia. No packing, hauling luggage or waiting in line. A day trip can also be more economical than staying in a Venice hotel for one night.
While waiting at the Florence train station stop at a cafe in the station and pick up some fresh cornetti (sweet croissants) or a pannino (sandwich), a couple of bottles or water. Don't fill up too much, save room for a nice lunch Venetian-style. Board the train, sit back, relax and enjoy scenery during the pleasant 2-hour ride.
Return in the evening "back home" to your Florence vacation apartment. Evening trains are at 7:30 and 9:30pm;
Pre-Book your round trip tickets up to 60 days in advance. Be sure to choose a non-stop train, you can tell by the travel duration time which should be about 2 hours, 5 minutes.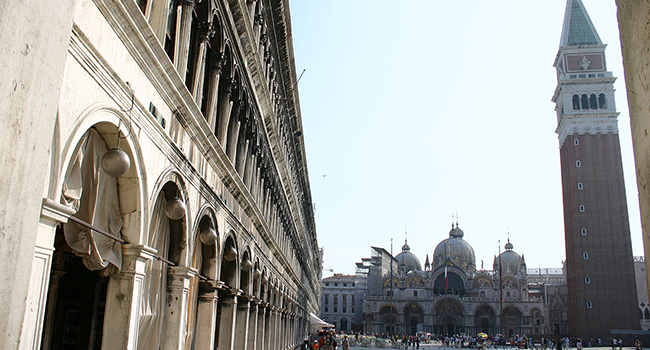 2.) Skip the Line at Piazza San Marco, The Basilica and the Doge's Palace.
These are the most popular and possibly most beautiful destinations in Venice. Go straight here to enjoy the grand open space before the mid-day crowds. Hop on the #1 Vaporetto (water bus) for a tour of the Grand Canal, to disembark at San Marco. We highly recommend booking a Skip the Line tours for all of our guests embarking on a day-trip to Venice. Getting the most out of a day-trip can feel like a lot of pressure when you're waiting behind tours groups after a train ride, but with Skip the Line tours you get to jump the line and into the exhibition with a lively, engaging and knowledgeable tour guide. The tours can involve a lot of walking, so book one in the morning while your legs are still fresh.
Skip the line to Saint Marks Basilica or The Doge's Palace!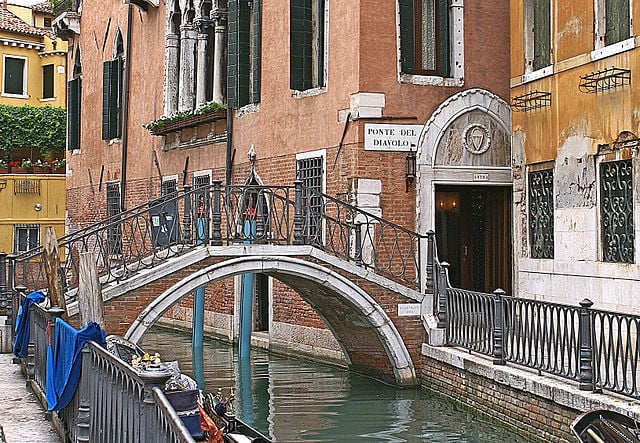 3.) The Cannareggio neighborhood of Venice has many fine restaurants. The area along the Grand Canal is bustling with tourists, while the the side streets are quiet and fun to explore.
Time to rest your legs and enjoy a lunch of classic Venetian maritime cuisine at one of our personally vetted restaurants in Cannaregio. These three restaurants are just a small fraction of our personally tested and approved list of Venice's finest restaurants and cafes.
Vini da Gigio Fondamenta S. Felice 3628 – Until a few years ago most of the customers at this popular, family-run wine bar-trattoria were locals; it's now on the tourist map yet it retains its authenticity and is still, by Venetian standards, excellent value, even if prices have crept up in recent years. As the name suggests, the wine list is remarkable. Closed Mondays.
Da Rioba Fondamenta della Misericordia 2553 – This smartly austere osteria is another excellent northern Cannaregio eatery; often full to bursting, especially in summer, when tables are set beside the canal, but the management always keeps the atmosphere relaxed. Closed Mondays.
Da Alvise Cannaregio 5045 / A – Fish and pizza; in summer, tables outside on a terrace built in the water.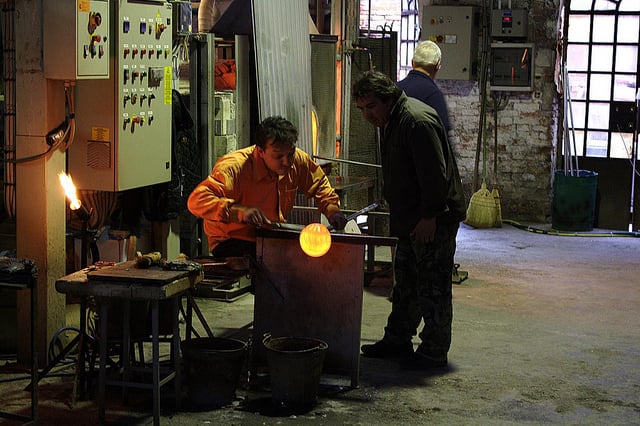 4.) Authentic Venice Culture: Glass and Gondolas
Venice has been home to the world's finest glass blowers since the height of their empire during the Renaissance when their glass formulations were closely guarded secrets. The island of Murano, Venice's glass blowing district, is an enchanting stop because of the multitude of fine shops and glass studios, many of which have live glass-blowing demonstrations through-out the day. Watch out for the signs by the studios telling when the next demonstration starts. Catch the #7 Vaporetto from San Marco to Murano and back, it runs frequently during the day.
For couples or those looking for a low-key activity: Enjoy Venice in luxury from a gondola. The handsome gondoliers in their striped shirts and hats are as much of a historic attraction as the Basilica. They've been singing traditional Italian songs and pushing along the canals as long as Venice has existed. A gondola ride is the epitome of Venetian romance, find the right gondolier for you, you can't miss them standing at their stations. The price is €80 to €100 Euros and they will sing for extra, but this is a once in a lifetime opportunity so we say "Andiamo!" (Let's Go!)
5.) Getting around, saving time and money. Take a vaporetto.
Getting the most out of a day-trip is as much about saving time as anything. That's why even though Venice is a very walkable city, unless one is disabled or carrying luggage, we still tell all of our guests to consider taking a vaporetto (water bus) to and from the train station, getting you into San Marco fast for your morning adventure. And then on the way back to the train station after a long day and a light dinner at a small café.
A day pass is €20 Euro while a single one-way ticket is €7 Euros. So if you're planning on using the vaporetto to get to and from Murano as well as any other trip, arriving or departing, then we recommend you buy the day-pass and spend less time and money at the ticket counter.
Suggested itinerary:
Take the morning train from Florence's Santa Maria Novella station to Venice Santa Lucia station (don't get off at Venice Mestre station!). Trains leave at 8:30 and 9:30am. Pre-book here.
Get straight into Piazza San Marco on the #1 vaporetto.
Tour the Basilica San Marco or the Doge's Palace. Skip the Line and save time!
Lunch in one of Venice's fine restaurants.
An afternoon excursion to Murano, the glass blowing district, or alternatively a romantic Gondola cruise and a stroll.
A light dinner and gelato in a café.
Take the evening train from Santa Lucia Station to Florence Santa Maria Novella. Trains leave at 7:30 and 9:30 pm
Photo of Glass Demo by Alcinababe (CC)