Look at any list of the top romantic experiences in Italy and you're sure to find one staple: the gondola ride in Venice. We're not trying to say that a gondola ride down the Venetian canals
isn't
romantic, but we want to make an argument for a few other pretty appealing options. This is, after all, the country of
Romeo and Juliet
, the birthplace of Saint Valentine and the home of some of the most romantic cities in the world. To expand your repertoire of romantic experiences in Italy, here are three fine ideas.
Romantic Experiences in Italy
Wake Up Under the Tuscan Sun
When imagining all the possible romantic experiences in Italy, who hasn't dreamed of relaxing in their own private villa in the Italian countryside, surrounded by vineyards and sunshine for as far as the eye can see? Sometimes the most romantic vacation can be an escape from busy city life, where you have no excuse but to slow down, enjoy the company of loved ones and get in tune with nature. The nice thing about the Italy Perfect Tuscan villa rentals is that although they are private and secluded in their locations, they also aren't terribly far from small cities and towns that can be explored should you find yourself feeling restless (or in need of a grocery store).
For example, Frantoio Villa is about a 30-minute drive away from Siena, and just a short drive away from a quaint small towns like Greve and Casale di Pari. And the villas have swimming pools, full kitchens, large outdoor terraces and nearby vineyards and olive groves that are extremely welcoming to guests in the region (they love to host tastings!). Basically, you have everything you could ever want in a romantic getaway away from the hustle and bustle of everyday life, but that hustle and bustle is also just a short drive away should you ever need a little dose of it during your vacation.
Romantic Roaming in Rome
Rome is the perfect setting for romance. In fact, when you spell Roma backwards, you get amor! Rome has been the setting of many a romantic movie and book, and this is probably because the city is such an attractive one when you're strolling hand in hand with someone special. Rome is nicely handled if you focus on a certain neighborhood at a time.  For example, if you stay in the very centrally-located Spanish Steps neighborhood, your romantic stroll might look like this: take a walk up the Spanish Steps, catch a sunset at the terrace at the top of the Pincian Hill (with views overlooking Piazza del Popolo, the historic center of the city with St Peter's basilica in the distance). The stunning Borghese Gardens are located on Pincian Hill, so it's the perfect place to picnic if you need a rest during the day.  End your walkabout by making a wish by tossing a coin over your shoulder into the famous Trevi Fountain.
Who says that one of the most romantic experiences in Italy can't also be one of the simplest? Sometimes the most fun you can have with a loved one is just walking and talking for hours, and Rome is one of the most picturesque cities in the world for that. And speaking of picturesque, don't forget to take a few photos!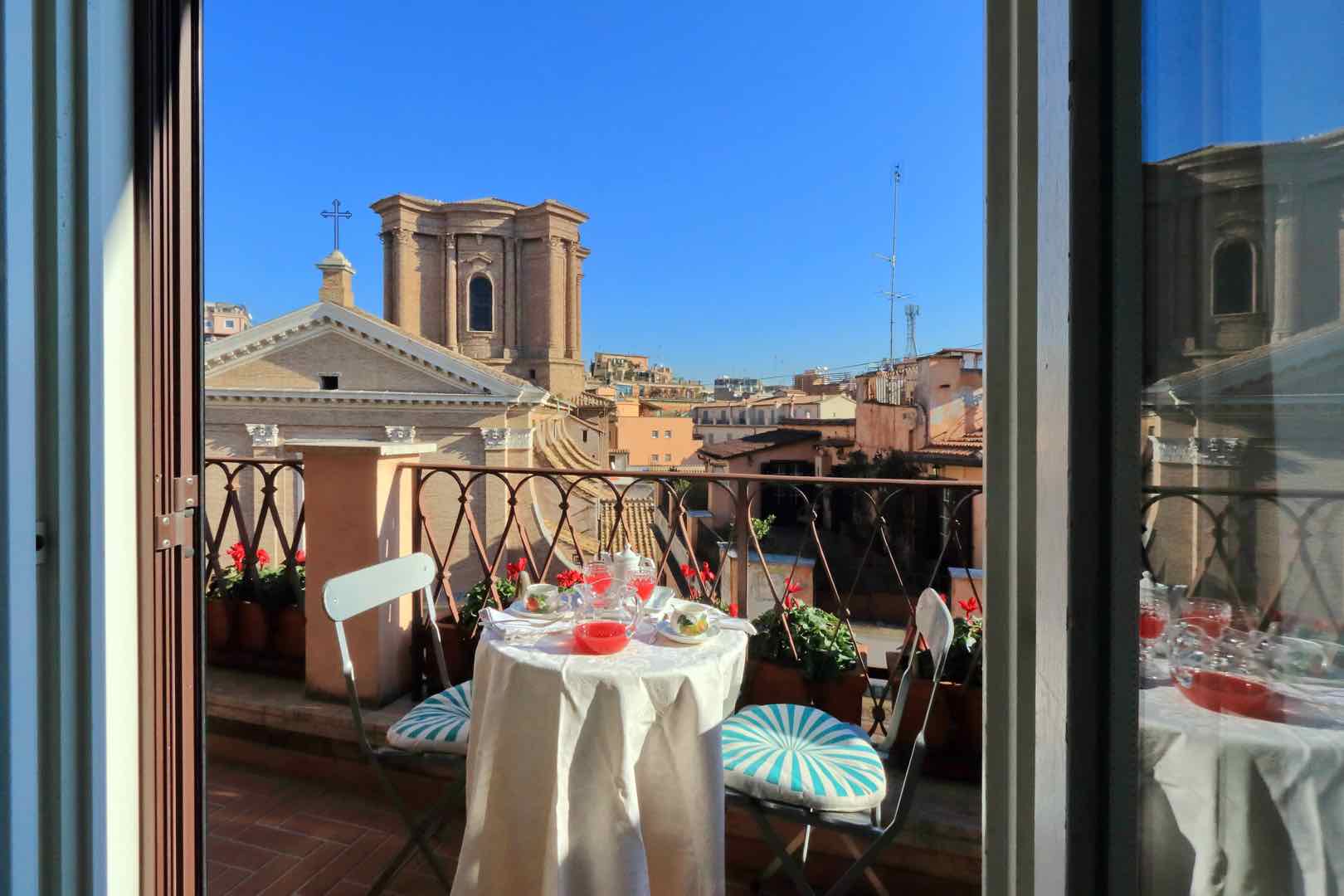 Pro tip: when you're ready to rest your feet after a day of exploring the city, you'll want to head back to a comfortable (and nearby) apartment, like the stylish Giada. This apartment is within walking distance of the Spanish Steps, and it comes with a quaint rooftop terrace that offers stunning views of the Eternal City at sunset. 
Treat yourself to an Aperitivo
In Italy, much importance is given to the finer pleasures in life: good food, good conversation and good romance! When it comes to the food and the conversation, nothing beats the aperitivo hour. An aperitivo is a drink (and sometimes a few light bites) meant to hold you over between the time the workday ends and dinnertime begins.
Legend has it that the tradition of the aperitivo was started by the distiller Antonio Benedetto Carpano, the creator of a certain type of vermouth in Turin in the late 1700s. His combination of white wine, herbs, and spices was meant to stimulate the appetite, and ladies in particular began to prefer it over drinking red wine before dinner. It didn't take long for this to become one of the first popular aperitivo drinks.
You can find a good aperitivo at any bar or restaurant in Italy. See our list of essential aperitivi to sample.
So there you have it — have we convinced you to follow the gondola ride with a few additional romantic experiences in Italy? If so, make sure to contact Italy Perfect and we can help find the best property for your needs. Email us at [email protected] or call toll free in North America at 1-888-308-6123.