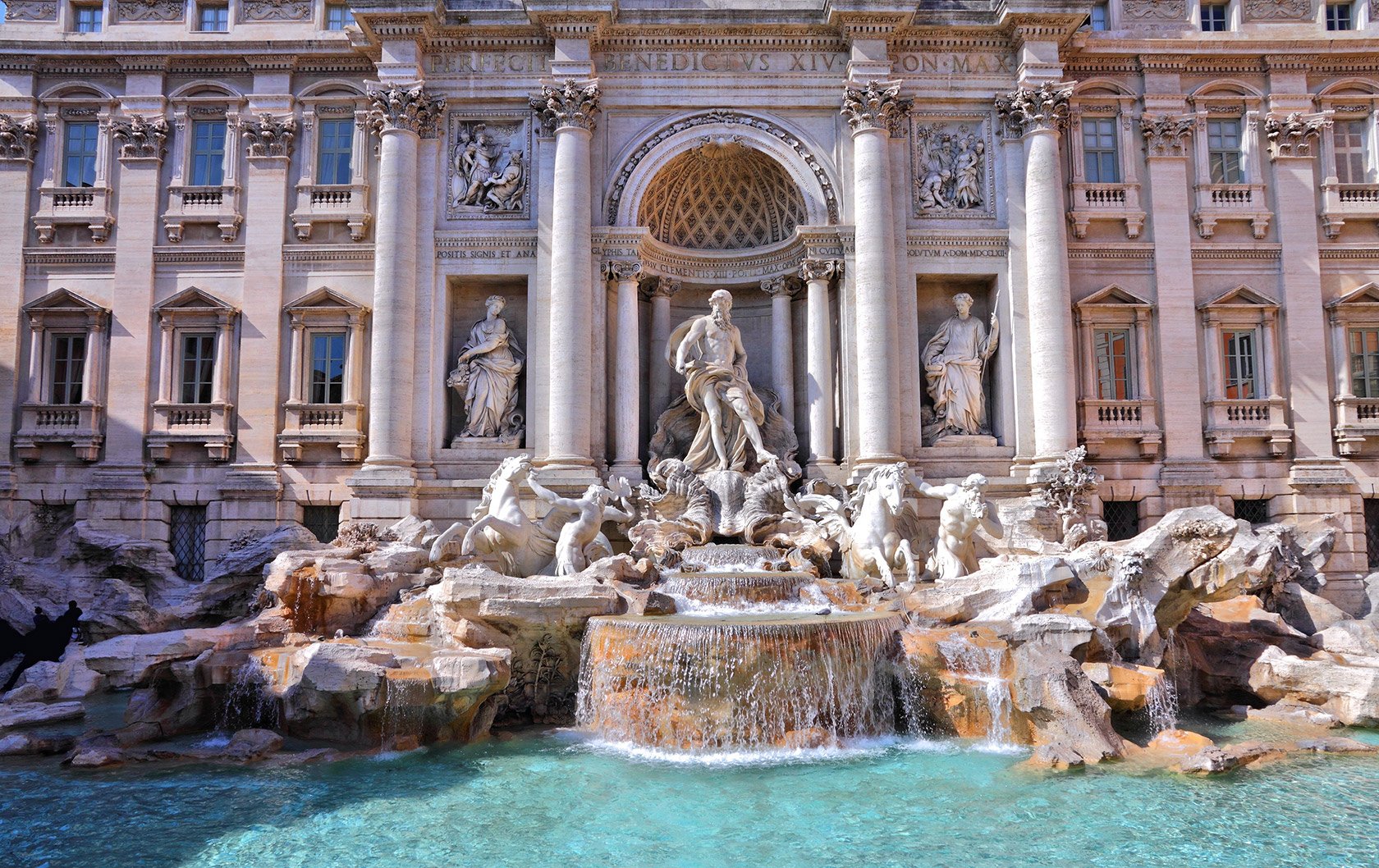 Even if you don't see the signs pointing the route to the Trevi Fountain, just follow the flow of people who share your desire to behold one of the most beautiful sights in Rome. You wonder "Are we close, wouldn't one of the most famous fountains in the world have larger streets and signs leading to it? It always seems so large in photos…"
And then, just as you think you are totally off track, you turn a corner and BAM!, you are blinded by the sunlight as you emerge from the shadowed confines of narrow streets. As your eyes adjust, before you the Trevi Fountain gleams and frolics. Roughhewn rock and the fabulously sculpted figure of Poseidon contrast everlasting endurance and gentle strength. The tiny piazza is overcome with the grandeur of the fountain; the giant Pegasus looks as if he is making a dash for a side street while the perfect turquoise water flows and splashes about.  As you make a wish to return to Rome and toss a coin over your left shoulder using your right hand, you remember that this magnificent fountain marks the end of Agrippa's 22 kilometer aqueduct that has, for a millennium, provided drinking water to Rome, glorified by Renaissance art and beauty. (By the way, the original tradition was to toss one coin;  it became 3 coins in the 1954 movie "Three Coins in the Fountain" with its unforgettable song.)
Luckily for us, the fountain has undergone a 17-month renovation, finished in November of 2015. All of the sculptures had a deep cleaning and new lighting was installed for better viewing at night, making the fountain a delight anytime.
Just to the right of the fountain, in the same piazza is the Santi Vincenzo e Anastasio a Trevi  Church that houses the embalmed hearts of 25 popes. A fascinating visit for anyone interested in the Roman Catholic Church and its involvement in the development of Rome as a city.
As you leave the fountain (ensured of a return by the coin you tossed), head towards Via della Colonna Antonina where you will find the Palazzo Montecitorio. This behemoth 17th century palace, designed by the famed architect Bernini, has been repurposed to house the Italian Chamber of Deputies, similar to the House of Representatives in the US. The entire neighborhood is packed with tiny restaurants, gelaterias, and shops to buy your essential souvenirs. It also makes for an excellent location for people watching. Our favorite gelateria is nearby, San Crispino with artisanal production, classic as well as unusual flavors. Its understated interior and display assures you that it is all about quality and flavor, not show. Watch out for imitators, and don't settle for another gelateria!
The Italy Perfect Team, Pat Byrne and Lisa Byrne, has enjoyed the Trevi fountain over the years from their high school graduation midnight swims in the fountain to summer jobs in a shop on the piazza to pilgrimages to San Crispino every time they are in Rome.
Enjoy a stay at the charming Sabini Sistina apartment, ideally situated near the Trevi Fountain and a short walk to the Spanish Steps. If you stay at Sabini Sistina and are an early riser, enjoy the Trevi Fountain in the early morning when you will have it practically all to yourself. The Sabini Sistina apartment is less than a 5 minute walk from the fountain.
Photo by Allan Watt (CC)