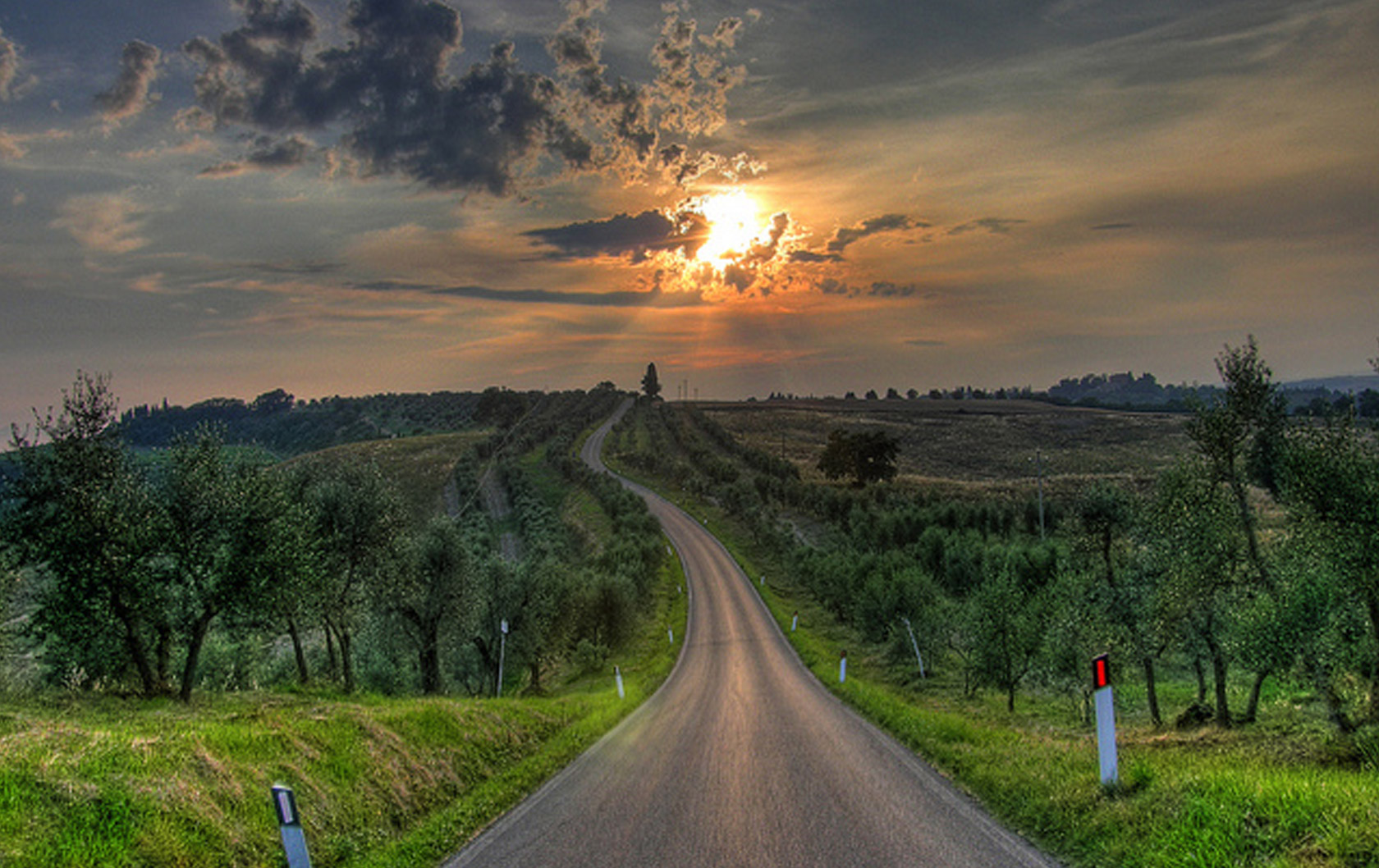 Immerse yourself in the Italian way of life. Drive through beautiful countryside and quaint villages, all yours to explore at your own pace. Rent a car in Italy when public transportation doesn't take you there or is impractical.
Sunset on the road to Florence? Stop the car and really soak in the beauty.
Here are Italy Perfect's 10 frequently asked questions about renting a car in Italy to help guide your planning process and make booking the ideal vehicle at the best price a pain-free process!
Keep in mind that if your travels will be primarily in the major cities, you won't need, or want, a rental car. See Italy Perfect's blog Should We Rent a Car in Italy? to decide if renting a car is necessary.
Will I need an International Driver's License when visiting Italy?
An IDL (International Driver's License) is legally mandatory if you plan on driving a rental car during your visit to Italy. Travelers should take heed to this rule, as you will be fined if you get pulled over and do not have one! You don't need to show the IDL when you rent the car but do need to show it to the police if you are pulled over.
The good news is that your International Driver's License for Italy is relatively easy to obtain and can be quickly and easily purchased for about $20 USD from your local AAA office. Be sure to get one before you depart!
Can I use my credit card rental car coverage in Italy?
Italy is one of several countries in the EU that requires all drivers to have full coverage for liability, theft, and collision (also known as CDW). As a result, all rental companies include compulsory insurances in their rates and will rarely allow credit card rental car coverage as a substitute. And very few credit cards offer insurance for rental cars in Italy. The rental companies can offer varying degrees of coverage. Insurance through your chosen rental car company is the only way to ensure proper coverage and all rates through Auto Europe include these legally required insurances (liability, CDW, and theft). If you have any questions be sure to ask the car rental company and your own auto insurance provider before leaving for Italy as it can be confusing on arrival in Italy to have to determine what level of insurance coverage to obtain and to understand added expense.
Which car rental company do you recommend?
Italy Perfect recommends Auto Europe that represents all the best rental companies and guarantees lowest price! Find vehicles and prices from all the best Italy car rental companies in one place, rather than wasting hours sifting through individual websites looking for the best option, and get the guaranteed lowest price with exclusive savings offered through Auto Europe.
Will my luggage be safe if I leave it in my rental car in Italy?
It is always best to leave your luggage and valuables in your hotel or take them along with you when you park your rental car. Italy is a very safe destination for tourists with low rates of violent crime, but petty theft and vehicle break-ins do occur and it's best to take steps to protect yourself so you can spend your vacation enjoying yourself rather than worrying.
Renting a car that is full size or larger will guarantee that the vehicle you receive has a separate trunk, making it more difficult for thieves to access your belongings, and additional PAI (Personal Accident Insurance) that covers personal belongings is usually available to purchase from the local rental car company for a small additional daily fee. But even if you have a trunk, we recommend against leaving any valuables in your car. When parking, be mindful that if you put things out of sight in the trunk at that time, someone may be watching, so do it before you reach your parking location if you can.
What are the rental car age requirements in Italy?
The minimum required age for renting a car in Italy will depend on the specific supplier you choose to rent from. The rental car age limit in Italy is typically 18, but some companies will not rent to any drivers under 21. There is no maximum rental age in Italy, but any drivers under 24 can expect to pay a young driver surcharge of around €20 EUR per day.
Are friends or family members allowed to drive my car rental in Italy?
Additional drivers are only allowed to drive a rental car if they are properly signed-on and authorized at the rental car pick-up desk. There will usually be an additional driver fee for adding on extra drivers to your rental, but one free driver may sometimes be allowed as part of your rate. If a friend or family member who was not properly signed on at the rental desk drives your rental car it will void you from all insurance coverage, making you liable for the total amount of any damages caused in the event of a collision or theft, so make sure to properly authorize all additional drivers before driving the car off the lot!
Can I drive my rental car in Italy to other countries during my trip?
Specific rules are determined by the supplier you choose to rent from, but travel to other western European countries (Germany, France, Switzerland, etc.) is generally allowed without an extra fee. You will, however, need to notify your rental company of the countries you plan on driving to. Traveling to eastern European countries, including Croatia, Slovakia, and the Czech Republic, may incur additional fees.
Can I pick up my Italy car rental in one place and drop it off in another?
Picking up your rental car in one place and dropping it off in another, also known as a one-way car rental, is usually allowed depending on your desired destination but you must always confirm your travel plans when booking.
One-way rentals within Italy are often permitted with no additional fee, but dropping off your car in another country, while possible, will incur additional charges and can subject your rental to certain restrictions depending on the country you are traveling to.
What do I do if the representative at the car rental desk doesn't speak English?
Travelers from the US make up a large portion of visitors renting a car in Italy and representatives will always speak fluent English at the desks for all reputable car rental companies.
In the event you ever have difficulties or misunderstandings with the local representatives overseas when renting with Auto Europe, you can always call one of their international toll-free numbers for 24/7 assistance from a US-based agent.
What's the best way to find a van rental in Italy suitable for my vacation plans?
It can be difficult to find larger vehicles like van rentals in Italy due to limited availability and fewer locations that offer 7+ passenger rentals, especially during peak tourist seasons. One company may offer the type of vehicle you are looking for, but not in the location you need it while another might have the perfect location near your hotel, but no vehicles suitable for your needs.
You can spend hours sifting through the various options yourself or save some valuable time and leave the hard work up to the European travel specialists at Auto Europe. Featuring partnerships with all the major car rental companies operating throughout Italy, the team at Auto Europe will track down every available option to find one that's best for you, whether you need a simple station wagon or a versatile passenger van rental.
Lastly, a bonus tip from personal experience: before leaving on your trip make sure your driver's license hasn't expired or won't expire during your travels! One member of our Italy Perfect team arrived in Italy to inspect properties and realized, at the car rental counter, that her driver's license had expired. 
See these helpful blogs on the same subject:
Should We Rent a Car in Italy?
The ZTL – Avoid Restricted Traffic Zones & Fines in Italy
Italy Perfect is an Auto Europe partner.