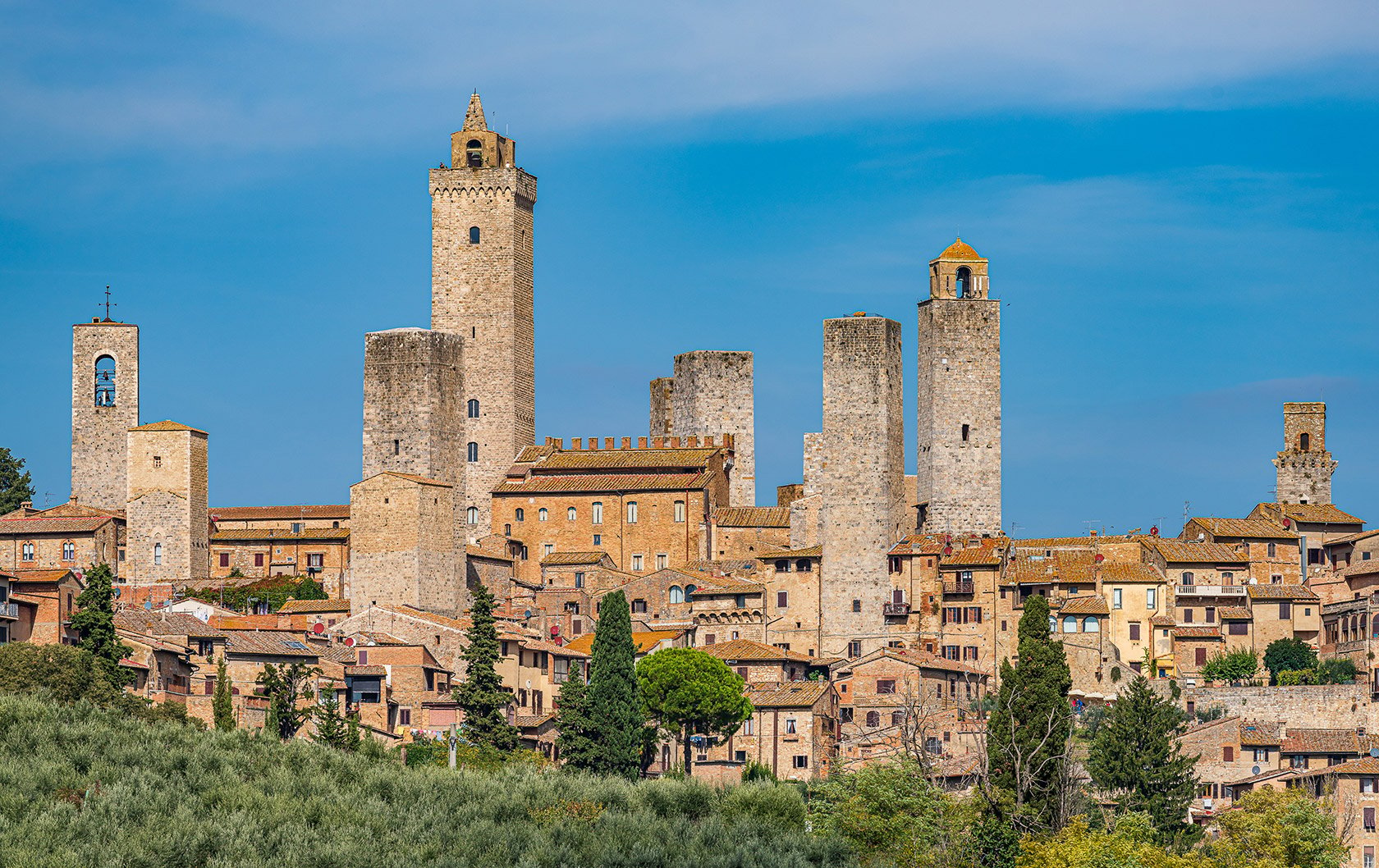 Florence is conveniently located in central Tuscany, a city known for millennia as the intersection of great art, history, and food.  The nearby towns and cities, rich with culture and tradition, are great opportunities for easy day trips while staying in Florence. Here are some of our favorites chosen by our Italy travel experts.
FIESOLE
In the hills overlooking Florence, is a pleasant and peaceful retreat from the crowds where you enjoy a stunning panorama of Florence and its surrounding hills. Easy to reach in 35 minutes by city bus #7 from Piazza San Marco (corner of Via la Pira).
Much older than Florence, Fiesole is the first human settlement in the area. Founded by the Etruscans in the 9th century BC, it offers visitors a vast archaeological site that contains Etruscan and Roman remains. The peaceful Roman amphitheater is surrounded by fascinating reminders of ancient times as well as a fascinating small museum. The beautiful Villa Medici, one of the residences owned by the rulers of Renaissance Florence, sits in the peaceful countryside.
MONTELUPO
A small village about 20 kilometers from Florence. Easy to reach in 30 minutes by train.
This is a bit of a hidden treasure; most tourists have never heard of it, but it was an important center for the production of maiolica (hand-painted glazed ceramics) during the Middle Ages and Renaissance. It continues to produce beautiful, colorful ceramics. Founded in the 13th century by the Florentines on their route to Pisa, Montelupo boasts medieval city walls and an interesting Museum of Ceramics. In the historical center, discover many fine ceramic stores and artisan workshops making their signature handmade pottery.
Every June Montelupo hosts the Festa Internazionale della Ceramica, International Festival of Ceramics, making this a super time to visit the town, but year-round a trip here will give you a sense of small-town Tuscany.
LUCCA
Another not-to-be-missed destination while in Tuscany, Lucca is just a little over an hour away by bus or train.
Famous for its spectacular 16th century walls that surround the entire city, where visitors and locals stroll and ride bicycles (rentals available). Exploring Lucca opens up the layers of Italian history and art. To celebrate its native son, be sure to listen to the music of the composer Giacomo Puccini while planning and visiting, including the haunting arias of Tosca.
CHIANTI REGION
An area renowned for its Chianti wine and also the idyllic landscape characterized by vineyards, olive trees and hilltops topped with fortified villages. The best way to visit the area is by car. You can rent a car for the day, but if you want to visit some of the wineries and enjoy a bit of wine-tasking, we suggest hiring a driver!
There are many nice towns to visit: Greve, considered the gates of Chianti; Montefioralle with its ancient medieval castle; and Panzano famous for the "bistecca alla fiorentina" (Florentine beef steak from the prized and ancient breed of Chianina cattle) all presenting wonderful panoramas of this beautiful region.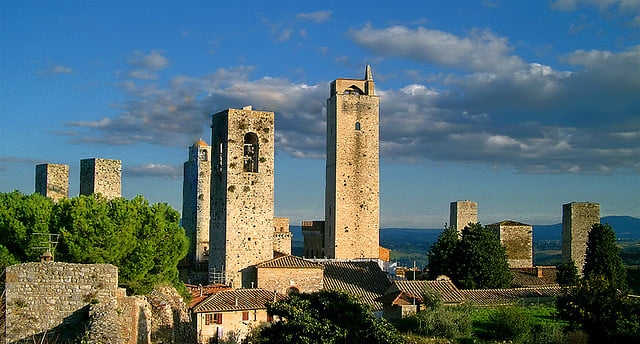 SAN GIMIGNANO
Declared by UNESCO a World Architectural Heritage site, San Gimignano is only 60 kilometers from Florence. It is reachable by bus, but for your convenience we suggest to rent a car or hire a driver.
This wonderful medieval town is famous for its extraordinary towers, which remind us of its golden age when all the gentry of the town built towers to defend themselves against their next door neighbors! Golden, must have been awful! There were hundreds of them! Although they dominate the town, few towers remain but history haunts the charming winding streets.
Photo by M Lazzaroni (CC)