Italy is one of the most child friendly countries in the world. Your precious 'bambina' will have her cheeks pinched and your 'bambino' will be whisked off to the kitchen to taste some fresh schiacciata.  If you're travelling with a baby, be ready to get more attention than you've ever experienced — from grandmothers and waiters and young couples all.
Things to Do: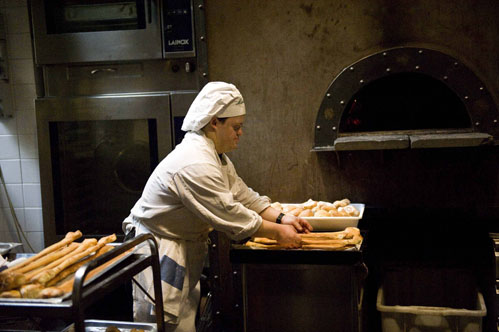 For your well-behaved children we present the wonder of Teatro del Sale, which is a combination restaurant, theater and spectacle of Italian culture. For €30 euro per person you will experience a show on the main stage and an authentic Tuscan anti pasti and simple pasta buffet. Tip: Get your first plate as soon as food is announced, because if it's a hungry night, there may not be enough left of your favorite for second servings. When you call for reservations you can get the schedule. +39 055 2001492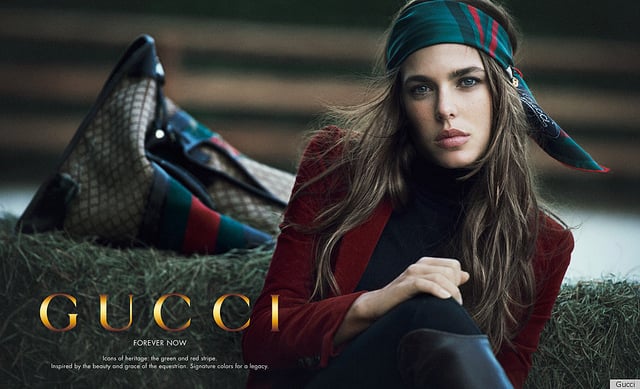 Young ladies may really enjoy going shopping via Tournaboni. Maybe even pick up a leather jacket at the San Lorenzo market. The leather dealers here are always open to negotiation; it is expected. So you can probably get your son or daughter a jacket for a great price if you get one yourself. Any young fashionista is sure to love the Gucci museum and the Ferragamo Shoe Museum!
Stroll over to the Boboli Gardens which are just beyond the entrance of the Pitti Palace and run wild in the gardens. Bring sandwiches and boxed wine (no glass bottles allowed in the garden) and relax while your kids get their yayas out. The gardens have some of the best views of Florence and the Tuscan countryside.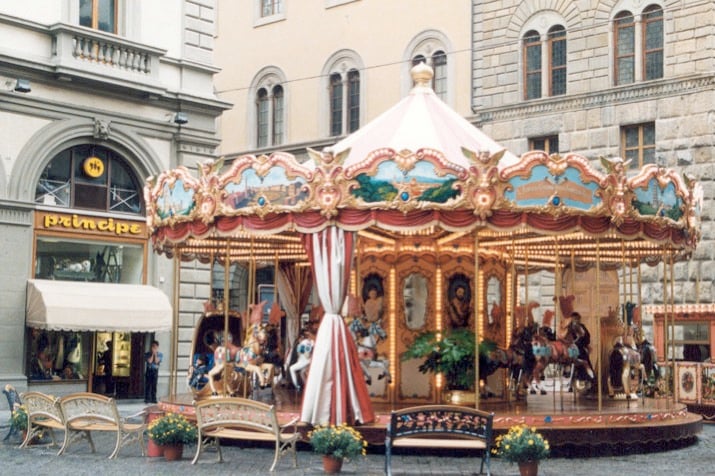 In Piazzale Republica there is an old-fashioned carousel. Great for a photo opportunity and when the kids need a break from the monuments and churches. This will be a moment the whole family will remember.
Things Children Love to Eat
Restaurants in Italy aren't known to have children's menus, but for the picky eaters we recommend some basic pasta or pizza dishes.  Penne with Formaggio (cheese) or a simple Pizza Margherita (with cheese and tomato).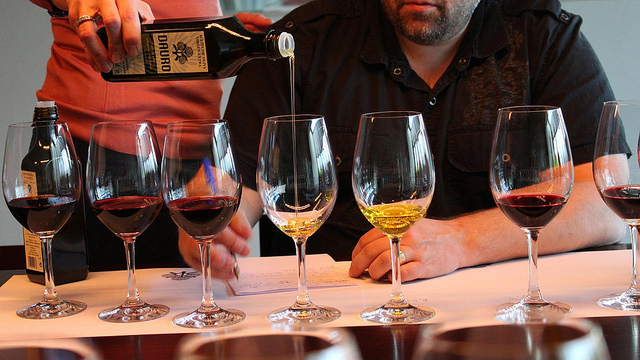 Wine tasting tours are popular in Tuscany any time of year and they usually have tasting options for kids, such as bread and olive oil, so they don't feel left out. (Photo by LexnGer (CC))
Head over to the Florence Mercato Centrale and taste the traditional Italian market.  It's a great place to people watch, or grab a simple sandwich. See our blog post for more info on the newly renovated Central Market.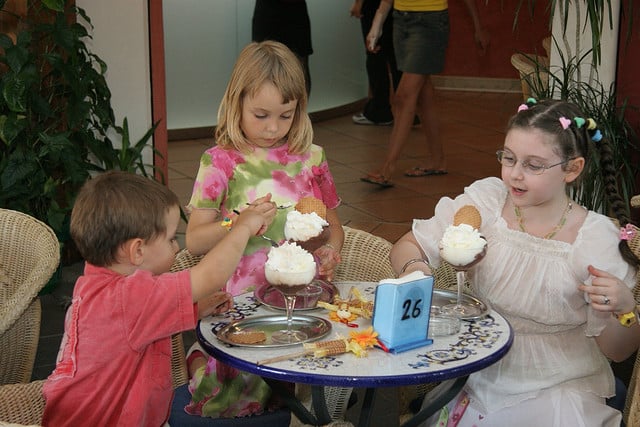 We've learned from experience that travelling with children requires some adjustments in the pace of your travels, so we like to reward good behavior with treats such as:
Save room for gelato! There are plenty of gelaterias in Florence. Look out for signs reading "Artiginale" or "Casalinga" that mean artisanal and homemade, respectively. There are so many to choose from, try a different shop and flavor every day, or try your favorite flavor from different shops. The most well known gelaterias are Vivoli for its long standing reputation and Grom for its consistent high quality. My personal favorite is Gelateria Artiginale on Via Faenza. (Photo by James Bremner (CC))
If it's cold outside,  try a waffle with Nutella from one of the carts on Via Roma near the Duomo.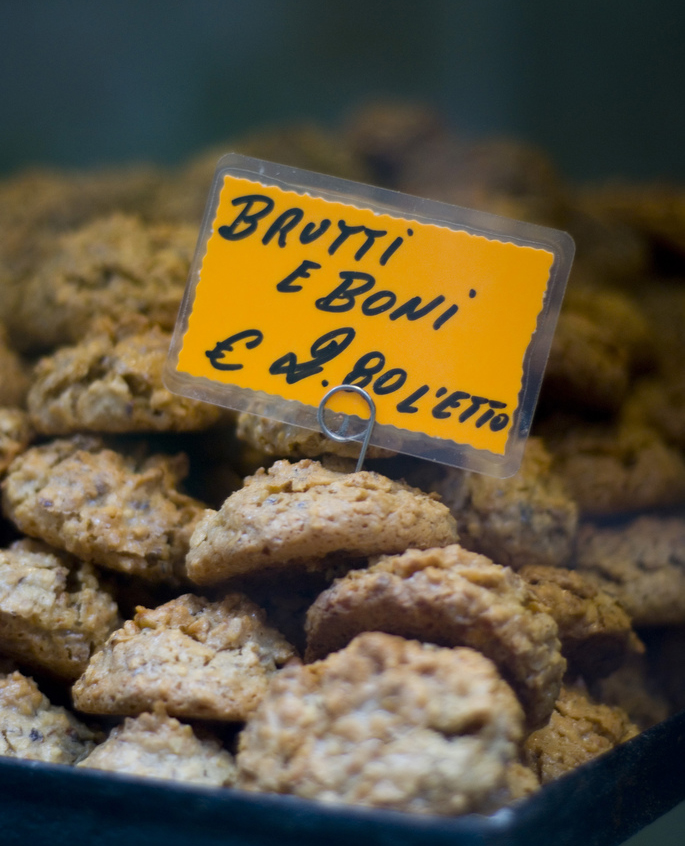 "Brutti ma Buoni" is a type of special Italian cookie that we recommend the kids try.  The name means "ugly but good," and I assure you they are delicious. Traditionally they contain almonds or hazelnuts, but depending on the recipe they may contain chocolate, raisins or other ingredients. (Photo by TLC (CC))
For a Tuscan treat that is less sweet, try some fresh Schiacciata,  a salty Florentine flatbread. Get it hot around 5 or 6 pm at the local Schiacciatteria or Panetteria, because it is always best while hot. If there is a line forming for the hot schiacciata straight out of the oven, that's a good sign that it is time taste this local favorite. Some shops serve a Schiaccata all'uva, with grapes which is a nice addition.
The Kids Europe Italy Discovery Journal is a guidebook to Italy for kids only. If you are traveling to Italy with children, they will love seeing the country from the perspective of the unusual, weird and exciting.  Educational insights into art and history are offered and there is a strong focus on appreciating the culture and Italy of today. There is so much to enjoy: food, drama, and a unique approach to life that makes Italy special.
Title Illustration by MMGaman