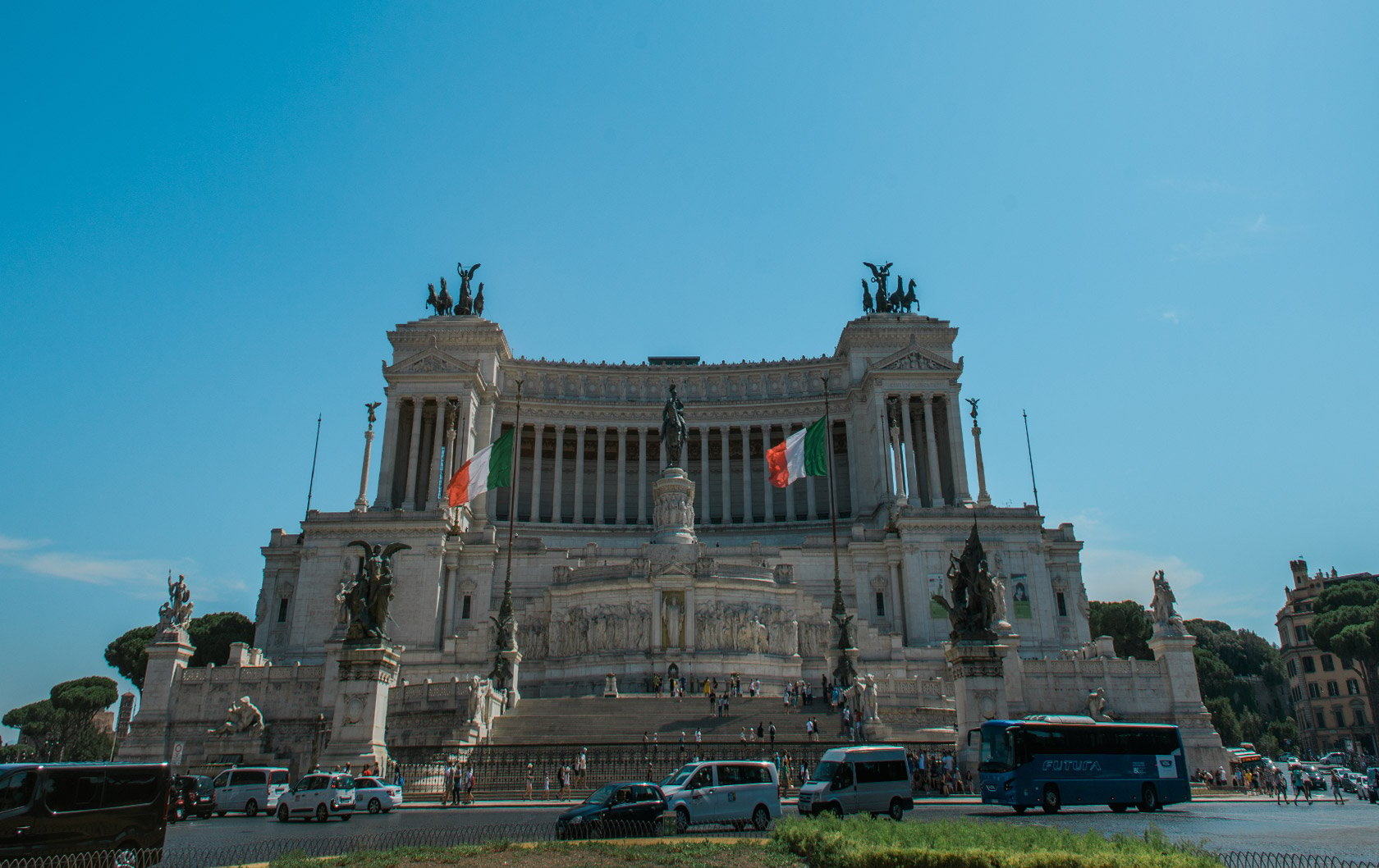 Are you thinking of cruising around in your rental car, pulling up to the doorstep of your vacation rental in the center of Rome or Florence, unloading your bags and then chancing upon a handy parking garage or, better yet, street parking? Think again…
Driving in Italy takes some careful planning if your route takes you through a major city. Before you book that rental car, heed this advice because it is really, and we mean really, daunting to avoid the infamous ZTL, the limited traffic zones which throttle traffic in the city centers.
Watch For the Signs With a Red Circle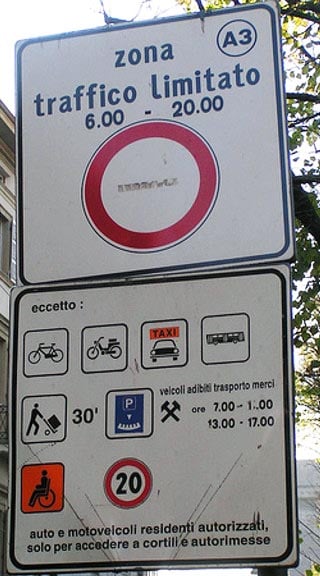 To reduce air and noise pollution in city centers, Italy has established "Restricted Traffic Zones" (Zona Traffico Limitato – ZTL) with limitations on driving during certain days and hours. The nice thing about the limited traffic zones is that many city streets are now lovely pedestrian zones, where you can stroll and linger without being overwhelmed by traffic zipping past, honking horns and exhaust fumes. Vehicle access to these zones is normally limited to local residents, public transport, emergency services and specific permit holders. The entry points are normally clearly indicated by signs and are controlled by cameras that automatically read the registration numbers of all entering vehicles; the numbers are then checked against a list of authorized vehicles and, if no match is found, the offending driver is issued a fine of about €100 or more, which will then be delivered by mail or added to your rental car costs.
This can catch tourists by surprise because the boundaries of the ZTLs generally include most of the sites and monuments that you would like to visit.
Decoding ZTL Signs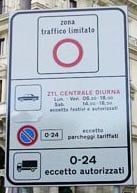 Here's a primer to better understand the signs. These photos of signs shows the hours of the days of the week when access to this particular sector is restricted. The "car" symbol indicates the restrictions that apply to private vehicles. The "man with the hand cart" icon refers to the restrictions that are enforced to commercial vehicles delivering goods to the businesses inside the ZTL sector. The "crossed hammers" signify working days (usually Monday to Saturday). Should restrictions be applied on Sundays and/or festivities, a Latin cross symbol is used.
In some zones, the restricted access time can be variable. In such instances, the ZTL sign is complemented by an electronic board signaling whether the ZTL restrictions are in effect/active ("ZTL ATTIVA").
If you study the ZTL signs, zones and schedules for locations of interest, you may be able to find times of day when you can freely drive through the areas. Each city posts their zones and schedules online. But general advice to short-term tourists is to either drop your rental car or to park it. It's simply not worth the hassle, delays and fines to try to drive in the ZTL zones.
If you are going to stay within a ZTL, plan ahead to turn in a rental car or to park it. You need a garage that is either outside the ZTL or that can register you for temporary access. If you are staying at a hotel and want to drive to it before parking your car, contact the hotel directly to see if they can get you temporary access and also ask them to copy you on their request in case of a future dispute. If you are staying in an Italy Perfect vacation rental, please contact us and we will give you advice for your situation. We can tell you the closest rental car drop point or garage.
The ZTL in Rome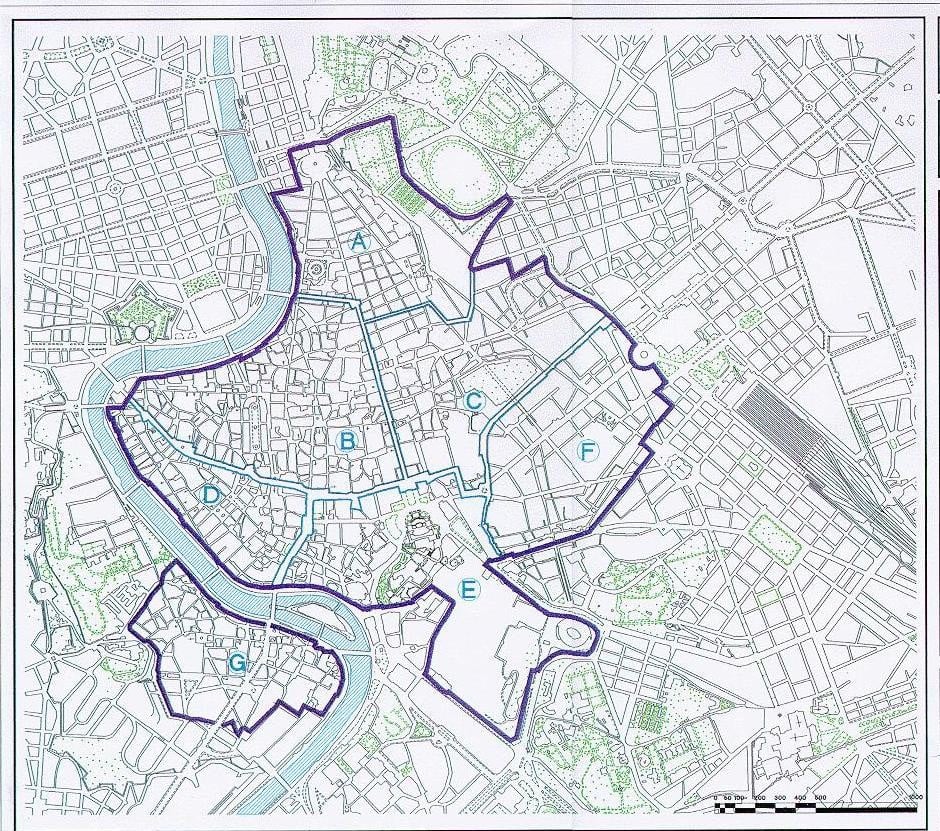 Much of central Rome is affected by traffic limitations.
In addition to the traffic restrictions defined by the ZTL, some areas of central Rome are pedestrianized. While strolling in the evidently pedestrian zones, you still need to keep your wits about you because vehicles still zip through either by special permission or by ignoring the law.
The ZTL in Florence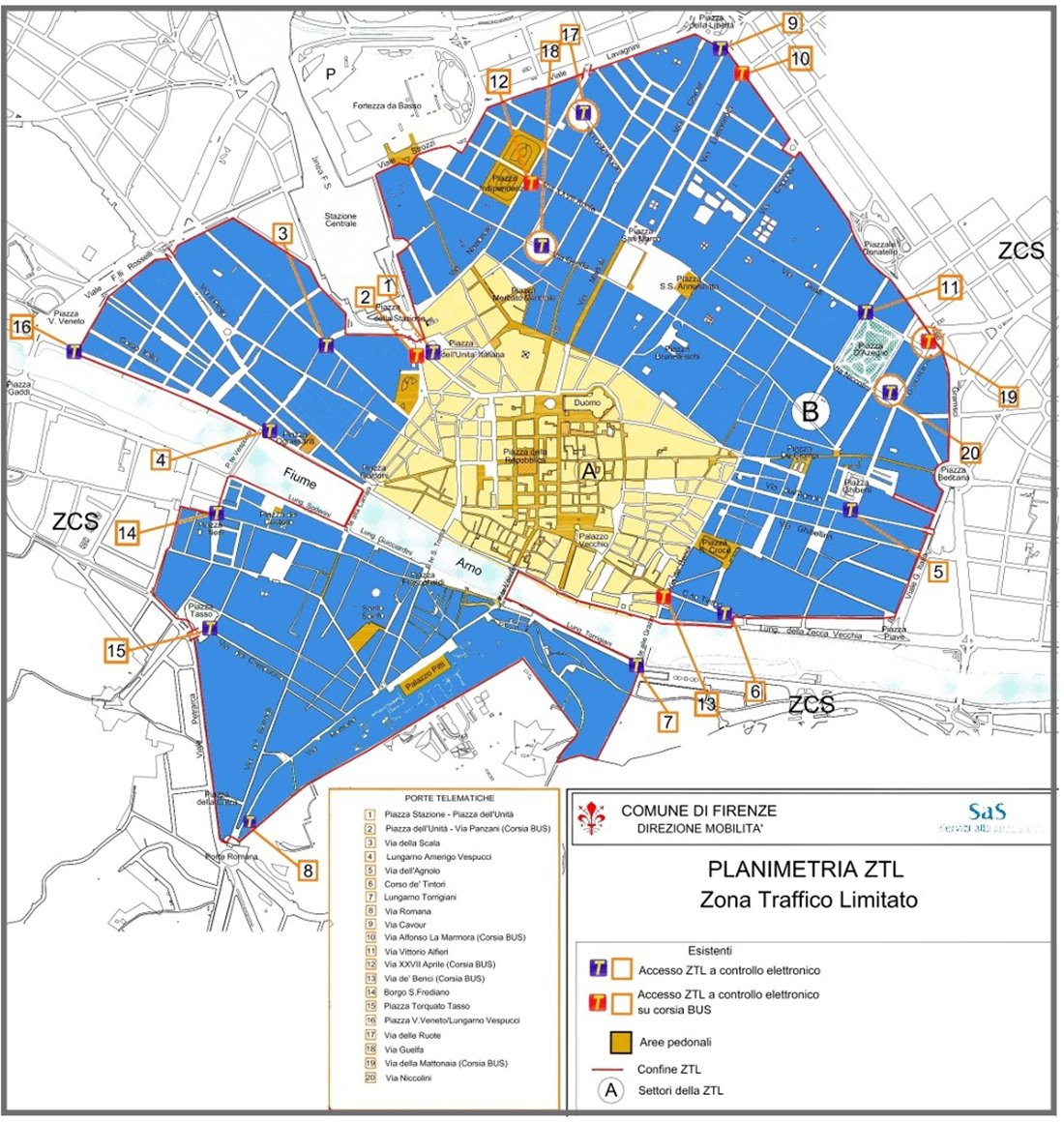 With only about one ninth of the inhabitants of Rome, beautiful Florence is a much smaller city, but equally packed with artistic and historical treasures, especially, as you would expect, in its ZTL. The good news is that, the city being so much smaller, the ZTL is too, and can mostly be explored on foot.
If you are coming to Florence just for the day or are staying outside the ZTL, you can park at the Santa Maria Novella train station underground car park or at the San Lorenzo car park at the central market and then walk from there.
No ZTL restrictions in Venice
Venice is an exceptional city, also in the sense that it is the exception; there is no ZTL in the city: there just is no road traffic at all.
Italy Perfect hopes you find this information helpful. With a bit of advance planning you can have a safe and smooth trip!