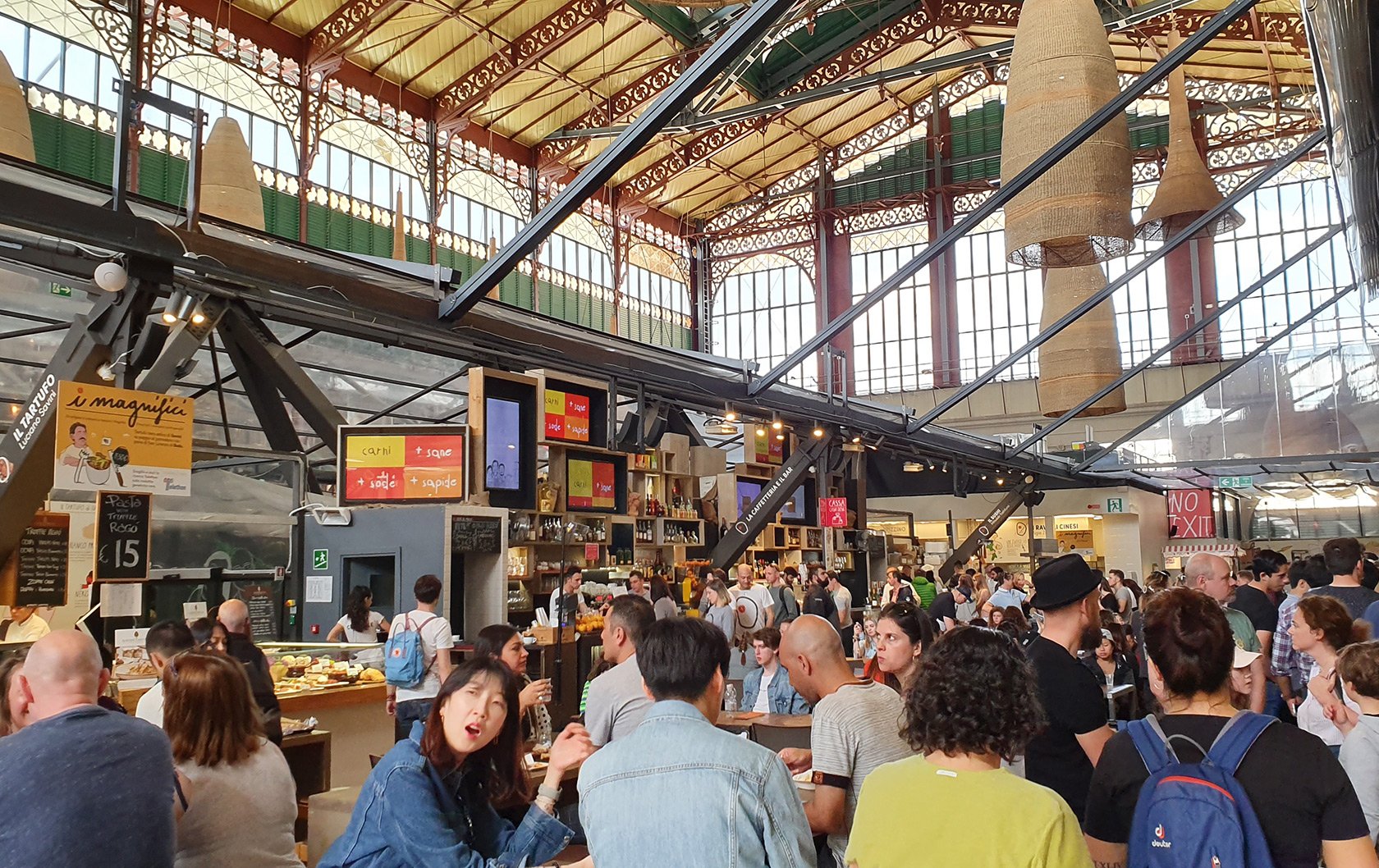 The newly renovated Mercato Centrale [Central Market] is the epicurean center of new and old Florence, a veritable tour of tastes. The ground floor has always offered a wide array of fruit, vegetable, meat and other specialized local vendors. The 140 year-old Mercato Centrale recently celebrated the opening of its new HUB gourmet food hall on the second level of the Mercato, following a major renovation and €5 million investment. During your stay in Florence be sure to stop by for a tasty lunch, dinner, a glass of wine or even cooking classes.
Located just steps away from San Lorenzo, the majestic Medici Chapels and Michelangelo's Dawn and Dusk, the Mercato Centrale is an essential stop on the best foodie tours. Florentines know it as the best place to get fresh ingredients, the cheapest place to get pastries and as an easy lunch option with flavors for everyone.
Open every day until midnight, the new second level HUB has twelve shops, a pizzeria, a bar, a restaurant, a cafeteria and free Wi-Fi – all part of a new experience for Florence and seeks to provide a central place for quality food and the exchange of creative epicurean ideas. It's a new concept for Florence and that is being embraced by locals and tourists alike.
The food is good, fresh and at reasonable prices for Florence. At night, bouncers (aptly called "buttafuori") control the entrance and keep the Mercato Centrale from becoming the newest discoteca.
Epicureans can find artisan mozzarella di bufala by Angelo and Emanuele Campomaggiore Dairy in Caserta, which any Italian will vouch for as the truest of mozzarellas. Pecorino cheese, the Tuscan specialty, is readily available. Frenchman David Bedu is busy baking Italian bread. Christian Bedushi, heralded as world pastry champion in 1997, delights sweet-lovers with his gelato alla Torta Setteveli, a gelato based on the chocolate and hazelnut Sicilian cake which takes its literal name "Cake of the Seven Veils" as a reference to Salome's provocative dance for Herod.
There are many tables to enjoy food from the Central Market, with 500 places to sit on the second level and enjoy a bottle of Chianti. The Consortium of Chianti Classico wields a strong presence: 1,200 labels and 4,000 bottles available. The Mercato Centrale also has a cooking school, a bancomat and public bathrooms.
Whether you're there to sample foods, watch the crowds of discerning Italian foodies, or to pick up some ripe tomatoes, you must visit this one-of-a-kind covered piazza.