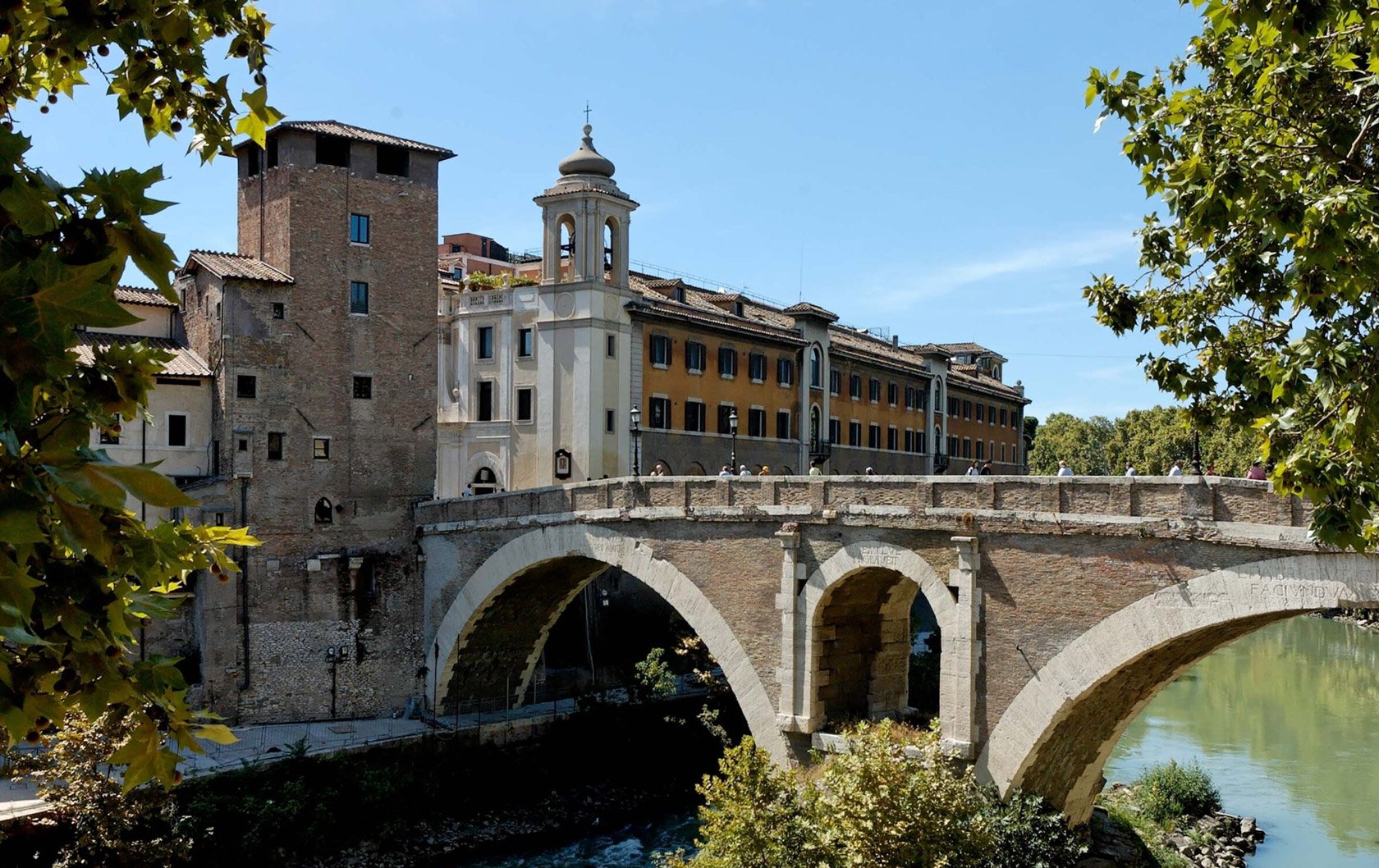 Two for one: Feed your spirit with a trip through history and nourish your body dining on delicious, traditional Roman cuisine.
The restaurant, Trattoria Sora Lella, is on the Island in the Tiber (Isola Tiberina) and to reach it you must walk across the Ponte Fabrizio, the oldest bridge in Rome. It was built in 62BC. Yes, you read that right, 62BC. It is the oldest bridge in the world in continuous use. What a privilege to cross it! The bridge, now for pedestrians only, is decorated with two ancient pillars with 4 heads each of the Roman god Janus. Janus, who is also depicted with 2 faces, represents beginnings, gates, transitions, crossings, time, doorways and endings. Can you feel the crossing of the centuries?
The island held Roman temples in ancient days and since the 1500s it has been the home of the large hospital operated by the Brothers Hospitallers of Saint John of God that the Italians call "Do Good Brothers", Fatebenefratelli. We honor Dr. Borromeo who was head of the hospital in 1943 when the Nazis occupied Rome and started rounding up the Jews. He invented a "deadly" and highly contagious illness to keep the SS away and to protect those Jews hiding inside the hospital wards, just a stone's throw from the old Jewish Ghetto that is on the other end of the Ponte Fabrizio.
There are some small rapids under the bridge that you may be able to watch while seated in this fine restaurant, Trattoria Sora Lella. Named by the restaurant founder for his sister Lella, an actress famous for her roles as a good-natured grandmother, it is located right against the historic bridge. Only in Rome!
Trattoria Sora Lella's Typical Roman Menu for Summer
Polpettine di "Nonna Lella" (Specialità dal 1940)
Grandmother's traditional veal meatballs (a specialty since 1940)
Gnocchi di Patate all'Amatriciana
(fatti da noi come nel 1948 da Nonna Lella)
Homemade Gnocchi in a classic Roman sauce with cured pork jowl, tomatoes and Roman pecorino cheese (made by us in the same way as Grandmother Lella in 1948)
Involtino di Scottona alla Romana
con Peperoni di Pontecorvo (in stagione)
Delicious Stuffed Rolls of Beef Roman-Style in tomato sauce with sweet peppers
Torta di Ricotta Romana Composta di Visciole
Roman Ricotta Cheesecake with sour cherry jam
Bread, water, coffee, wine
These Italy Perfect apartments are a few steps away from this lovely experience.
Enjoy luxury living at our many fine ItalyPerfect, ParisPerfect and LondonPerfect properties.