You've had a wonderful vacation in Italy and at the end of your trip you suddenly realize that you need to bring back a little something for the neighbor who took in your newspaper and watered the plants, the friend who gave you a ride to the airport, your cleaning person, your hairdresser and the teenager who fed your fish. The list goes on and on.
We have the solution! An Italian supermarket is a great source for interesting, unique and budget-friendly gifts that aren't space hogs in your luggage either. Here are some of our favorite go-to supermarket items that are easy to find and let you do your extended little gift shopping in one quick trip.
• In its traditional, beautifully illustrated box, a tube of Marvis toothpaste is timelessly chic. Yes, toothpaste. The longtime Marvis brand is often featured in luxury editorial coverage from Vogue to Real Simple magazine, it is sold in both high- end cosmetics boutiques, luxury bath shops but can also be found in the supermarket.
• Sure to please is Italian chocolate which is about half the price at the supermarket compared to what you pay at the airport duty-free shop. A box of Baci chocolates is always a hit.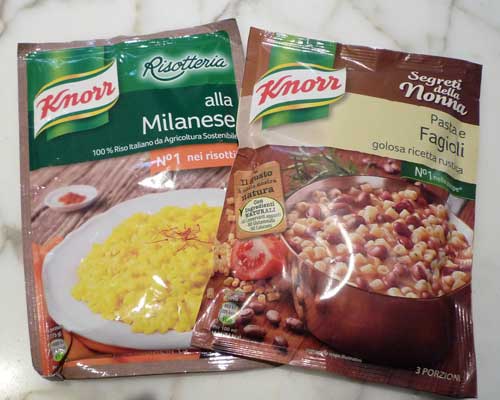 • Fast and easy are dried Knorr soups in flavors not found abroad, such as Risotto Milanese and Pasta e Fagioli. Gourmets will object but our own "kids",  young professionals without much time to cook, enjoy them and it brings back their many happy memories of vacations in Italy.
• We discovered porcini mushroom bouillon cubes a few years ago and have been hooked ever since. Yummy addition to homemade tomato-meat sauce or risotto. Wrap the bouillon box in a plastic bag before packing or your clothes will have a very "woodsy mushroom" scent.

• Unusual dried pasta shapes are fun, especially for kids. We like those with interesting names like Orecchiette that means little ears and really do look like them, Lumaconi  – big snails, Strozzapreti – priest stranglers and Gomiti – elbows.