Guests love these three lovely apartments in a noble palazzo in the heart of Venice. Recently renovated with fine taste that cheerfully combines antique heirlooms and bright modern touches. Location is wonderful right on the Grand Canal; guests arrive to the palazzo's private dock and entrance.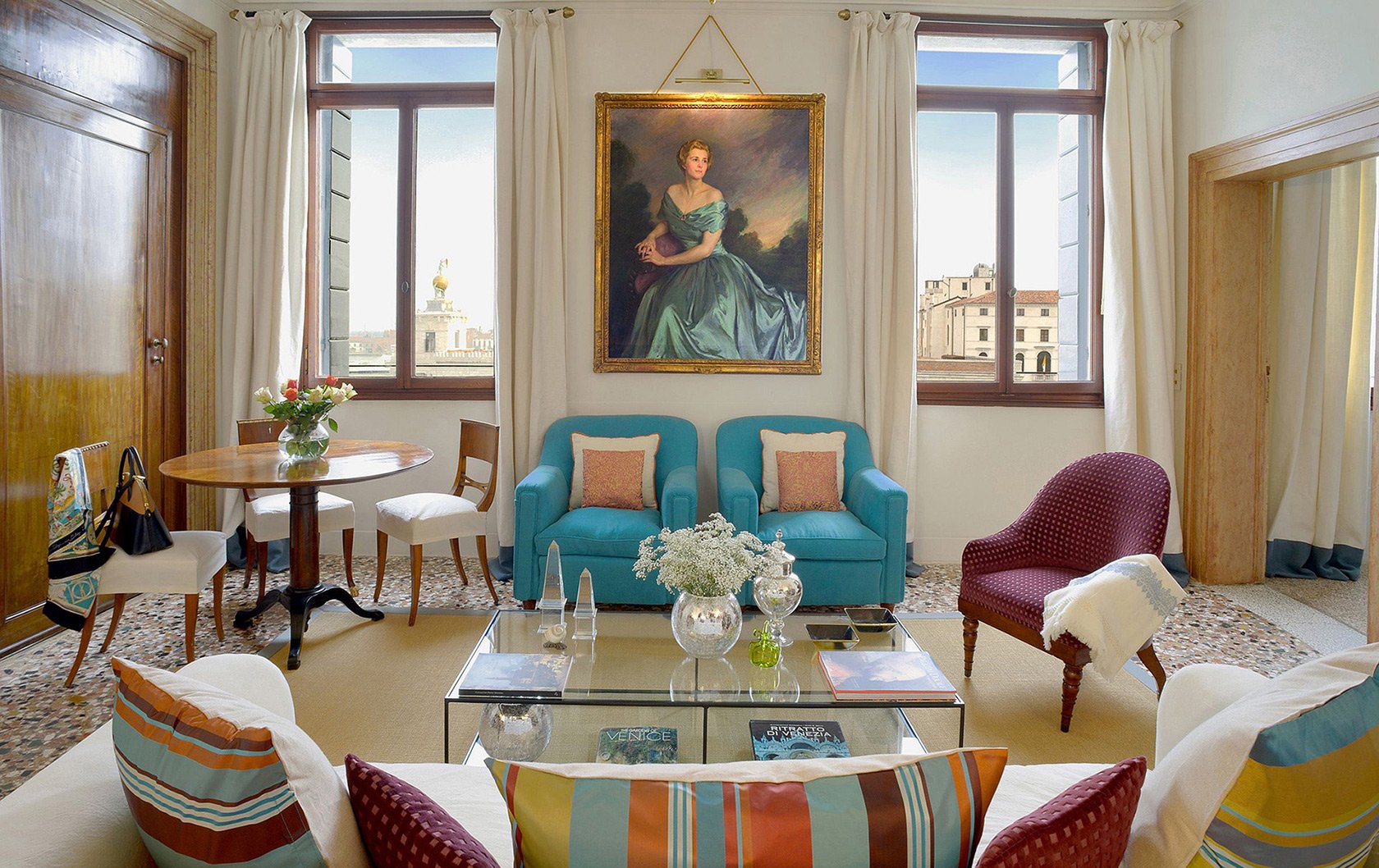 The location within Venice is fabulous, a 6 minute walk to Saint Mark's piazza and cathedral, 13 minutes to the Rialto bridge.
Guests are pampered with a delivery of warm croissants each morning.
Even if your time in Venice is brief, you can stay at these apartments for as few as 3 nights.  You will be back for a longer stay!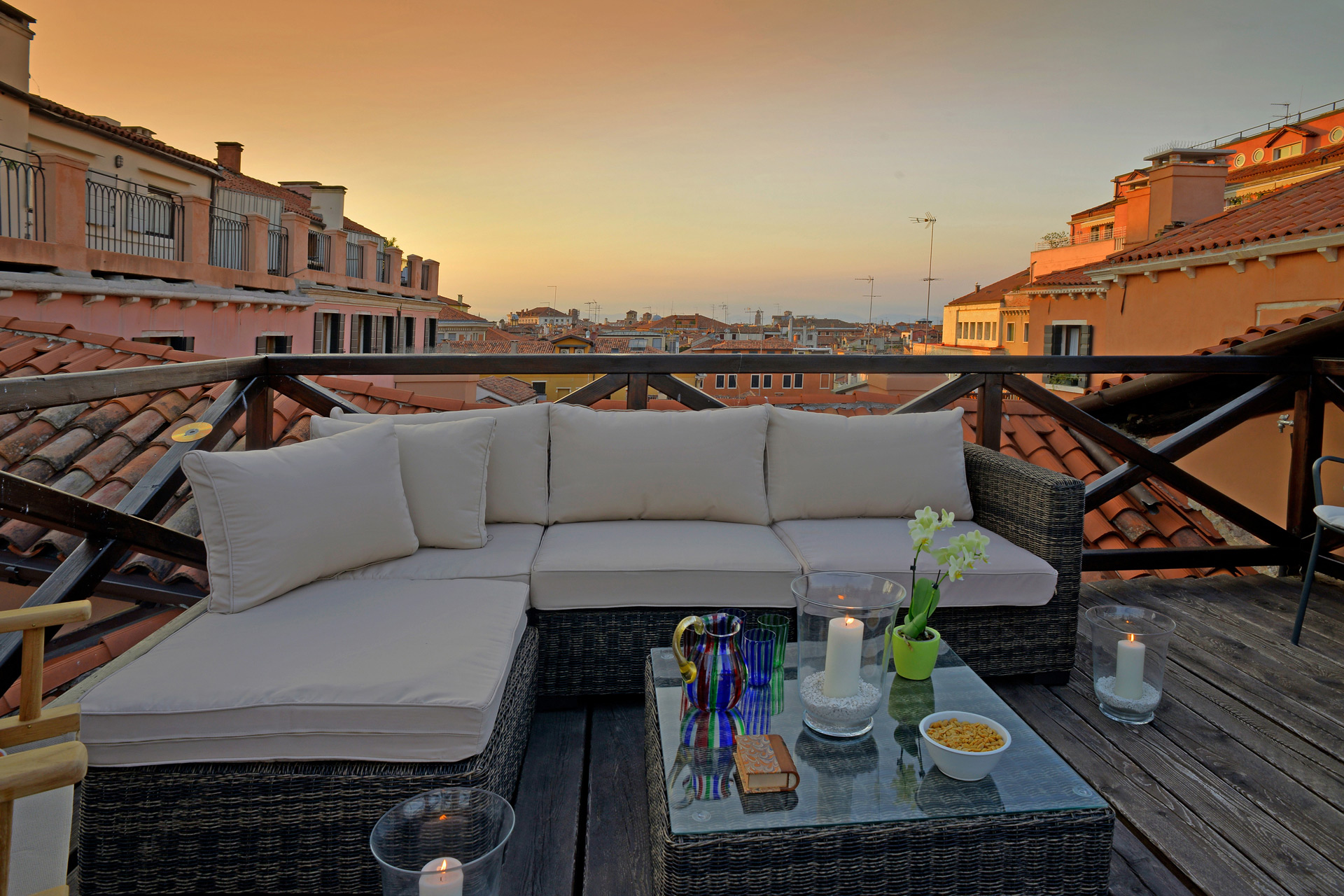 Alloro, with 2 bedrooms and 2 baths has the best views directly overlooking the Grand Canal and the imposing Santa Maria del Salute church*. The living room, dining area and master bedroom have that timeless view.  All apartments have a full kitchen with nice amenities such as a Nespresso machine. Alloro shares a terrace with Menta.  The terrace is large with plenty of comfortable seating and a table suitable for dining.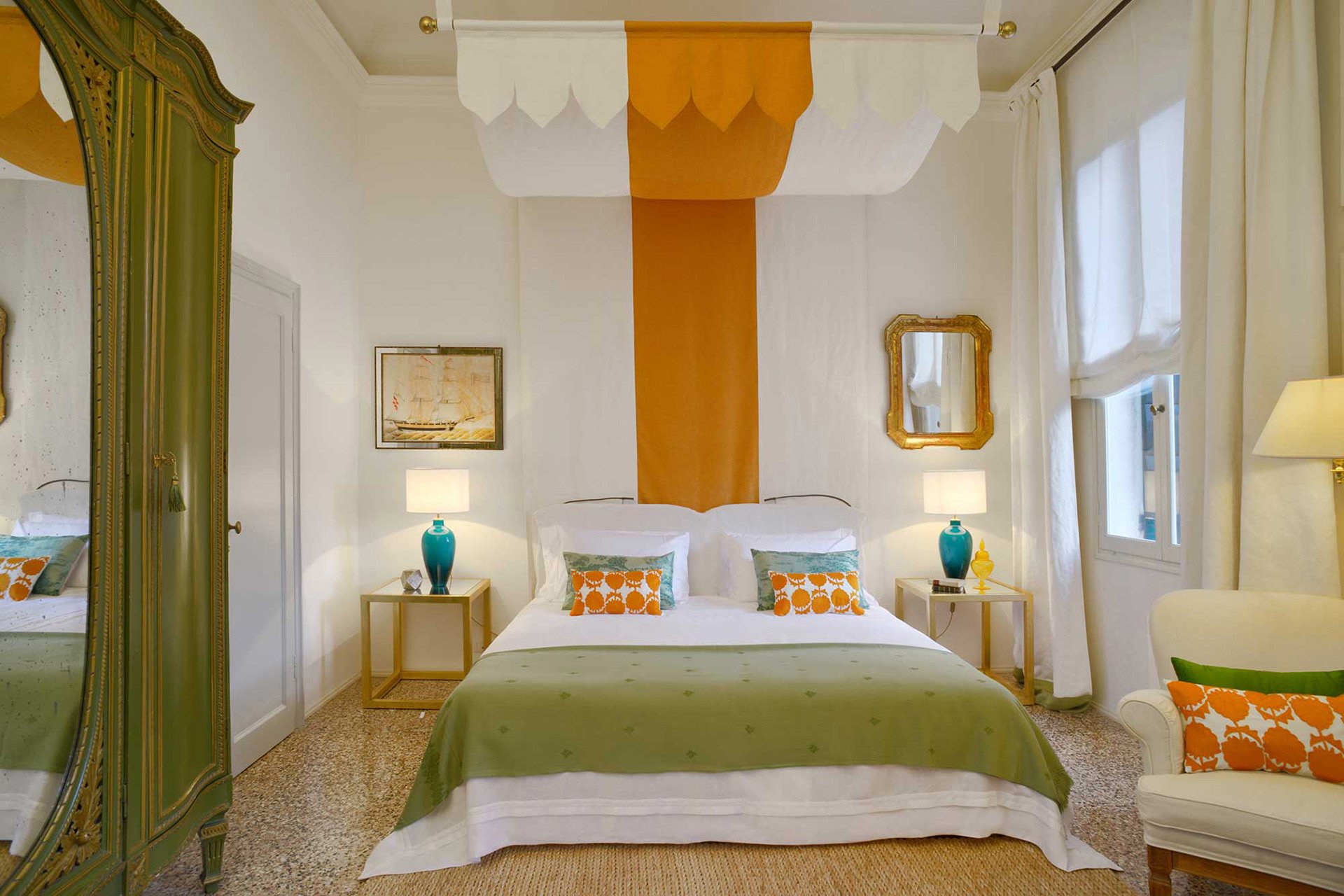 Menta also has 2 bedrooms and 2 baths. It, too, is delightfully decorated with pleasing colors, good light. The apartment overlooks a quiet Venetian campo. New bathrooms with good size showers.  The terrace is shared with Alloro.
Cassia is the largest apartment with 4 bedrooms and 3 baths, accommodating up to 7 guests. There are 3 bedrooms on the main level and then a bedroom and bath under the eaves a level above, that is suitable for children. Up another level is the glorious rooftop Altana terrace with lounges and dining table.
Some of many guest comments:
The apartment, location, logistics and staff were all beyond expectations. My family could not have asked for anything better.
The location was ideal. The views were as good as one can get in Venice, located at the mouth of the Grand Canal at a point where the gondolas would cruise by with singers singing arias from Italian operas. ..I have traveled a lot in my life and I have limited tolerance for hassle and discomfort. If I am going to go to the trouble and expense of visiting a place like Venice I want it to be an experience with no compromises. Italy Perfect is designed for people like me.
Traveling to Venice and want to stay on the Grand Canal with amazing views in luxury accommodations? This is your place.  The apartment is spacious, beautifully appointed, and staffed by the nicest people you will meet. When we travel we typically stay at big name hotel chains but no more
We absolutely loved our stay at the enchanting Alloro apartment in Venice (we actually stayed an extra night)! Beautifully decorated apartment with fabulous Venetian terrazzo floors in a lovey historic building overlooking the Grand Canal. We could have spent all day just staring out the windows with a glass of wine or espresso enjoying the sights and sounds below. Gondolas floated by with opera singers or guitarists serenading their passengers and incredible sunrises and sunsets cast long, warm light onto the majestic old buildings which made us feel like we were in a renaissance painting! 
Although Cassia is located in the heart of Venice it is in a quiet palazzo. As you step off the elevator to your penthouse suite you are enveloped by true Venetian style. Every elegant room in the apartment is spacious, even by North American standards. It is exquisitely appointed with sophisticated furnishings. The outdoor terrace on the main level is perfect for gatherings during the day and the altana for evenings. The amenities provided by the professional staff are delightful – maid service, bottled water, wonderful coffee and divine croissants each morning.
All 5 of us fell in love with this place. The interior was roomy and beautiful. We could not have asked for a better location. 
*Salute means health and the church was built in the 1600s to thank the Virgin Mary for the end of the devastating Black Death.