It is a true Roman virtue to relax in the afternoon when the sun is shining. From spring through autumn, Rome is blessed with many sunny days and temperate weather. Drink in the timeless skyline and feast on the panorama of golden-hued history.
These 5 rooftops are a few of our favorite relaxing spots for morning coffee, sunset drinks, and cityscape-gazing in between adventures in Rome's historic center.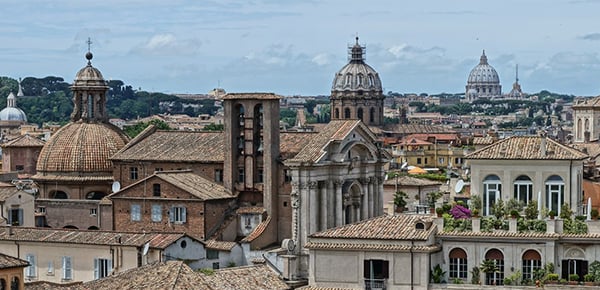 Capitoline Museums Rooftop Café
At the top of the hill known as the capitol of the city for almost 3000 years, you can drink in the view of the city where no edifice can be built higher than the dome of Saint Peter's basilica. A pleasant café with an astounding view across the timeless panorama of the Eternal City.
Minerva Roof Garden
The restaurant and bar on the roof of the Grand Hotel de la Minerve is open from breakfast though dinner. Lounge under the warm gaze of Roman sun with an Aperol spritz and a bird's eye view of the Pantheon's timeless, weathered dome. Away from the bustling streets filled with tourists, street vendors and crowded restaurants. Take a deep breath, revel in the tranquility of the garden, and watch the crowds below from your perch.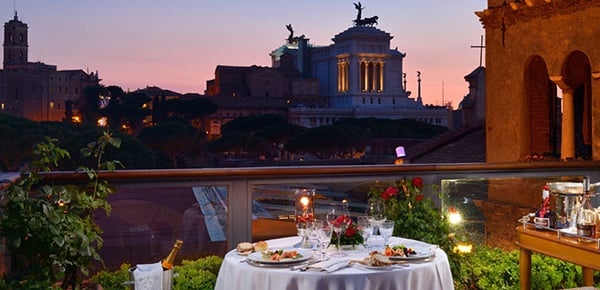 American Bar at Hotel Forum
The terrace bar is a hidden gem and seating is limited, so it often feels like your own private balcony.  Roman history buffs will love the luxurious rooftop lounge that looks directly onto the ancient Roman Forum and features a marvelous panorama of temples, ruins and green canopies of Mediterranean pines trees. The American Bar has a great selection of whiskeys, grappa and an exciting cocktail list.