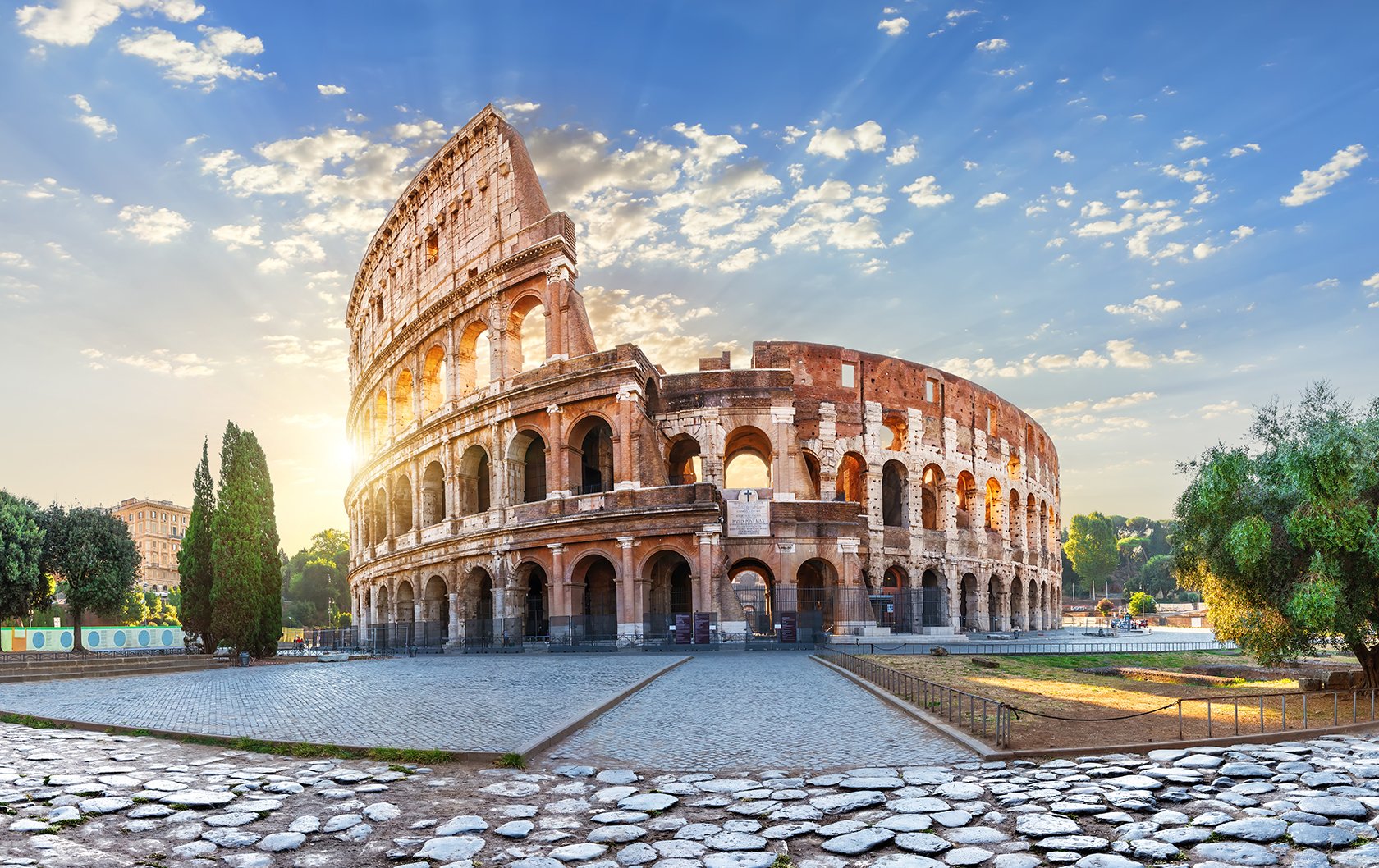 If you've visited Italy even once, you've very likely walked between the iconic monuments of Rome trying to soak in as much of the city as you possibly could. With so much history on every corner, the city may seem to be frozen in time: the same wonderful museums you remember from your first visit or the restaurants that left an indelible impression on your heart. But Rome isn't called eternal for nothing, and the best way to remain so is to constantly evolve into something that threads the fine line between familiar and surprising. Rome is evolving and undergoing its own renaissance, and in the process reaffirming its spot at the top of any good traveler's bucket list. It's time to rediscover Rome, and here's where to start!
Rescued Museums, Virtual Chariots & More than Modern Art
You couldn't possibly fit all of the incredible museums of Rome into one visit, and it would seem almost unfair to stack the deck so firmly against that by adding more. However, if you are returning to Rome or simply looking for something a little more off the beaten path, there is no shortage of new exhibits, installations and buildings to explore.
The most interesting is right in the heart of the city center, at the Baths of Diocletian, one of the most famous arms of the National Museum of Rome. The Museum of Rescued Art (Museo dall'Arte Salvata) showcases priceless artifacts that have been recovered by the Italian state after being stolen or illegally exported over the centuries, and tells a story that goes beyond their individual composition. They symbolize the cultural heritage of Italy and the tireless efforts of law enforcement to track, trace and recover it for future generations. According to the Minister of Culture, Dario Franceschini, "The Museum's exhibits will change according to the outcomes of investigative operations, international returns, and recoveries in areas affected by natural disasters. When each new exhibit arrives, artifacts displayed up to that point will be returned to their original locations."
If you're looking to get a little more immersed in the past, the Circo Massimo Experience allows visitors to jump back in time (literally). The walking tour uses augmented and virtual reality to bring people through the life cycle of the epic stadium, from the vendors and shops to the great Arch of Titus, which appears before viewers in its actual height. The visit is available in eight languages and tickets can be purchased online or at outlets around the city. For families looking to explore together, there are reduced rates and packages available.
Although Rome has certainly got the ancients covered, there's plenty to offer for those in search of more modern art. Until the end of March 2023, the historic Palazzo Bonaparte, which served as the residence for the French ruler's mother, will host a major collection of Vincent Van Gogh. With more than fifty works on display, all of which are on loan from the Kröller Müller Museum in Otterlo, Netherlands, visitors will have a rare occasion to view pieces such as The hospital garden in Saint-Rémy (1889), The Ravine (1889), and his seminal Self Portrait (1887).
If that's not modern enough, head to MAXXI, the museum of 21st-century art in Flaminio, just north of the city center. The building, designed by Zaha Hadid, is a refreshingly labyrinthine structure whose motto is "More than Meets the Eye." With mixed media pieces from around the world, a vast collection of art and architecture and special exhibitions throughout the year, MAXXI lives up to its promise and will change the way you think about Roman museums.
A New Spin on Roman Cuisine
The Roman holy pasta trinity of amatriciana, cacio e pepe and carbonara is still alive and well, with many of the most storied restaurants in the city serving up copious bowls as they have done for generations. But, for the first time in a very long time, a new crop of chefs has joined the fold, and in so doing have reinvigorated the dining scene.
Many of Rome's most exciting new restaurants are headed by young Italians who have trained either at home or abroad and want to pay tribute to both their heritage and their discipline. The city center, long the domain of historic trattorie or the dreaded "tourist menu" is now a playground of new flavors and culinary styles. Housed in a 15th-century palazzo just steps from Piazza di Spagna, Ristorante Ad Hoc offers a "revisitation" of classic Roman and Mediterranean dishes, all of which are prepared with locally sourced ingredients.
View this post on Instagram
Near Campo de' Fiori, the young chefs and sommeliers at 53 Untitled take an even more liberal twist on the classics, with tapas style offerings that can be crafted into a full tasting menu and paired with an impressive selection of natural wines. If you want something truly decadent, head over to Campocori, where the low lit, funky dining room evokes Art Deco cool with a menu that plays all the right notes. After a long day "gladiating" near the Circo Massimo, there's no place like Aventina, a shop, restaurant and butcher that sets a table for you right in the middle of the action.
View this post on Instagram
While the center is undergoing a long overdue culinary facelift, many others have opted to set up shop in some of the lesser-visited areas of the city. The young chef duo behind Dogma, in the San Giovanni neighborhood, do so with a menu focusing on grilled local fish specialties. Across town in Monteverde, Friccico Mangia e Bevi has a rich menu of dishes with locally sourced ingredients and surprises like homemade foie gras. Just north of Rome's main university and off of the central Piazza Bologna, the team behind Mamma Orso recreates the ambiance of a loving grandmother's home while delivering a creative and comforting menu of favorites. And, of course, no list of new restaurants would be complete without mentioning Stefano Callegari's Romanè on the up-and-coming Via Cipro in Prati; the inventor of the famous "trappezzino" has finally opened a restaurant with a full menu, and it's definitely worth the trip.
The Rebirth of the Bar
On your first visit to Rome, chances are good that you searched high and low for the one thing that many travelers to Italy dreams of: ice cubes. More often than not, you were lucky if you found a bar that had even heard of serving drinks with ice, let alone one that actually practiced the fine art. But those days are thankfully now firmly in the past – where they belong. The cocktail has landed in Rome and with it a wave of new bars serving wine and spirits that will make you glad you came back.
View this post on Instagram
Ever the epicenter of cool, Trastevere is home to some of the city's best new cocktail bars and is well worth an evening out. Gintoneria di Santo Trastevere proves once and for all that the Gin and Tonic is here to stay, with more than 130 different labels on offer. They've also got an extensive cocktail list and a small menu, should you need some nibbles to keep the night alive. Further south in the neighborhood, the Städlin Sound & Cocktail Bar is located inside of a former mill built at the end of the 19th century. The industrial decor feels more like SoHo than Rome but the swarms of impossibly cool Romans will leave you with no doubt about where you're sitting.
View this post on Instagram
Although there's never been a shortage of good wine in Rome, the enoteca has undergone a serious, well-deserved makeover in recent years. Those looking to explore a vast list of the seemingly limitless varietals in the country would be well advised to visit Quartino in the Esquilino neighborhood. Along with its sister store Astemio in nearby Monti, Quartino offers hundreds of labels ranging from obscure to ostentatious, and the menu is perfect for those who don't want anything on the plate to outshine what's in the glass.
If you'd like to focus almost entirely on the natural wine craze sweeping the city, head over to Enoteca L'Antidoto back in Trastevere, where you'll find hundreds of small batch wines and a passionate staff that is happy to talk for hours about each and every one of them. As the hours turn into days on your Roman holiday, you might just consider making a new habit of coming back. After all, you wouldn't want to miss anything, would you?
Ready to rediscover Rome and plan your next stay in the Eternal City? Check out our beautiful Rome vacation rentals and contact us to book your Roman holiday!