Take it from someone who learned from experience: running into a film set during your travels can be the most exciting – and least convenient – part of your adventure. While in Florence, my companions and I found ourselves dashing down side-streets when the main thoroughfares were blocked-off for filming. The movie? Dan Brown's Inferno.
We nearly missed our train. I'm still waiting for a personal apology from Tom Hanks.
Joking aside, everyone has a favorite movie – or a list thereof – and true Italophiles will very likely be drawn to films set in Italy. The list of movies filmed at least in part in Italy is staggering. Here is a small sampling movies where you can enjoy a bit of Italy sightseeing, whether it is seeing Julia Roberts character in "Eat Pray Love" enjoying Rome or watching Gary Grant stroll down Via Margutta in "Roman Holiday".
The Spanish Steps, Rome: as seen in "Roman Holiday"

Classic movie fans are likely familiar with the film Roman Holiday, and of course with lead actress Audrey Hepburn. They will also recognize the famous Spanish Steps in Rome from a scene where Hepburn and co-star Gregory Peck are out-and-about in the city. Take a photograph sitting on the steps with an ice cream cone and you may as well be Hepburn herself.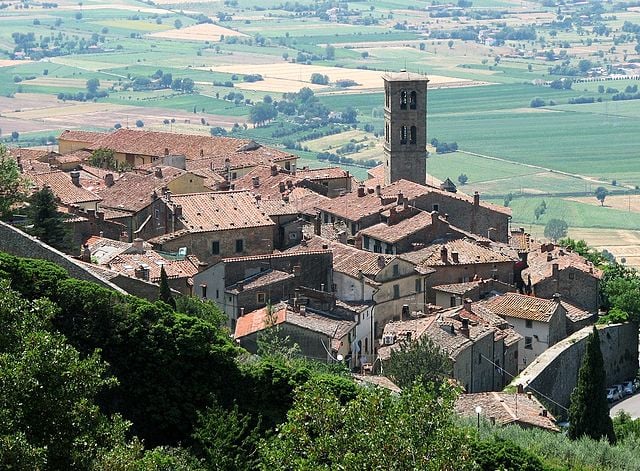 Cortona: A town made famous by "Under the Tuscan Sun"
What is more inspiring than a film about finding yourself by moving to Italy and undertaking a labor-of-love like remodeling a beautiful old villa? Nothing… except maybe seeing the town where the film was made. The author of the eponymous novel from which the film was adapted says that the town of Cortona has changed a bit since the success of the film, but it is nonetheless a charming escape from the beaten trail.
Badia delle Santa Flora e Lucille, Arezzo: The beautiful home of "Life is Beautiful"
Film connoisseurs need a high tolerance for irony to appreciate the title of this film, which mixes a father's love for his son with the dark subject of the Holocaust. Watching Guido attempt to convince Giosuè, his young son, that their experience in a concentration camp is actually a game. Standing in the Badia delle Santa Flora e Lucille, where Guido meets his wife Dora, will remind travelers that life is indeed beautiful.
Bacci Chapel, Arezzo: straight from "The English Patient"
As it turns out, the small town of Arezzo was the location for part of another well-known film. The English Patient was nominated for numerous awards, and the iconic scene where Hana studies the frescoes of an ancient chapel was filmed in the Bacci Chapel. The frescoes themselves were recently restored, and are so popular that visitors need reservations to view them.
Juliet's Balcony, Verona: maybe you remember "Letters to Juliet"
Because no list of productions set in Italy would be complete without a nod to Shakespeare – a writer with a clear bias for the Italian peninsula – the final entry on this list is a film inspired by perhaps his most famous work: Romeo and Juliet. While Juliet never lived in Italy herself (or, for that matter, existed beyond the Shakespearean stage), the filmmakers actually did travel to Verona and a balcony that has become associated with Juliet was shown in the film. Travelers can see it for themselves by stopping over in Verona.
Fun Apartment Facts
The penthouse in the building where our Rome
Imperial Vista apartment
is located was the home of Jep Gambardella's in the movie "The Great Beauty".
An apartment one floor below the Rome
Landini apartment
is where Matt Damon's character lived in "The Talented Mr. Ripley".