Just as Romans have done for thousands of years, they gather today in Campo de' Fiori where visitors and locals alike find a beautiful open air market, offering everything from cut flowers to pizza. At night, the piazza transforms into a social hub for young people looking to make the most of the nightlife.
Campo de'Fiori has spent the last 1,400 years transforming from a flower garden – the names translates to "Field of Flowers" – to a thriving market. Six days a week, the piazza is home to the only outdoor market in central Rome. Vendors sell everything from spice packets and limoncello – for the tourist crowd – to fresh vegetables, fruits, and even pomegranate juice.
Because the stalls are open from the morning through the early afternoon, Campo de'Fiori is the perfect place for a late breakfast or lunch. Sitting among the shoppers is sure to make any traveler feel like a local enjoying a pleasant break on the streets of Rome.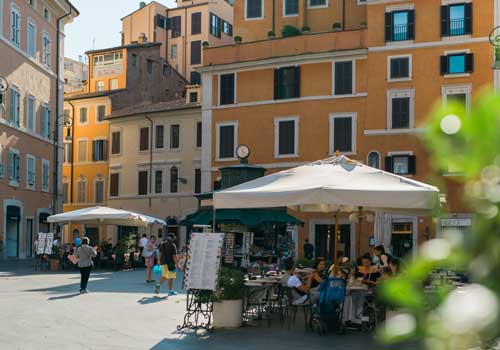 By night, Campo de'Fiori is a hub of the Roman social scene. The piazza is encircled with bars and clubs, drawing the younger crowd in for revelry. TripAdvisor calls it "the perfect place for Roman Nightlife." While some seem to think that the partygoers are primarily Americans – making it more a tourist destination than a local secret – the reviewers rave that Campo de'Fiori is the place to be.
The best way to spend the evening: find a good bar and restaurant. La Botticella is one such establishment. Closer to the piazza itself is Maranega. Enjoy outdoor seating that will allow visitors to rest their feet without leaving the piazza.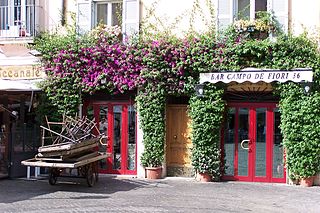 Not sure where to go? No problem. Most visitors just wander and head into whichever bar piques their interest. This might be the best option anyway – there are more than 20 situated along the piazza.
If the crowds and the bars are not enough to convince travelers to spend an evening on the Campo de'Fiori, the street performers might be too hard to resist. Wandering the piazza one can find anything from musicians to magicians, waiting to impress the party-goers and earn a few euro. This goes on through the night, and will surely leave even the most enthusiastic travelers looking for a comfortable bed.