Florence is a great place to maximize your time and your budget. The art is astounding, the food delicious and the relatively compact size of the historic center lets you pack a lot of sightseeing, eating and enjoyment while savoring many breathtaking sites. And, with careful planning you can stretch your budget with many rich, yet modestly-priced, experiences.
Save on Museum Admission Prices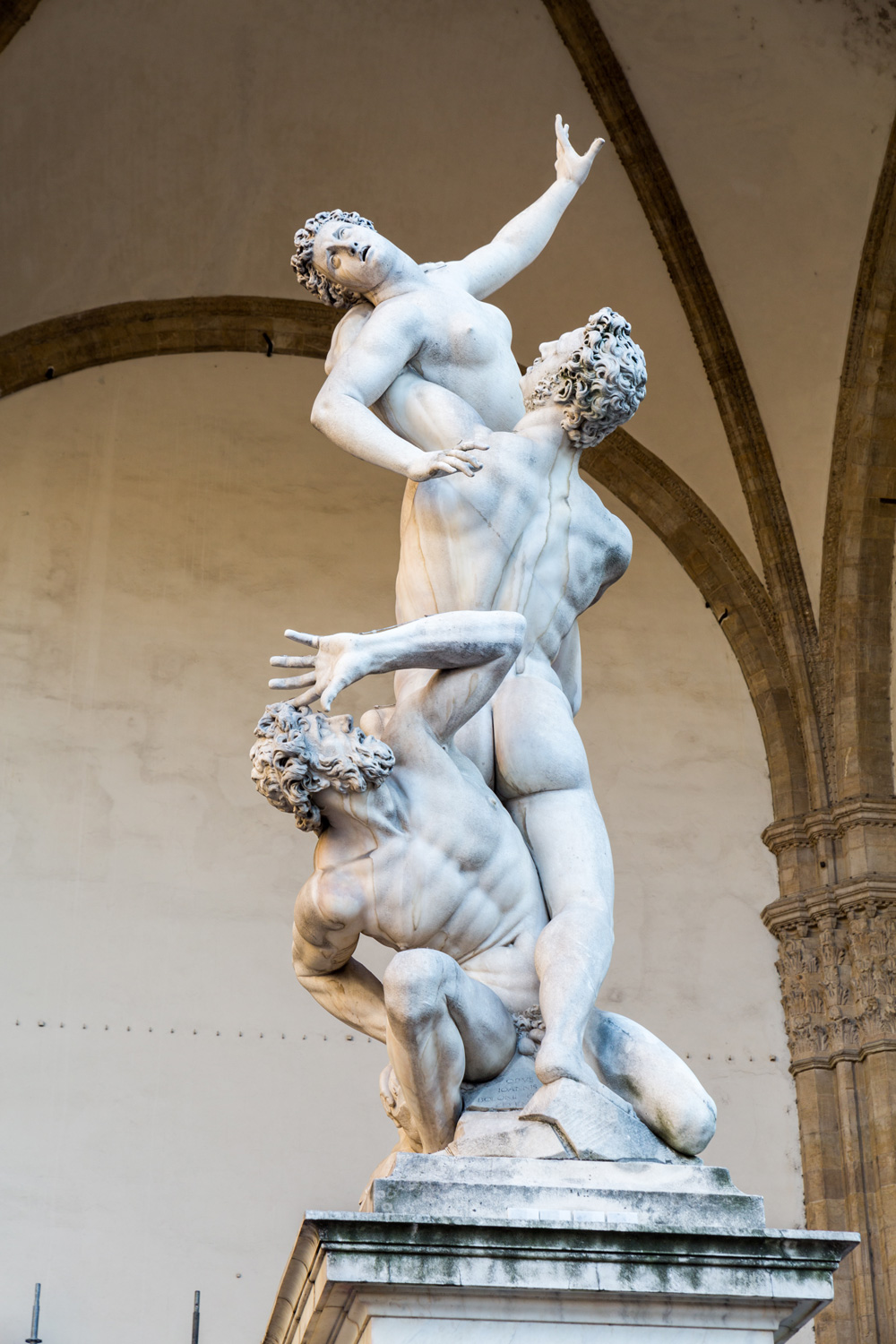 The noble families of Florence – in particular the Medici's – were known for their patronage of the arts. A rich tradition of art appreciation lives on in the city's many museums, making them the first stop for many travelers. That said, ticket prices add up.
The good news? There is a plethora of ways to enjoy the art of Florence without buying a single ticket because so much art is on public display.
Start in the Piazza della Signoria that is home to a glorious collection of outdoor sculpture. Among them is a replica of Michelangelo's David –- number one sculpture on any art-connoisseur's list –-  in the location it was commissioned for and Giambologna's Rape of the Sabine Woman betwixt the Medici Lions. Enjoy how they come to life in the fresh air.
Save on museum entrance fees on certain days during the year, first Sundays, night of April 30th before May 1st holiday, Women's Day on March 8th. There are often discounts for people variously over 60 or 70 years, ask.  Here is a summary, but always check.

Free Meal with an Aperitivo
Refuel at a cafe for a coffee or aperitivo, rest your feet and enjoy people watching. Favorite stops are the cafes that line Piazza della Repubblica, the cafe on the roof of the Rinascente Department store, or any of the many wine bars that offer a hearty cocktail hour appetizer buffet for the price of a glass of wine. No need to buy dinner! We enjoy the happy hour buffet at Tamero' Pasta Bar on Piazza Santo Spirito. Or try Gallery Cocktail Bar on Via dei Benci near Piazza Santa Croce.


Architecture on Display for All to See
No charge at all to see most of all the wonderful architecture proudly displayed by Florentine merchants and nobility from medieval times through the Renaissance and Baroque. We really like the Rick Steves audio tours (also free).
Best Free View
Walk up to Piazzale Michelangelo for a view of Florence that will fill your heart. The city is pretty much as it was during the times of the Medici, few modern buildings so you can pick out your favorite sights.

Stretch Your Budget: Affordable Italy Perfect Apartments
Here is a sampling of some our best value apartments, all in excellent historic Florence center locations.
1 Bedroom Apartments
Casetta Bonsi is an entire little house, unusual for the city center, and even boasts a little terrace. Wonderful Oltrarno location near the Ponte Vecchio.
Prisco, Strozzi & Michaela are perennial favorites, all in the same building in an elegant part of town.
Solare is cute and a super price to compensate for lack of elevator.
2 Bedroom Apartments
Parione Perfetto is a new addition to our offering, newly renovated, great introductory low price.
Vespucci is a very pleasant apartment, an easy walk along the river. Bright and really well maintained.
S. Croce Paradiso is our best 2-bedroom value a very historic and prestigious noble palazzo.