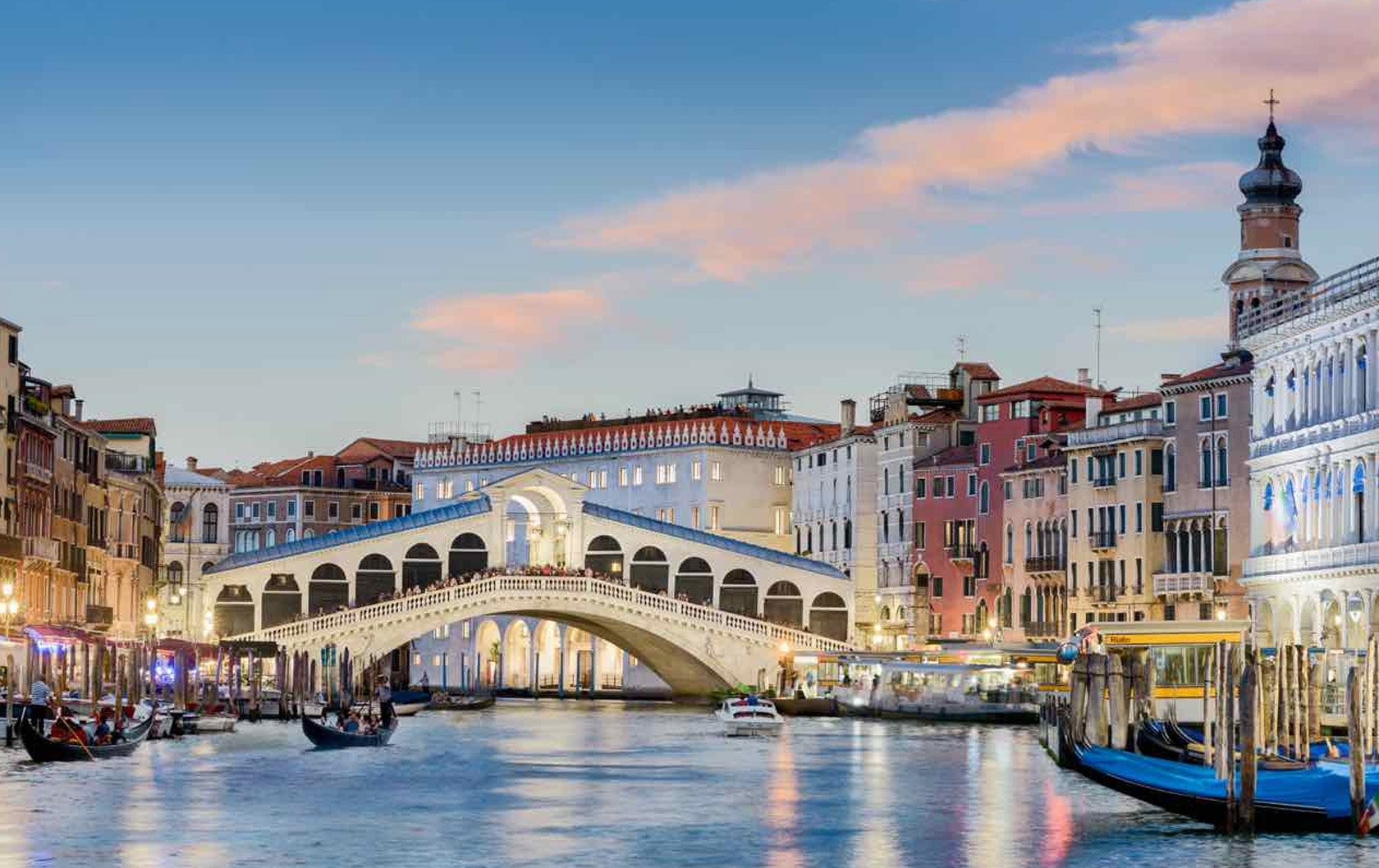 Venice, a city of islands, is located in the Veneto region of Italy that is bordered by the sea, the mountains, and the countryside. This varying geography means that this region, and particularly the city of Venice, has some of the most varied cuisine in the whole country. Here we'll share some of our favorite traditional foods in Venice, including everything from traditional rice dishes to the Venetian "tapas" you will be happy to try, and of course a few desserts!
Go to the Bacari for Classic Cicchetti and Ombra
Let's start with one of the most celebrated foods in Venice! First, a quick Venetian vocabulary lesson for you: Bacari is a little hole-in-the-wall type of bar. Cicchetti is Venice's version of tapas, or small plates. And ombra is the wine you'll have with your cicchetti.
An ombra di vino translates as "a shade of wine" that dates back to the wine merchants who used to set up shop in the Piazza San Marco. Throughout the day, as the sun moved, the merchants would relocate their stands to keep the wine in the shade so that it wouldn't get too hot. People then started to use the phrase "go find some shade" when they meant "go find some wine," and that's how "a shade of wine" became the local measurement for a glass of wine!
The ritual of the cicchetti and ombra is taken very seriously in Venice, and it's considered a time to relax, socialize with friends, and enjoy the simple pleasure of good food, good wine, and good company.
Many bars will have their own unique cicchetti options, however there are some popular dishes you're sure to find at most places: a fried meatball dish called polpette, grilled polenta with fish, and sarde in saor, to name a few.
The last one, sarde in saor, is a sweet-and-sour snack made of fried sardine fillets marinated in vinegar, onions, pine nuts and raisins. This unusual combination has deep (and logical) roots in Venetian history: the dish dates back to medieval times and the marination was a means of preservation for the sardines. It has survived to this day because in addition to preserving well, it's also pretty tasty!
A quick tip: if you want a Venetian abode as cozy and pleasant as the little bacari, we recommend the perfectly located Alloro apartment, that faces the Grand Canal. It's the perfect headquarters for an evening of cicchetti tasting across the city.
Rice? In Venice?
Veneto produces more rice than most other regions in Italy, and so rice dishes are some of the most traditional foods in Venice. One dish in particular, risi e bisi (rice and peas), is often served on St Mark's Feast Day, April 25 — but you can find it on the menu all year round.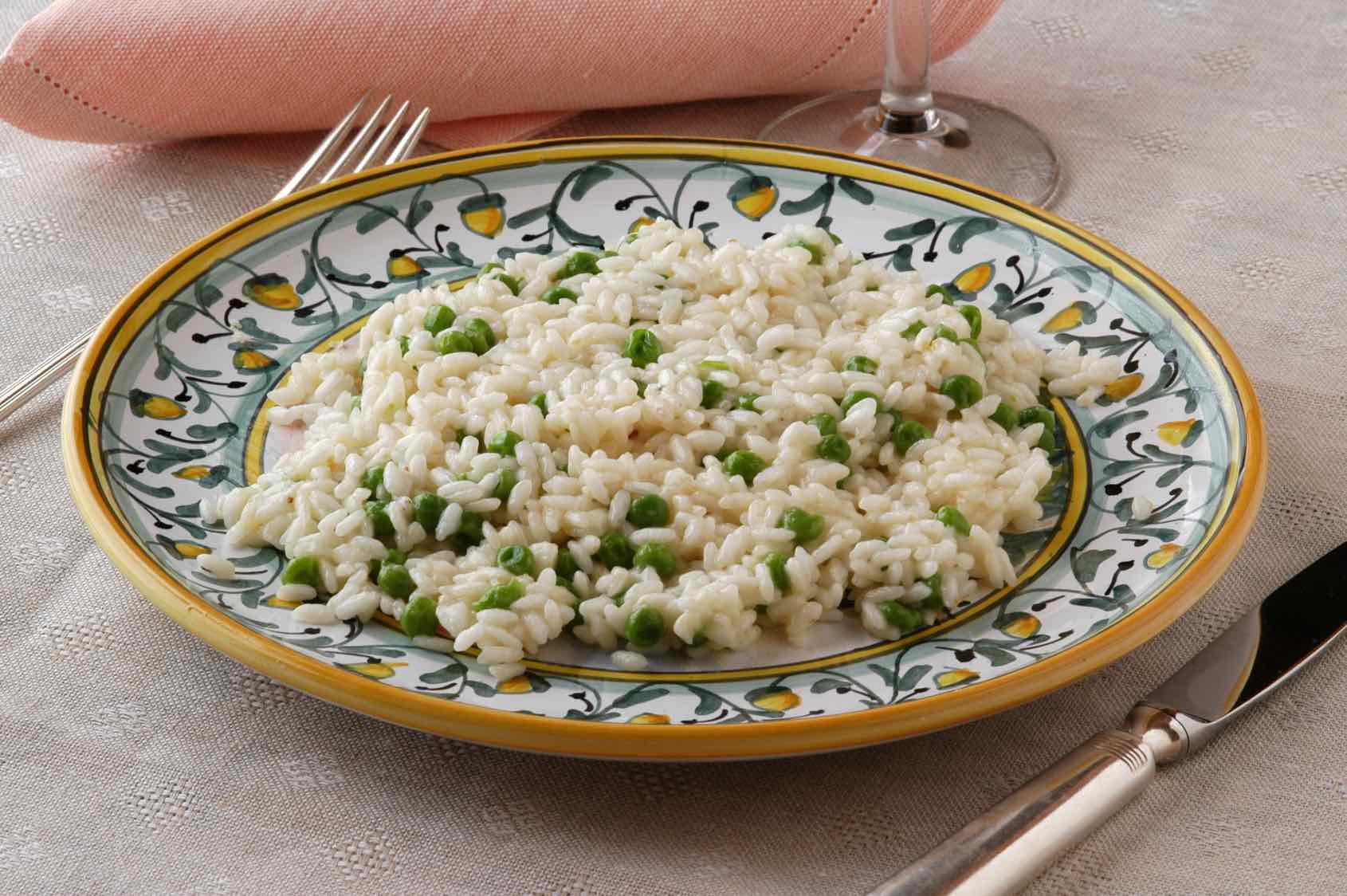 Another class Venetian rice dish, risotto al nero di seppia, is a dark-colored seafood-based risotto that is seasoned with wine, tomato, and onion, colored by the ink of the squid.
If you aren't a fan of rice, fear not! There are plenty of other traditional foods in Venice to sample. We recommend trying fegato alla veneziana, a pasta dish made with calf liver and caramelized onions, often served with polenta. It is so delicious that it has been known to change the minds of many people who claim to not like liver-based dishes!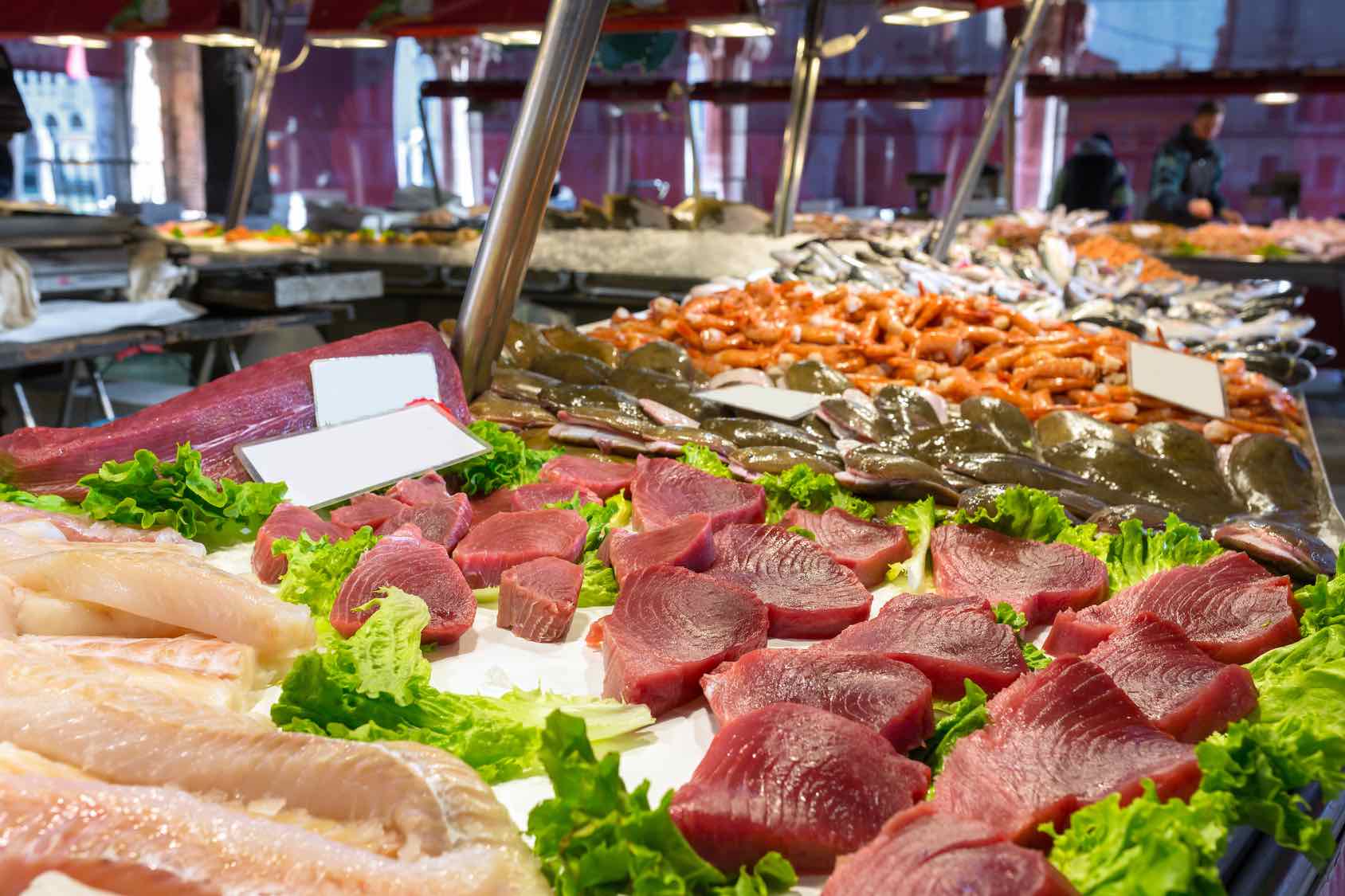 Take a Trip to the Fish Market
Venice is also, not surprisingly, a great place to sample the local seafood. The Rialto Fish Market has been a huge part of life in Venice for hundreds of years. Fun fact: the market was previously located on the other side of the Rialto Bridge from where it sits now. It was moved after wealthy bankers complained to the government that it was too loud and that the smell of the fish was too strong… and this was all the way back in the late 1400s, so you can see just how long this market has been part of the culture in this city. Nowadays you can visit the market to note the local catch of the day and enjoy shops of all kinds that cluster in the market.
Here's a tip: if you want to toast the views we recommend the stunning Cassia apartment, one of the largest Italy Perfect rentals, located in a Venetian palace! The private rooftop deck has views over the neighborhood and the canals, and you'll also get  warm croissants delivered to your door each morning!
Stay Hydrated in Style
Most popular cities have some sort of signature cocktail, and Venice is no different. While you're in town you have to sample the Bellini, made with sparkling white wine and pureed peaches. The drink was invented in the 1940s by the owner of Harry's Bar and was made famous by Ernest Hemingway, Orson Welles, and many other big name fans. If you want to stop by the world famous bar to sample the drink where it was born, it's still open! We recommend a reservation in advance.
Don't Forget Dessert
We can't make a list of the traditional foods in Venice without including a few dessert options. Cookie lovers should try the buranei — little butter cookies from the Burano island that are usually shaped like an O or an S.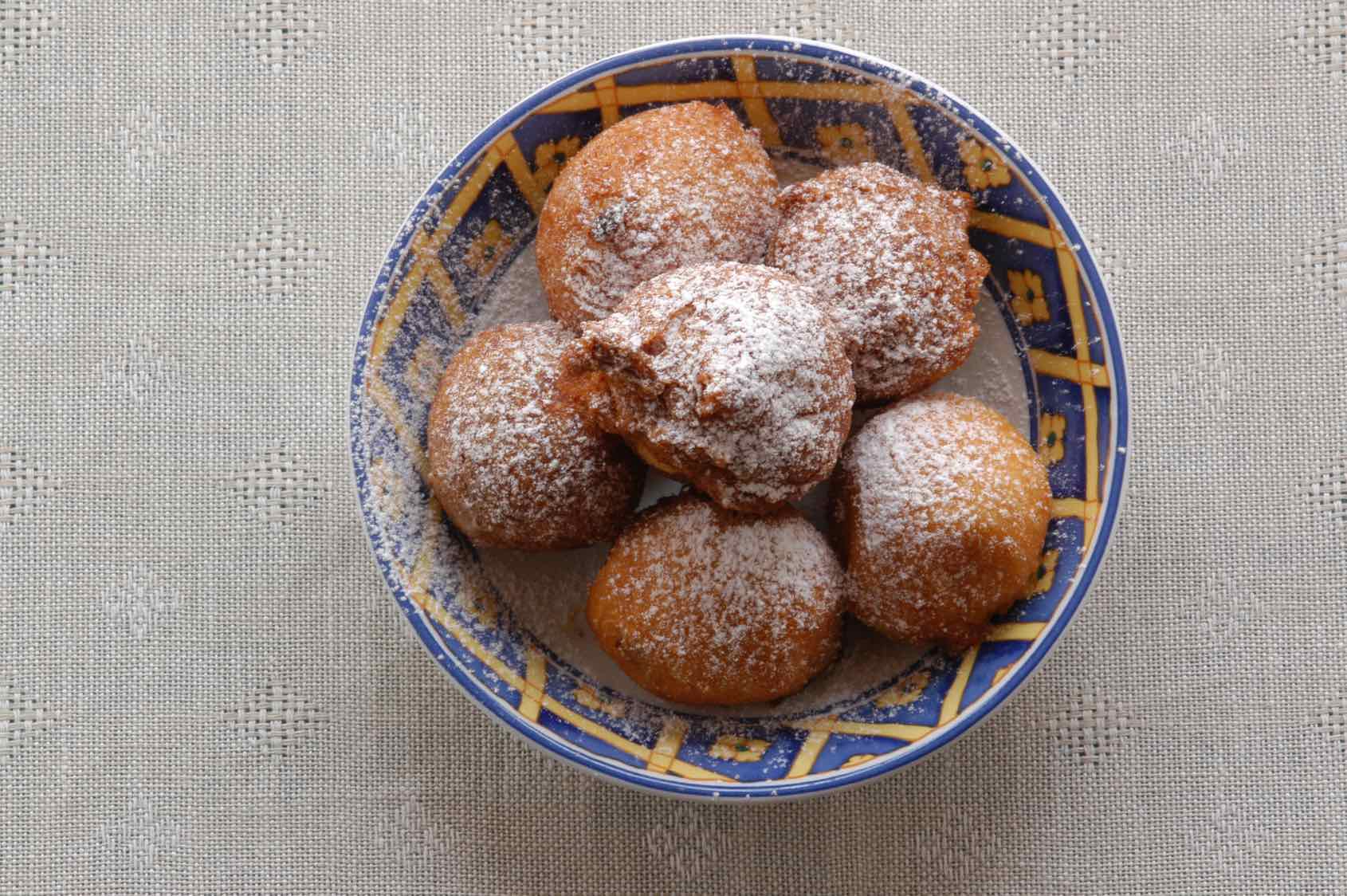 If your visit to Venice coincides with Carnival, lucky you: you'll get to try the traditional fritole. These little treats are essentially fried dough balls covered in powdered sugar.
And of course, if all else fails, you can't go wrong with one of the most traditional foods in Venice and possibly all of Italy: a scoop of gelato. Little gelato stands are located all throughout the city and are particularly refreshing on a warm spring or summer night when you're strolling home after dinner to, say, your beautiful Serenata apartment. This is one of the most popular Italy Perfect apartments thanks to its terrace, central location just steps from Piazza San Marco and the center of Venice.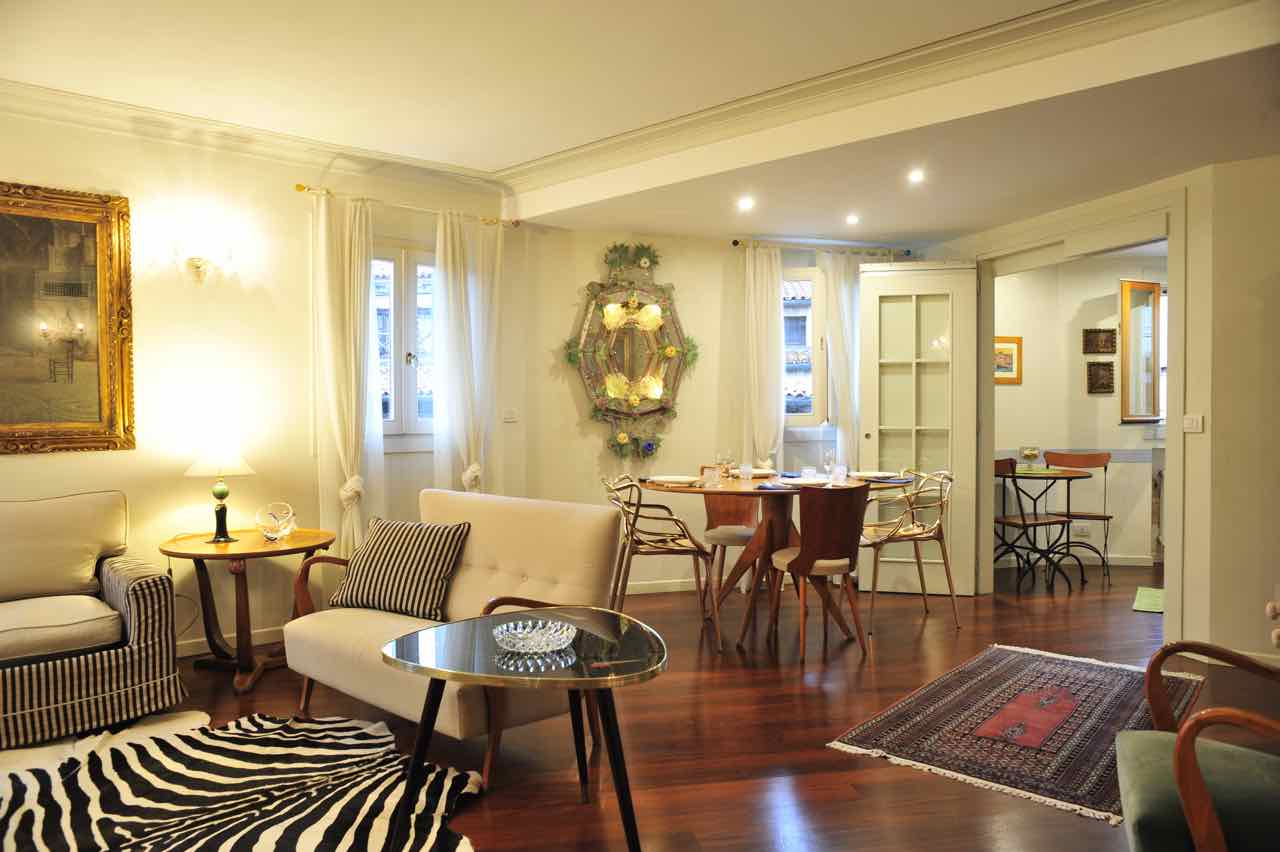 We hope we've given you enough information about the traditional foods in Venice to start planning your dream Venetian menu. When you're ready, make sure to Contact Italy Perfect and we can help find the best apartment or villa for you and your whole family. Email us at [email protected] or call toll free in North America at 1-888-308-6123.