People travel to Italy for many different reasons, but one of the most popular attractions is, of course, the wine. Perhaps it's even one of the reasons you're visiting Italy! If you're wondering where to start and which wineries to add to the top of your list, we hope this guide will be a helpful resource for you. There are wine tours in Tuscany for every type of traveler, whether you're traveling with a family or friends, whether you love art or history, whether you will enjoy a small family-owned winery or a medieval Italian castle.
Wine Tours in Tuscany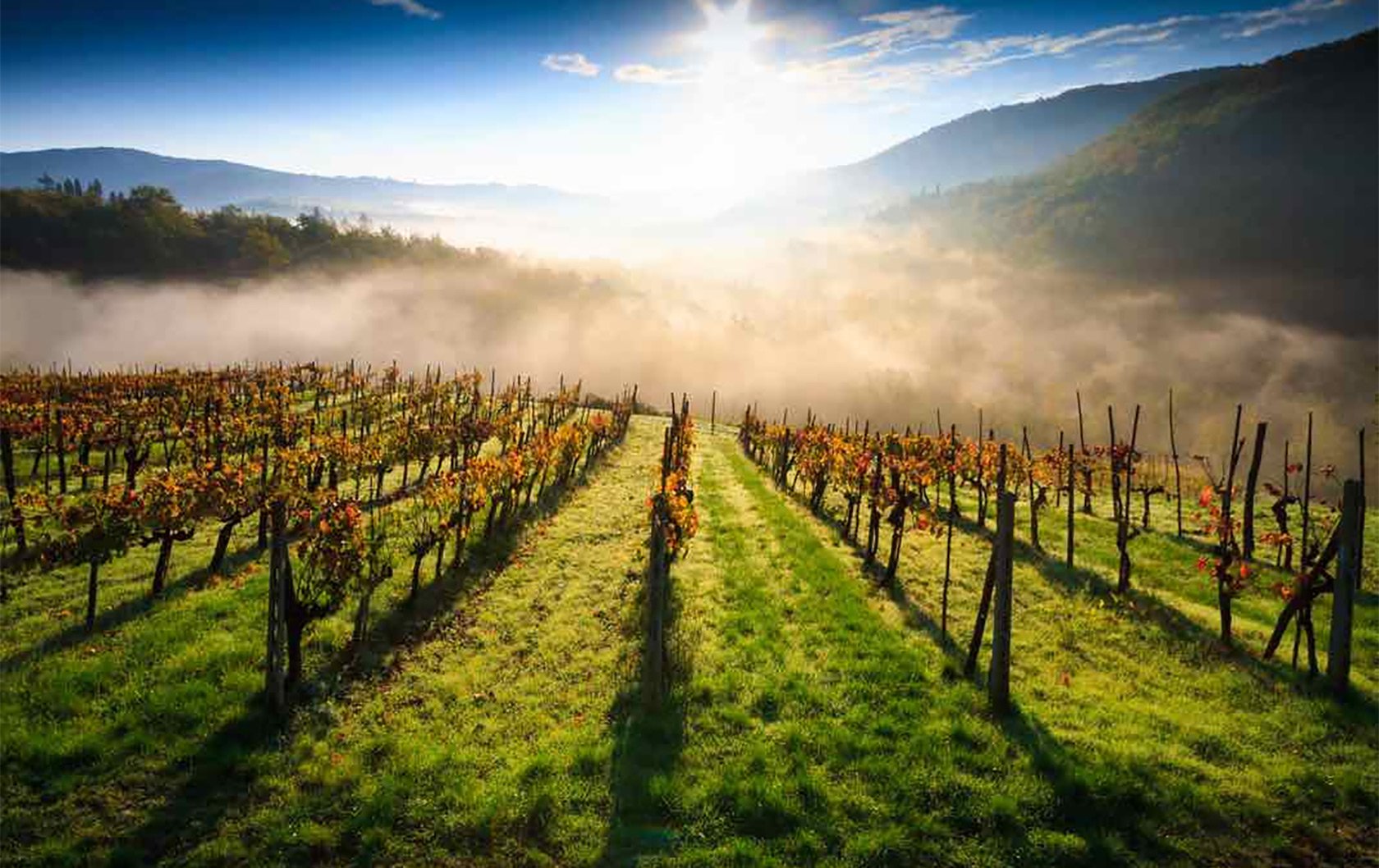 For Wine and Architecture: Antinori Winery
Antinori is famous for its striking contemporary architecture and its deep-rooted history in the region's wine production. The winery opened in 2012, but the Antinori family's history in winemaking goes back to the late 1300s , as does their patronage of the arts.
Though the physical appearance of the building is unique and beautiful, the architecture plays another — and arguably more important — role. The winery was built with environmental sustainability in mind, utilizing only local resources and maximizing the energy output. The family also created the Antinori Art Project, an initiative focusing on contemporary art, immediately following completion of the winery.
It may be difficult to choose among the different tours: a historical tour that focuses on the family's history in the region; a more scientific wine-making tour; a sensual tasting experience; and a custom tour option for visitors who want a little bit of everything.
Where to Stay: Our Casa Rossa and Casa San Vito farmhouse rentals are located near Antinori Winery. Both properties are affordable retreats in the Chianti region, with views of the surrounding hills and olive orchards! Nearby Castello Niccolo (named after past owner Niccolo Machiavelli) makes its own Chianti Classico wine on a farm estate, with charming apartments such as Canonica and the Torretta cottage.
For An Off-the-Beaten-Path Experience: Figline Valdarno
Figline Valdarno is a quiet region located near Chianti, and art history enthusiasts might recognize it as being the background landscape in the Mona Lisa. It's a not as well-known as some of the other areas around Chianti, but that doesn't mean there aren't incredible wines to experience. One of the largest is Albola Castle, a stunning medieval estate that has been in the Zonin family for over 40 years. Today the vineyards and estate cover 900 hectares, which includes four thousand olive trees.
Where to Stay: Vecchietto Estate is a sprawling property with villas that offers guests tennis courts , restaurant and pools, as well as the option to book guided bike tours or excursions, yoga lessons, and traditional cooking courses. There is also a shop in nearby Montevarchi that sells local organic wines, olive oil, farm-fresh produce and other local delicacies. A few of our villas located within this estate are Villa Aquila, Villa Gabbiano,  and Villa Maragone.
For Food and Family: Panzano and Greve in Chianti
Panzano and Greve are two very small towns that were put on the cultural map when Dario Cecchini, the butcher of the famous Antica Macelleria Cecchini, was featured on a few travel shows. But these two towns have always been hidden gems in the winery game, and Greve also has a lively and well-known farmer's market on the weekends in the town square. This little region of Chianti is perfect for anyone who wants to try delicious local foods, while sampling some of the best wines the region has to offer.
And as for wineries? Il Palagio di Panzano is a small, family-run winery with roots in the scenic Conca d'Oro, and they specialize in organic wines. In their two elegant tasting rooms, guests can enjoy free wine and olive oil tasting, with breath-taking views of the rolling hills. There are also paid tours available, offering history of the area and a closer look at the production.
For a Fully Planned Tour or Excursion
If you're one of those travelers who likes to take advantage of local tours and excursions rather than trying to figure out a rental car or navigate foreign roads by yourself, we have the perfect option for you. Italy Perfect has a long-time relationship with an excellent Tuscany tour company that offers many wonderful private tours. They also offer customization, so that you can enjoy the best of Tuscany and its wineries. As soon as you've booked your accommodations with us, we'll be happy to provide an introduction to our trusted tour partner.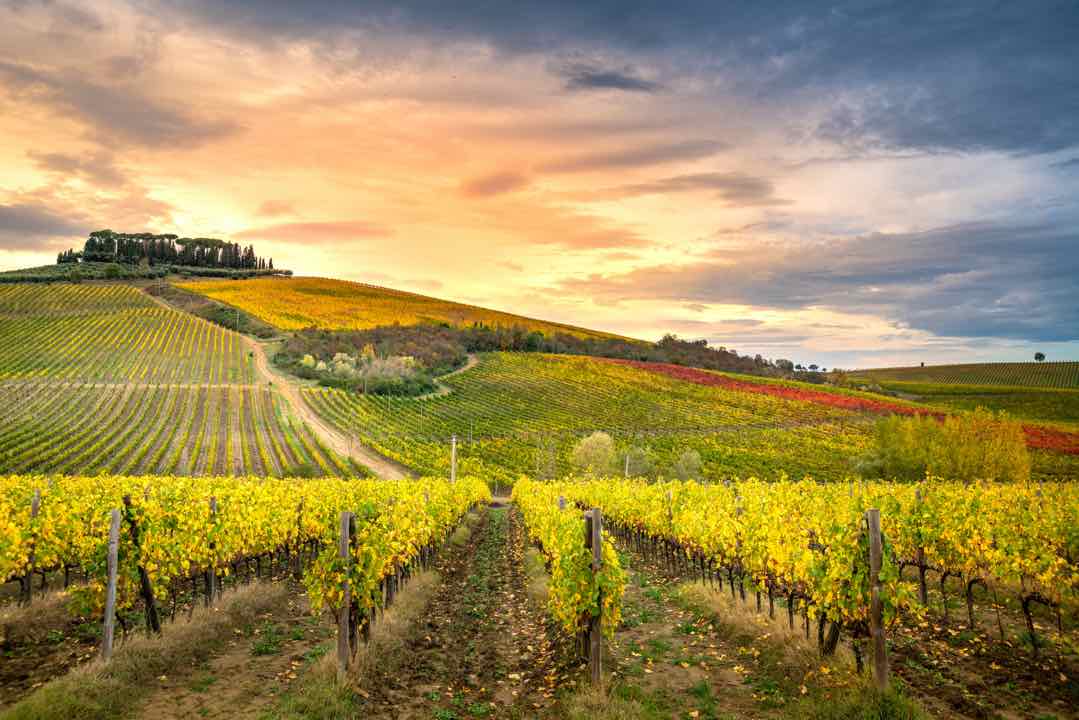 We especially love their Montepulciano, Val D'Orcia and Montalcino Wine Tour. The Val D'Orcia region is a UNESCO World Heritage Site, thanks to its picturesque landscape and little towns. It has also been used as a location in several well-known films: The English Patient, Gladiator and A Midsummer Night's Dream, to name a few. During the tour, guests enjoy the enchanting hilltop town of Montalcino, a private tour and tasting of the most important product of this area — the famous Nobile di Montepulciano — and lunch in Pienza, which has been nicknamed the "Ideal Town."
Where to Stay: Our Frantoio Villa property, with its stunning, private location and superb pool, can sleep up to twenty people. The villa is surrounded by wooded hills and beautiful vistas, a true gem in the Tuscan countryside.
We're here to help you book your Tuscany accommodations, as well as wine excursions. Contact Italy Perfect at [email protected] or 1-888-308-6123.