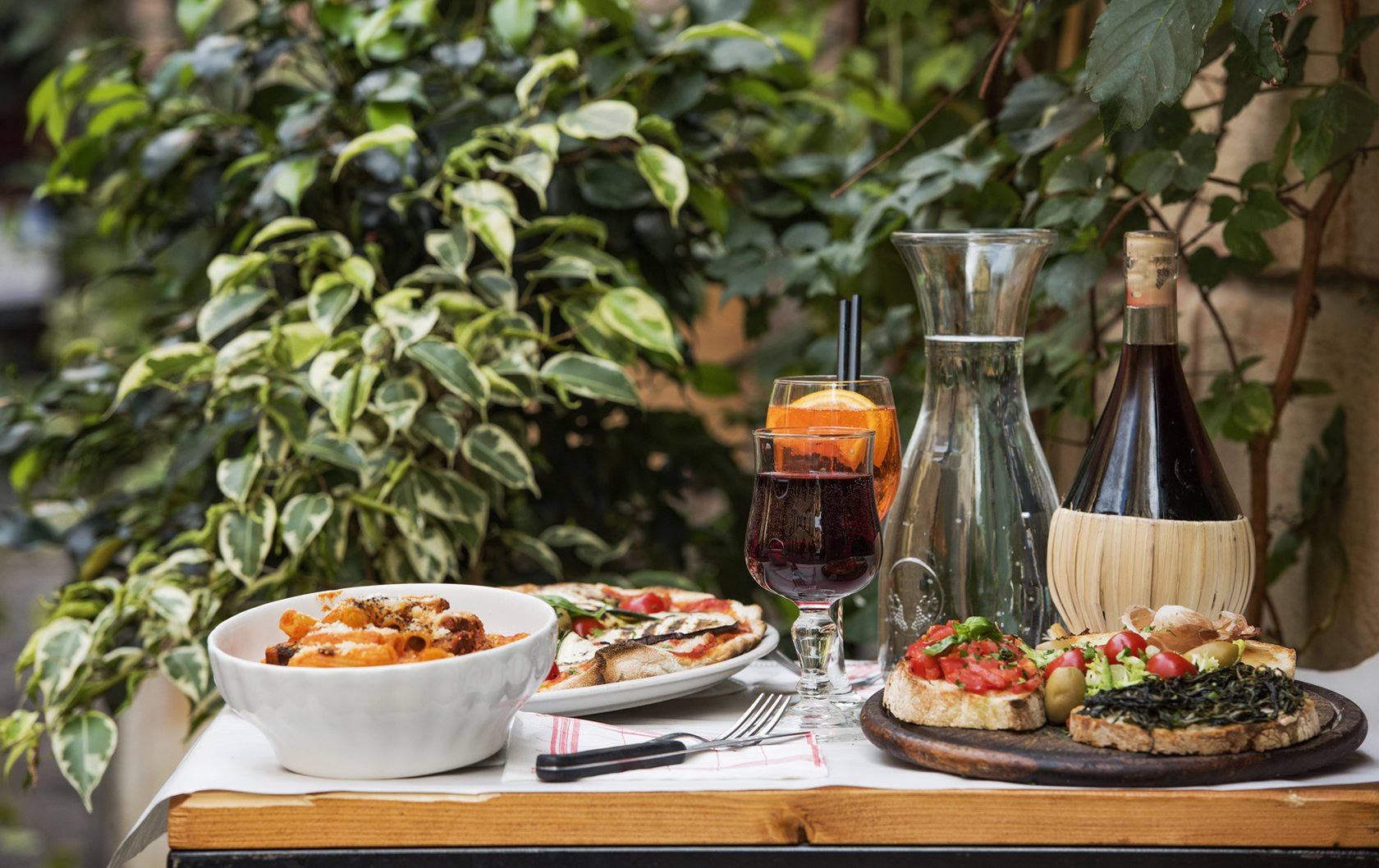 Che cosa mangiamo? What should we eat? The eternal question that leads to the most delicious experiences in Italy. Food is surrounded by and is a part of so many traditions in Italy, and it's safe to say there's a definite reverence for tradition – exactly how long to age Parmigiano-Reggiano cheese, handmade pasta shapes passed down for generations, the precise way to make pasta all'amatriciana. Here in Italy, food and the traditions surrounding it are what ties families and communities together. It is, perhaps, the most unifying aspect of Italian life.
The culmination of all this passion for food and tradition is the sagra, a popular festival celebrating local foods. The origin of the word sagra comes from a variant of the Latin word meaning "sacred," and it's particularly telling that it can be used to describe religious festivals as well as food and cultural festivals. Nowadays, it usually refers to an outdoor festival, often during the summer and autumn months, with music, dancing, games and, of course, food. As you travel around Italy, you'll often find sagre dedicated to one or more local foods—dishes or ingredients—strongly tied to the area. This is an Italian food experience you don't want miss!
A typical sagra represents place as it celebrates a food grown locally or traditionally connected with a particular area. This can change from one town and even one village to the next. Often one of the biggest events of the year in small towns, it's a fun way to experience local life and try out some great traditional cooking. If the sagra is themed around a certain food, you'll find multiple dishes to try using that ingredient, and often it will appear in every dish from antipasto to dessert.
Depending on the festival's theme, this might be a particular fish in seaside towns or anything from rice to beans, potatoes or even peperoncino. For something spicy, check out the Sagra del peperoncino in the Calabrian town of Diamante. Whatever the food being celebrated, there's often music, traditional folk games or dancing and a lot of fun as well. The entire community often comes together to cook and eat and the festival is always about more than just the food – even when it's all about food. It's also about how it brings people together, and that is the magic of a sagra.
Many towns in Italy have food festivals and they can range from local affairs to larger events that attract thousands of visitors. As autumn approaches, wine enthusiasts won't want to miss the cantine aperte, wine festivals where you can sample locally produced wines. One of the oldest wine festivals in Italy is the Sagra dell'Uva (Feast of the Grape) in the town of Marino, a small city located just southeast of Rome. While there are a lot of events that take place around the sagra, the center of attention is the town's fountain that flows with free wine.
The much-coveted truffle is touted at the International Alba White Truffle Fair, which takes place in Alba in the Piemonte region where the truffle is a treasured ingredient in local dishes. This is truly a top experience for Italian food lovers where you taste and buy truffles in their pure form and in every possible type of product.
From haute cuisine to traditional fun, the Sagra della Castagna in Scala, a mountainside village located between Amalfi and Ravello on the Amalfi Coast, celebrates the chestnut harvest in October with a big festival. After you've tried all the different dishes made with chestnuts, get a packet of fresh roasted chestnuts and watch local teams play at tug of war or cheer along with the locals for the donkey race through the town's charming piazza. It's an unexpected and delicious side of the Amalfi Coast!
This is just a tiny sample of the many different types of food festivals and experiences you can enjoy in Italy. Creating a guide to all of them would be a delicious yet impossible task. However, one of the joys of sagre is happening across them while traveling in Italy. We hope you'll comment and share your favorite food festival memories and experiences in Italy!