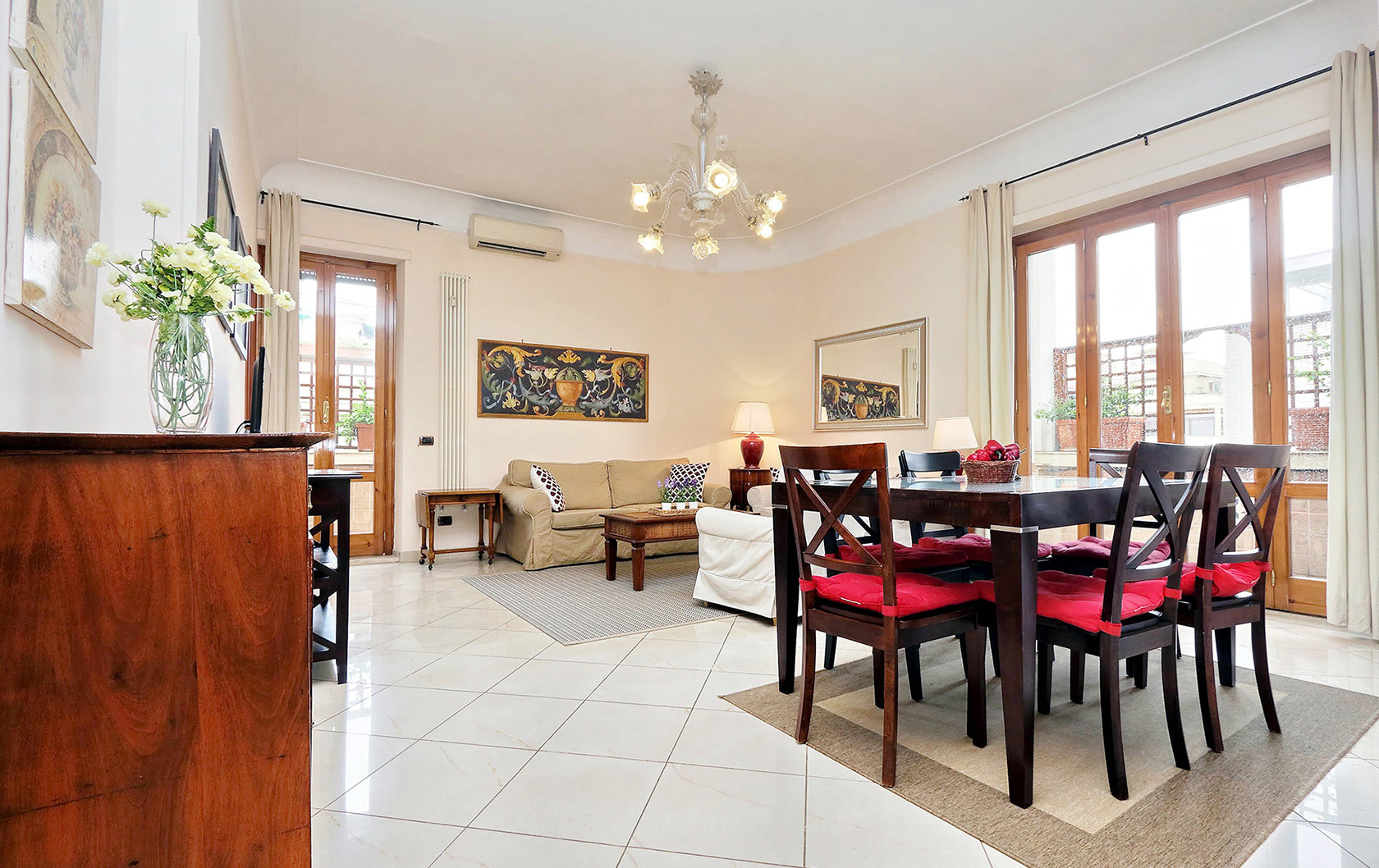 Renting a vacation home from Italy Perfect provides some unique benefits. If you are trying to decide whether a vacation home rental or a hotel is best for you here are some trade-offs to consider.

VACATION RENTAL PROS
More spacious than a hotel room
Price-per-night is usually lower, especially stays of 4+ nights
A living room for relaxing and for gathering
A kitchen so that you don't have to eat out every meal, saving money and allowing for casual dining with children
A washing machine (in most, a few even have a dryer)
A more authentic experience; live like a local
More special features, such as views or a terrace, at a better value than a hotel
Our photos and videos are accurate, you know exactly which apartment you are renting
A wealth of travel tips and information to help you plan your trip
VACATION RENTAL CONS
Fixed check in times in the late afternoon
Not good if you are arriving late at night
No concierge service for directions, luggage storage, transportation and restaurant reservations
No bellman to carry your luggage
Extra housekeeping, if available, is paid separately
No daily towel change
Toiletries – There might be a small supply but don't count on it. Plan to bring your own soap, shampoo, conditioner. There will be enough toilet paper to last a day or two, after that you purchase your own.
Kitchen – There might be a small supply of condiments, but a full selection is not guaranteed. Plan to get to the grocery store soon if you plan to cook to buy condiments, oil, vinegar, paper towels, paper napkins.
Wi-Fi is usually free
More restrictive cancellation and reservation change policy than a hotel
Not advisable for 1 and 2 night stays since the economics don't work. Many vacation rentals won't take a 3 nights reservation either.
HOTEL PROS
Front desk open round the clock and more flexible check in hours
Concierge to help you with directions, taxis, luggage storage, transportation and restaurant reservations
Bellman to carry luggage
Daily housekeeping & towel change
Toiletries provided
If you don't like your room, switching rooms is probably possible
Better for very short stays of 1 and 2 nights
More liberal cancellation policy
HOTEL CONS
Rooms in European hotels are usually tiny
You won't know exactly which room you will get, probably not the best one featured in the hotel's website photos and view unknown
Difficult to get adjoining rooms for families
No place to sit other than on the bed
Price per night usually higher versus a comparably located apartment
Room service, if available, is very expensive
Mini bar, if available, astronomically priced; expect to pay $15 USD for a can of Coke.
Laundry service cost is astounding and turnaround time is several days
Wi-Fi is usually an extra fee
More hidden fees, taxes, service charges
Expensive for longer stays of 4+ nights
Your confirmation will not include any materials such as tourism tips, tour guide suggestions, restaurant lists, shopping tips, and driver recommendations.