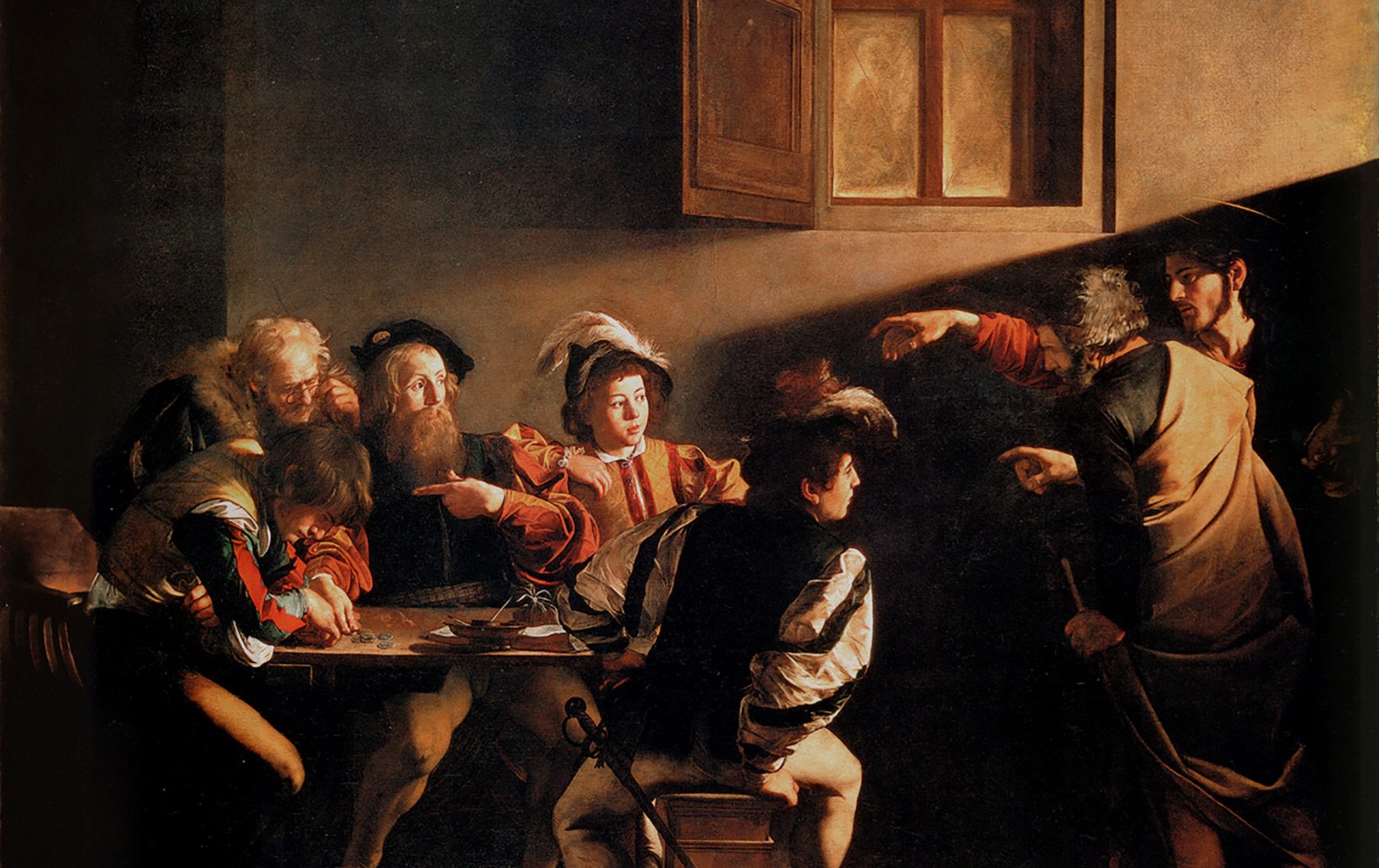 The greatest painter of the Renaissance was Caravaggio according to many experts. Born Michelangelo Merisi, his lively character and grandiose personality would rival modern celebrities. He arrived in Rome in 1592, a penniless painter's apprentice. A decade later he had become the most famous painter in the world as well as a gambler and a murdering outlaw! He left Rome in a hurry and lived as an outlaw for a few more years before dying of illness at 28 years old.
His painting was known for radical naturalism and chiaroscuro, dramatic light and shadow. In Rome you can find 18 of his masterpieces, many freely accessed in churches
How many have you seen? Please leave a comment!
Galleria Borghese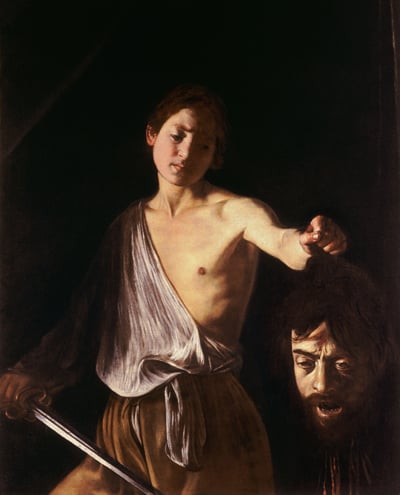 For a manageable "dose" of the best painting and sculpture, The Borghese Gallery is a must-see destination for all Renaissance art lovers. It has more paintings by Caravaggio than any other single exhibit. Boy with a Basket of Fruit, Sick Bacchus (self portrait), David with the Head of Goliath (right), Saint Jerome Writing, Madonna and Child with St. Anne and Portrait of Pope Paolo V.
Reservations should be made online, well in advance of your visit, as tickets typically sell out weeks in advance. The Galleria Borghese is such a well-known destination that visitors have a strict 2-hour time limit to view the entire museum. Pace yourself so you have time to enjoy the exquisite works by Caravaggio, sculptures by Bernini and Titian's amazing allegory, Sacred and Profane Love.
Church of San Luigi dei Francesi, Contarelli Chapel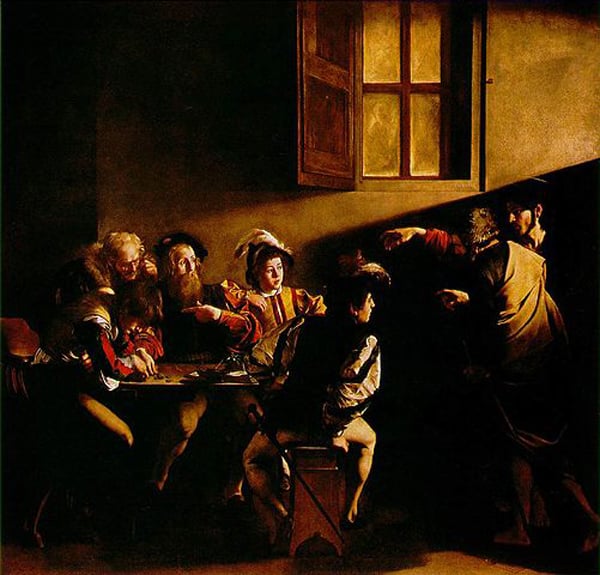 The Contarelli Chapel, in the far left corner of this dimly lit church, houses three of Caravaggio's best works. The Calling of Saint Matthew (above), The Martyrdom of Saint Matthew and the altar painting is The Inspiration of Saint Matthew.
While these three works are free to view, the Chapel is dimly lit and the coin-operated light requires a modest payment every few minutes. So bring a few coins with you to enjoy these public treasures.
The Church of Sant'Agostino, Cavalletti Chapel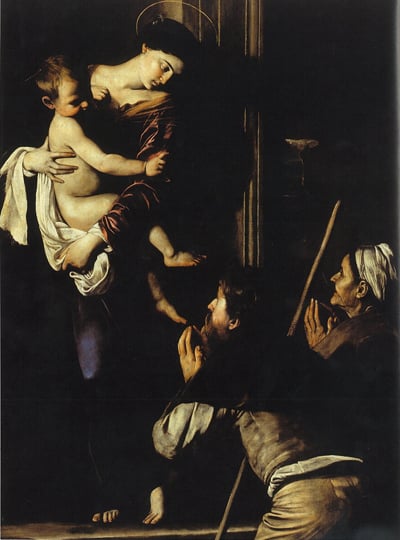 The Madonna of Loreto is the only painting by Caravaggio in this church that is very close to San Luigi. It is in the little chapel to your left when you enter the church. Bring a few coins to pay for light so you can enjoy this masterpiece of the common man. The painting is darkened with time but notice how the Madonna is barefoot just like the pilgrims. This was a scandalous detail during the Renaissance, depicting the Virgin Mary as if she is a commoner in front of a decrepit wall. Caravaggio displayed the divine in everyday life.
Where to stay near San Luigi and Sant'Agostino
The Pasquino apartment is a top floor, very comfortable apartment ideally located near Piazza Navona, one of the most sought-after locations.
Vatican Museum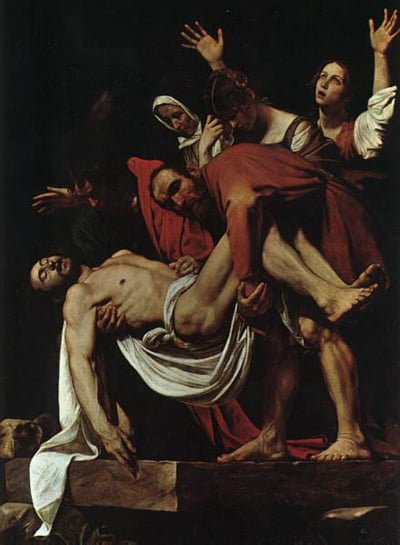 One the largest collections of art in the world, the Vatican Museum houses just a single painting by Caravaggio. The Entombment of Christ, a shockingly naturalistic depiction of Christ being lowered into his tomb.
The winding halls of the Vatican museum could take days to peruse, so it's a good thing they have a cafeteria in case you get hungry. Some other artworks worth seeing are the Laocoon and his Sons, The Transfiguration of Christ by Raphael and the extensive modern art collection.
Where to stay near the Vatican
Elegante offers large, luxury Roman living at its finest with 4 bedrooms.
Doria Pamphilj Gallery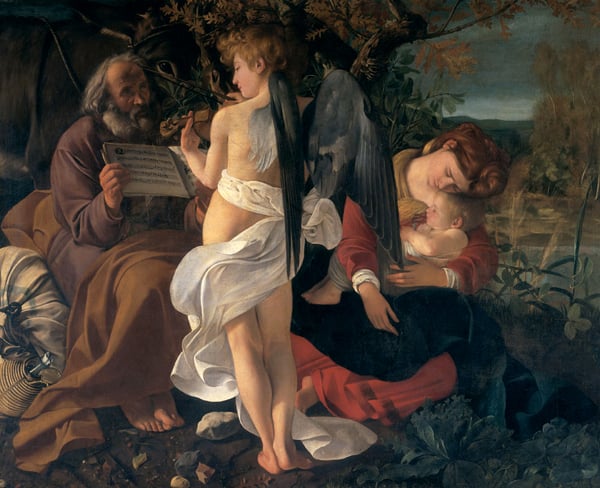 Located off the Via del Corso, the Doria Pamphilij is one of Rome's most central galleries housing a magnificent private collection . On display are two paintings by Caravaggio, The Rest on the Flight into Egypt (right) and Penitent Mary.
Where to stay near Via del Corso
Spagna is very fine in all aspects with the beauty of the terrace crowning your experience.
Bellina is a cozy and tastefully decorated apartment near the Spanish Steps.
Zegno is large and elegant, just a two minute walk from the Spanish Steps.
The Church of Santa Maria del Popolo. Cerasi Chapel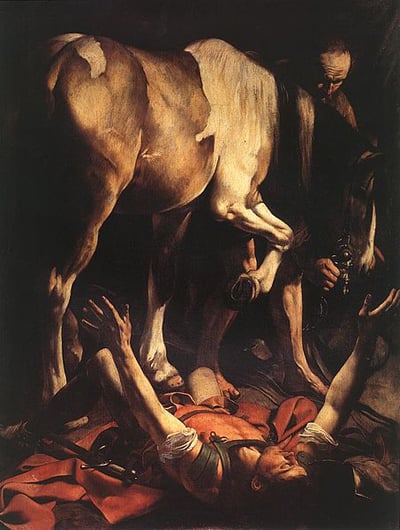 In the Cerasi Chapel at the far left corner of the Church are two paintings by Caravaggio, The Conversion on the Way to Damascus and The Crucifixion of Saint Peter. The Conversion is a revolutionary depiction of the subject. Christ appears to Paul on his crusade, stunning him such that he falls from his horse. More traditionally Paul is depicted beneath a rearing horse with heavenly light shining through clouds, blinding him. Caravaggio painted a purely psychological effect, that Christ appears to Paul within his own mind and that rays of light seem to shine out through him in the direction of his outstretched arms.
Where to stay near Piazza del Popolo
Bellina is a cosy and tastefully decorated apartment near the Spanish Steps.
Spagna is very fine in all aspects with the beauty of the terrace crowning your experience.
The Capitoline Museum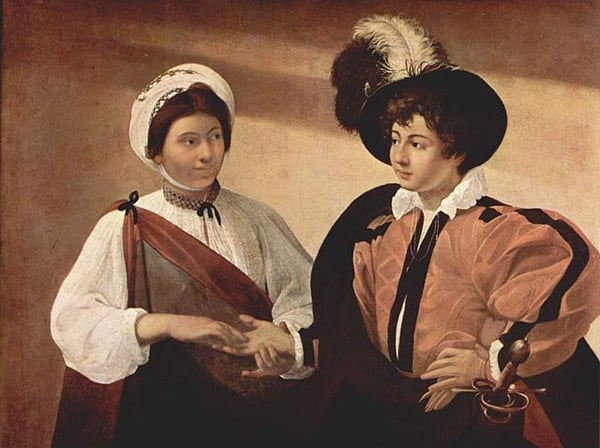 The Fortune Teller is exactly what the title describes. Although most of his commissions were religious, "genre art" was popular among the wealthy elite. This painting shows the kind of shared eye-contact that may be distracting him while she slips off the youth's ring.
It could take days to see the entire Capitoline museum, however there are many gems: Spinario, an ancient roman sculpture depicting a boy pulling a thorn from his foot and the She-Wolf of Rome are my two favorite sculptures worth checking out.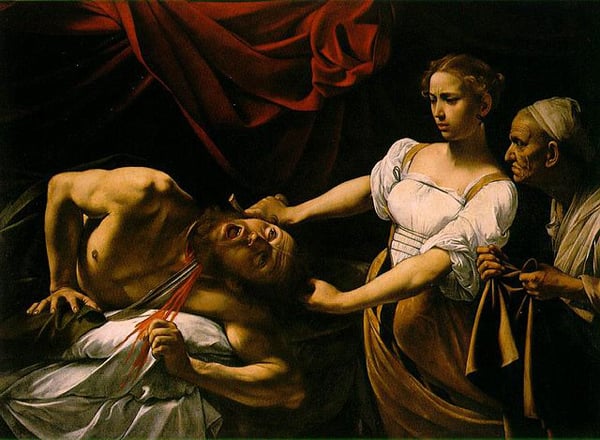 Caravaggio's depiction of Judith Beheading Holofernes is the most gruesome of his works. It seemed so gory during its day that it was said that young women would faint at the sight of such realistic blood.
However, this painting is not about blood, it is about facial expression. From the shock on Holofernes face, to determination on Judith and spite on the face of her maid, the drama of this story is told on their faces.
Casino Ludovisi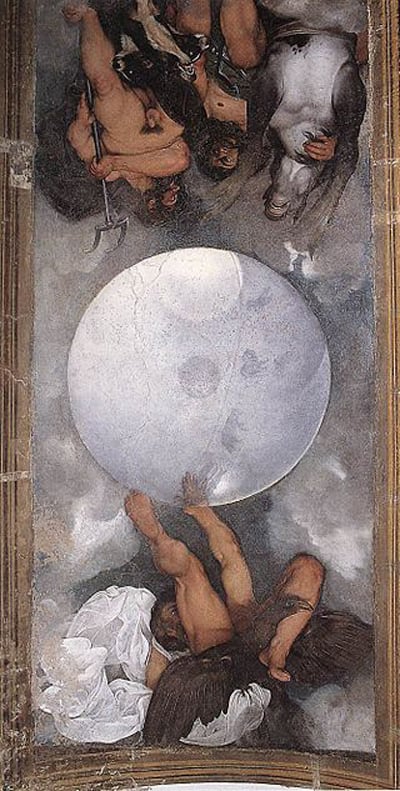 Jupiter, Neptune and Pluto is the last on this tour of works by Caravaggio in Rome and is his only known fresco. He painted it in oil on plaster, as opposed to traditional fresco techniques. Jupiter, Neptune and Pluto are each identified by their beast. Jupiter with his eagle, Neptune with his hippo and Pluto with Cerberus, the three headed dog.
Each figure is painted in perspective from below, a technique known in Italian as In Situ di Su. Supposedly he painted this dramatic foreshortening to prove to his critics that he was also a master of perspective. Advance arrangements required to visit.
Read this true story [The Lost Painting] of a lost Caravaggio and how it was discovered. Includes insights into the mind of the artist and his short life.