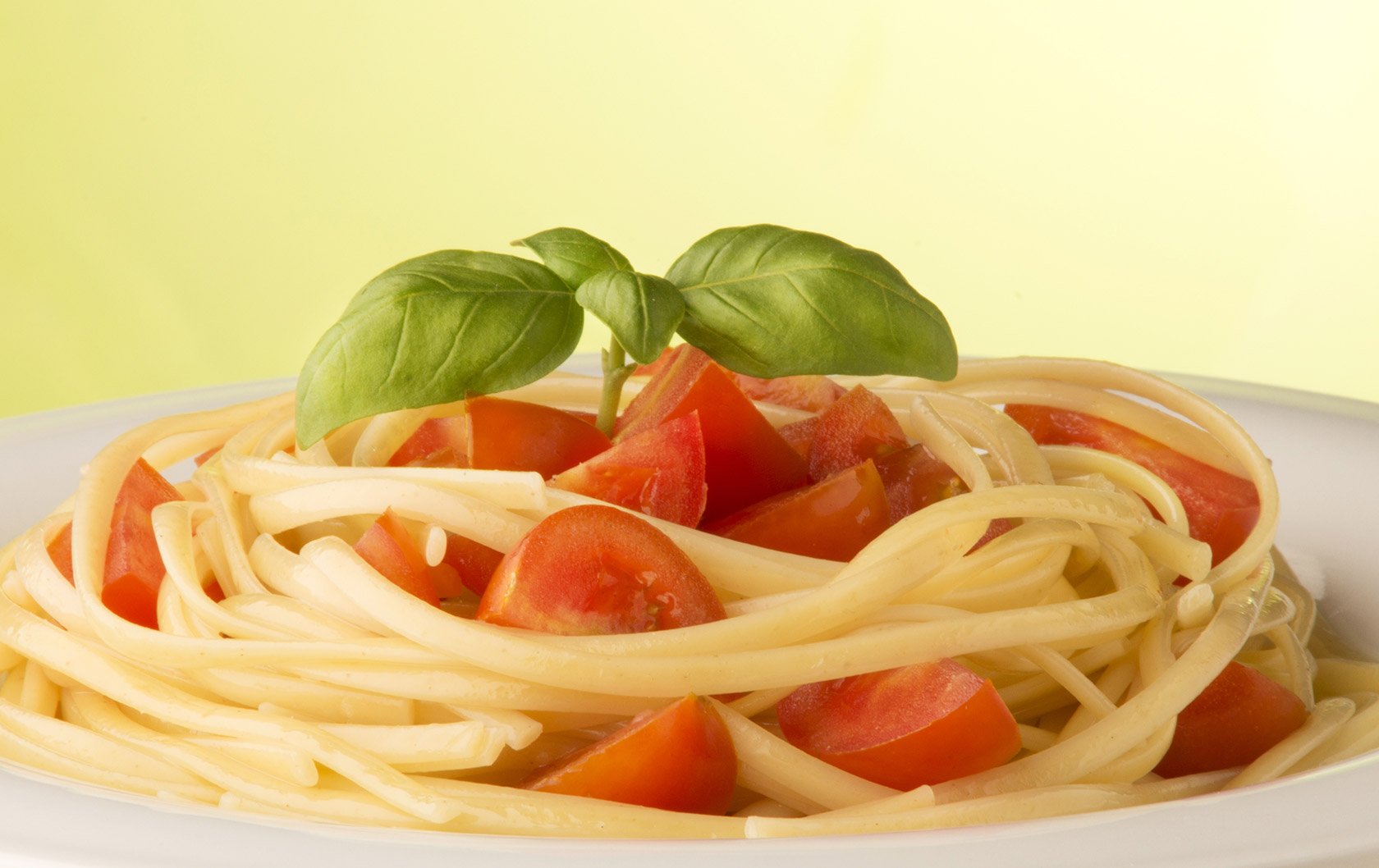 Italy offers an overwhelming number of traditional pasta dishes. The array of shapes, sauces, meats, and cheeses is daunting, and any true foodie will try them all!
Spaghetti al Pomodoro
While spaghetti dates back to the twelfth century, the first formal recipe for spaghetti al pomodoro did not appear until 1839. This simple dish is often considered the original – consider it the Nonna (grandmother)  of all great pasta dishes. The traditional recipe calls for fresh tomatoes, cooked with garlic, olive oil, and salt and served over al dente pasta. Fresh basil can be added for extra flavor. You can enjoy this dish anywhere in Italy, delicious everywhere.
Fettuccine Alfredo
It is hard to go wrong with a dish that revolves around a creamy cheese sauce – and it is impossible to go wrong by ordering a plate of Fettuccine Alfredo. Named for its creator, chef Alfredo di Lelio, the dish and restaurant was a favorite of movie stars. This dish was first served in Rome in 1914. What better place to try it than Alfredo's own restaurant: Alfredo alla Scrofa.
Pesto Genovese
Another classic pasta sauce pesto originates by the sea in the Genoa region of Northern Italy, and is traditionally made with garlic, basil, pine nuts, grated cheese, and olive oil.  It now can be found throughout Italy. The Wall Street Journal hunted down some of the best, including Mangiobuono in the old town of Genoa.
Gnocchi
A rich potato dumpling, gnocchi are a specialty of Northern Italy – where the colder weather provides better conditions for growing potatoes. They can be served with any of a number of sauces, from the go-to marinara to a simple light butter sauce, or mixed with any number of meats or vegetables. Osteria Santo Spirito in Florence is one of the top-ranked places to try gnocchi, so if you are in the neighborhood stop in for a bite!
Pasta alla Puttanesca
Perhaps the most scandalously named pasta dish Italy has to offer – "streetwalker" style pasta puttanesca leaves nothing to be desired. With tomatoes, olives, capers, anchovies, onions, garlic, and herbs, there is so much to love! This exuberant dish originated in Naples, thus the best place to try it might just be Ristorantino dell'Avoccato in Naples.
Spaghetti alla Carbonara
This is considered a Roman dish where tradition is that this is the style of the charcoal makers – they would toss pasta with cheese and egg in a skillets over their fires.  Another theory is that the recipe was invented around 1944, when the people of Rome were living on military rations of powdered egg and bacon. Whatever its origins, this is a delicious dish, and for the most authentic bite you should try it in Rome. L'Arcangelo is a good place to start, and fear not! While this dish appears decadent, it is made with egg rather than cream – so there will be room for gelato.