Packing for a trip can be one of the most daunting aspects of travel planning. We're often asked for advice on what type of purse to carry.  Shoulder, cross body, tote bag, backpack?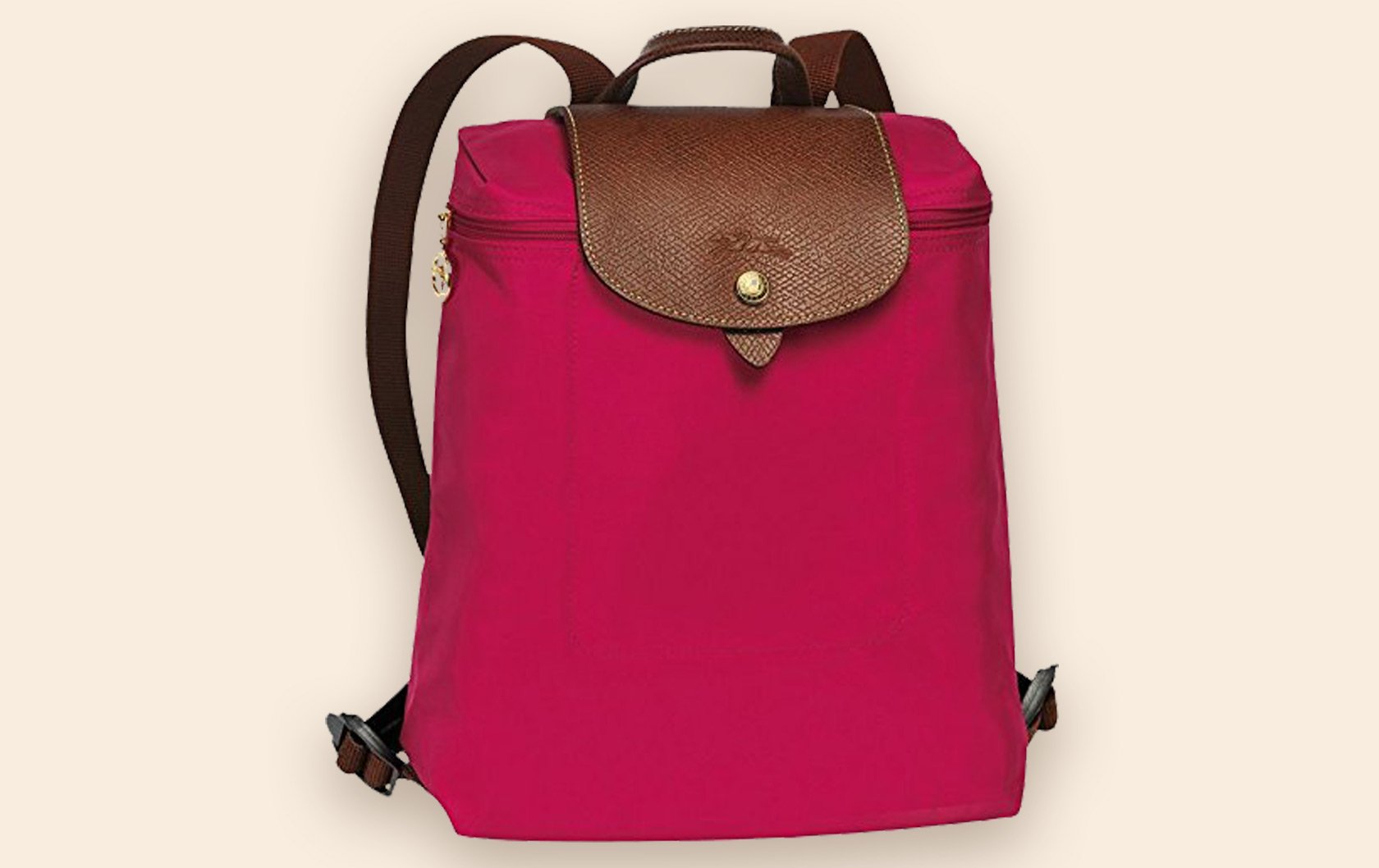 My vote is for a small, lightweight backpack.  I've tried many different types of travel purses. It's important to get it right especially when I'm on the road for weeks at a time & walking up to 10 miles per day. One year I had the bad idea to bring a stylish straw tote bag to Italy for the summer, it was too bulky to carry long distances, was open at the top so not secure & scratched my arms & legs endlessly. While I might have looked fashionable, it was impractical. My current favorite travel bag is the Longchamp Le Pliage nylon and leather backpack, a gift from my daughter (thank you Tess!) after I kept borrowing hers. It's light, durable, saves my back and shoulders, holds all my essentials & packs down to nothing if I need to put it inside my carry-on due to airline restrictions. For a small backpack it is surprisingly roomy too, you can fit a sweater or travel umbrella in it too. It has a little internal pocket that fits a passport and phone.
Here are the essentials that go into my backpack when I'm traveling.  Key takeaway: less is more. Like my comfy travel walking shoes, I never use the backpack when I'm home but it is my go-to "handbag" when I travel.

Passport
Phone
Slim wallet with two zipper compartments for different currencies. Tip: before your trip remove extra credit cards, affinity & gift cards.
Pen & a tiny spiral notebook. Yes, I'm the person on the plane with a pen that my seat mates borrow when it comes time to fill out the customs declaration card. What with smart phones a lot of people forget to bring a pen.

Small water bottle (I nab a small water bottle on the flight over and refill as needed since the really small ones are hard to find.)

Small pack of tissues
Liquid hand sanitizer
Small pack of wet wipes. Okay, I seem like a germaphobe, but on a hot day when you are sightseeing, you'll thank me.
Lip balm with sunscreen & lipstick
Small tube of sunscreen
Sunglasses & reading glasses
A foldable hat, cotton (summer) or fleece (winter), if needed. In winter I swear by a trusty French wool beret that I've had for years.
Shopping bag in a pouch. You never know when you're going to need a nylon shopping bag.
A zippered see-through mesh pouch to hold lip balm, lipstick, property keys, passport so they don't go astray.
If the occasion demands I also pack a small flat evening purse, but frankly rarely wind up using it unless going to a really fancy restaurant.
Keeping items to a minimum makes it easy to keep track and stay organized. That's it!