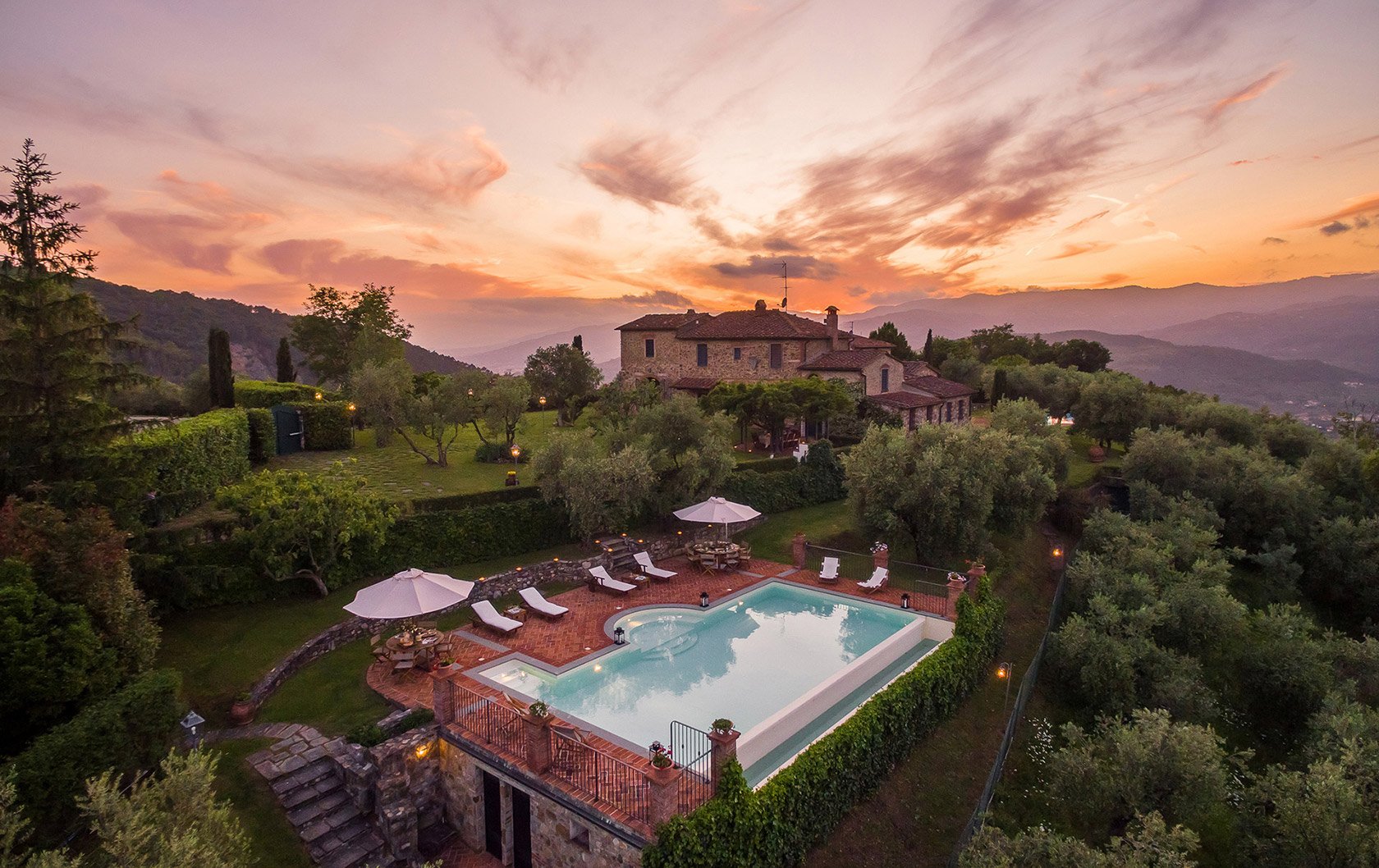 AFAR magazine, a leading travel publication, recently interviewed Italy Perfect founder Lisa Byrne for their April 25, 2017 article "How to Rent a Villa in Italy".  The article offers practical advice and insights that range from how far ahead to reserve to what to expect in terms of price and amenities. The bottom line is that its easier than you think to rent a wonderful villa in Italy if you have help from an expert.
If you are dreaming of a wonderful vacation with family or friends to a country or seaside villa in Italy, we can help! We personally inspect and "test drive" every villa we offer to understand the special features, so that we can match your needs and wishes to the villa. Not all villa inspections are as glamorous as you might imagine; we reject many that don't meet our standards, sharing laughs and frustrations when, upon personal inspection, a promising villa disappoints with negative aspects not obvious in flattering photos or dreamy descriptions. Memorable rejections include an impressive villa that – surprise, surprise – was within earshot of a high speed train that roared by every 30 minutes!  A villa we nicknamed the "Chair Museum" was filled with museum-quality antiques– with many chairs and sofas roped off, so you couldn't sit in them!  Our funniest was the villa we dubbed 'Fawlty Towers' where a workman accidentally cut the power line on a sweltering August day; it was 3 days before an electrician showed up. To top it off there was a church directly next door with loud bells that rang every hour all day and night!
In addition to the useful information in the AFAR article, here are some handy tips to help you find the perfect villa for your Italy stay. There is still some summer 2017 availability, but best to plan 6 to 12 months in advance for best selection. Contact the Italy Perfect experts.   Email: [email protected]  Phone: 1.888.520.2087 or 1.424.223.5669
•  Where should we stay? There is much beauty in Tuscany and the Amalfi Coast to enjoy. These are world-class destinations for good reasons: gorgeous views, scenic towns, wonderful food and wine, and a rich cultural heritage. Destinations that are a short drive to a town or village, preferably with a train station, tend be the most popular. If the villa is a short drive to town it provides some autonomy to make day trips by train without having to always stick together as a group. Some can lounge by the pool while others go forth to sightsee and shop.
For families, locations that have a pool for fun downtime in summer and things to do that are enjoyable for kids – think pizza-making class, horseback riding, bicycling through vineyards, easy day hikes or a ride on a funicular. For romantic getaways, consider an "agriturismo" a converted farmhouse that can be organized into several smaller units that provide peace and tranquility but are well situated for day trips to medieval villages, wine tasting and have a nearby town for a romantic dinner.
• Can we walk to town? The truth about "Walk to Town" is that villas where you can walk to town are few and far between. The nature of country properties tends to be based on an agricultural setting, where there is ample land for growing grapes and olives, so they tend to be outside of town, not far, but typically not easily walkable on a country road. In-village villas may be appropriate but please be aware that then they are in urban or suburban locations without the vistas across the hills, vineyards and orchards, less privacy, and possibly subject to in-town noises like traffic.
• Do we need to rent a car? If you are staying in the countryside you will need to have a car or two to get around to see the sites, reach restaurants, small village with no train station, or even for destinations things like a pharmacy or a quaint country trattoria. A private driver can be a good choice for day excursions so you can enjoy the ride, taste the wine and views without fear of getting lost
If you stay in a city you don't need a car. You won't be staying in a villa however, but in an apartment. For some, a city stay instead of a country villa is just as interesting, and gives families and friends the ability to be independent from the group for a bit, such as young adults who might not want to be with mom and dad the entire time. Groups of friends can break off to pursue separate interests, whether it is taking a tour, a cooking class, sitting at an outdoor café or shopping without having to coordinate agendas with everyone, while enjoying cocktails and dinner together. Day trips into the beautiful countryside that surrounds the cities are easy and round out the experience with wine-and olive-tastings in a vineyard, visits to fortified hill-towns, and peaceful vistas.
• What are the best values? Multi-unit Tuscan properties that offer extra services such as hikes, cooking classes, winery tours are great for smaller parties or a larger group when everyone doesn't have to be under the same roof. A shared pool can be fun for kids to meet other children to play with. We have beautiful properties where grandma and grandpa can have their own cottage, while the rest of the family are in their own villa on the same estate, they can enjoy ample time together but can take respite in separate quarters, providing vacation harmony. Another nice feature is estates with multiple units that also have private on-site restaurants for their guests. Italy Perfect's Bucine, Borgo and Villa Mare-Villa Sole villas are good examples of multi-unit properties that offer good flexibility for a group. Full details at www.ItalyPerfect.com.
• Will the villa be air conditioned? A private chef? Daily housekeeping? Is the road paved?
The shortest answer is "It depends". Each villa is a unique home so the features vary. Read the property details carefully and ask for more information if it is not clear.
Here are some pointers:
Find out if the road to the villa is paved. If not, how far on unpaved roads.
Pools are usually not heated. If a property has a heated pool you may have to pay an extra fee to have the pool heated during your stay. Pools are typically not maintained in winter; being prepared for the summer season by early June and closing in early-to-mid September.
Air conditioning is not pervasive yet throughout Italy. There is AC in most city properties but there are many exquisite country properties that do not have AC. You'll severely limit your choices if AC is a must-have in the countryside where breezes and thick walls ensure a cooler experience than in the cities. If it lists AC, ask which rooms.
Window screens are not common either. More properties are adding them but there won't be any screen doors, so even if the windows have screens, a pesky mosquito can still find its way in through open doors. Bring mosquito repellent.
Most villas have washing machines, few have clothes dryers.
Luxury villas that include an on-site housekeeper anticipate a tip in the range of €100 Euros/couple/week.
Quality of Wi-Fi is often an issue at country properties where thick walls, remote locations might mean only one spot on the premises with a strong Wi-Fi signal. Time to get into vacation mode and unplug!
The relative tranquility of a country setting still has its noises, so don't expect absolute silence: anticipate roosters, farmer tending to crops, a dog barking in the distance and the rumble of farm vehicles.
Most villas rent Saturday-to-Saturday during the high season, so plan your travel based on that. On the other hand, most city properties can take shorter stays and have flexible arrival dates.