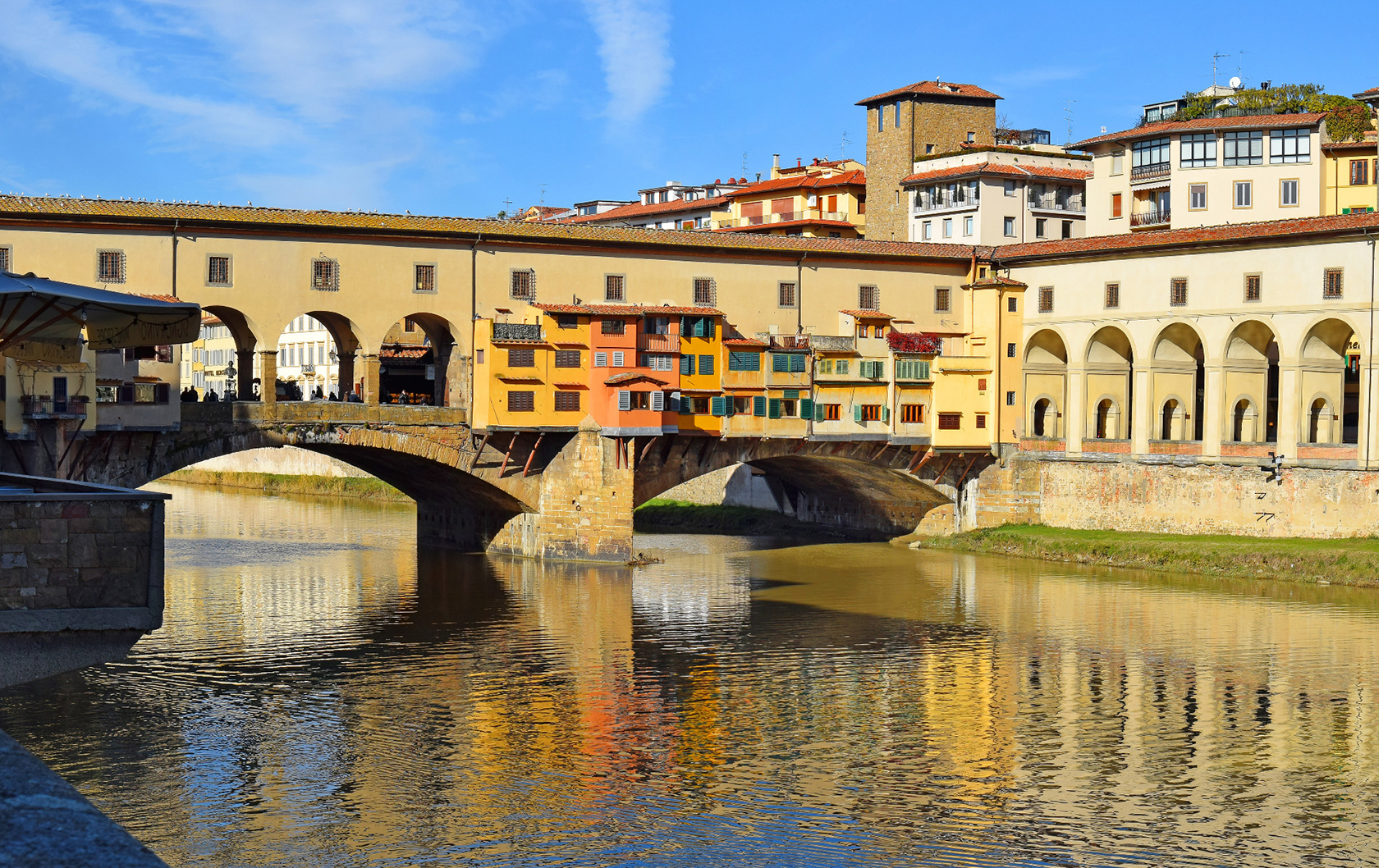 When we expanded our popular co-ownership program from Paris to create Italy Perfect Shared, there was one location at the very top of our list. Florence! A true Renaissance gem, Florence is the perfect spot to fall in love with the Italian lifestyle. It's full of charm and incredible history – and is the most convenient home base for exploring Tuscany. From a vibrant expat community to fine weather, plenty of history and great livability, there was simply no place better for our first co-ownership property in Italy. We're sharing 5 of our top reasons that you'll love living in Florence.
If you'd like to call Florence home, contact our team at [email protected] to find out more about Italy Perfect Shared. Let us help make your dream of living in Italy a reality!
#1 – Language
Florence is a city where English is widely spoken, making it easy for expats to integrate and communicate with locals. That being said, Italian is a beautiful language and learning it in Florence is an excellent opportunity. Just imagine learning or improving your Italian in the birthplace of Dante, known as the "father of the Italian language." By immersing yourself in the language and culture, you can accelerate your language learning and gain opportunities to practice speaking with locals. There are also plenty of language schools where you can take lessons at whatever level you are at!
#2 – Natural Beauty
Florence is situated in the heart of Tuscany, which is known for its breathtaking countryside views. The rolling hills, vineyards and olive groves are perfect for outdoor activities such as hiking and biking. The best part is that you don't even need to leave Florence to enjoy fine walks and captivating natural views. One of our favorite Florence walks leads from the center of the city through the Oltrarno neighborhood up to the Piazzale Michelangelo and San Minato al Monte. You'll be surprised by how many beautiful green spaces there are right in the city!
#3 – Rich Cultural Heritage
Florence is home to some of the world's most renowned museums, art galleries and architectural wonders. It has a rich history, which dates back to the Renaissance period. If you're looking to experience a new culture and immerse yourself in history, Florence is a fantastic home base. Even if you've seen the Uffizi and Pitti Palace, there are many fascinating small museums, historic houses and churches full of art and history to discover. Just check out these six hidden gems in Florence for more inspiration!
#4 – Weather
Florence benefits from a mild Mediterranean climate, featuring warm summers and mild winters. While Florence does have all four seasons, the highs during the winter months are still in the 50s F on average. For those seeking refuge from harsh winters and extreme weather conditions, this is an attractive prospect. Imagine having a home base in Italy where you'll find enjoyable weather throughout the year!
#5 – Community
Florence boasts a thriving expat community, providing newcomers with an excellent opportunity to connect with like-minded individuals. Additionally, with the city being highly walkable, you're likely to encounter new people daily while exploring its streets. Even better, organizations like The British Institute have excellent programs, classes, concerts and opportunities for networking, learning and socializing while you're in Florence.
Your Home in Italy with Italy Perfect Shared
If you've been dreaming of living in Italy, our co-ownership program, Italy Perfect Shared, can get you there! With Italy Perfect Shared, you physically own a portion of a beautifully remodeled, luxury apartment in the heart of Florence, allowing you to participate in the real estate value of the property. What's even better? Since shares are fully deeded, they can be sold or passed on to loved ones, providing a secure investment in your future.
Don't wait any longer to make your dream of living in Florence, Italy a reality! Italy Perfect Shared provides a hassle-free solution to owning a home overseas while allowing you to relish the la dolce vita lifestyle. For further information, please reach out to us at [email protected] or read more about the Maestro and Italy Perfect Shared.