What's not to love? The Angelina apartment in Rome has it all. Many guests choose this apartment to celebrate their special milestones. No matter the occasion, the memories linger of this special apartment, located in the heart of the Eternal City.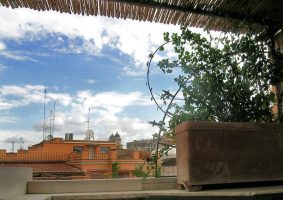 The appeal starts with both a balcony and a terrace where you can enjoy the mild Mediterranean weather 9 months of the year. From the balcony off the living room, you can appreciate the fluid baroque architecture of the church across the way, and below, the neighbors buying their newspapers at the newsstand, going to church and tourists enjoying the local shops and restaurants. From your very own rooftop terrace, gaze on the timeless panorama of Rome with the dome of St Peter's basilica on the skyline. The Angelina apartment is a 2-minute walk from the Spanish Steps, a popular area for shopping. Because of the position of the apartment in the building, it is also quiet!
The decorating is a tasteful combination of modern and Art Deco antiques. The living room and dining rooms accommodate all guests comfortably. The kitchen is small but complete. The bedroom has a queen size bed with en-suite bath. Also off the bedroom is a laundry room that has, itself, a nice view. Stairs rise from the living room to a loft that has a single bed and credenza.  From the entry foyer, a spiral stair case climbs to the terrace that has a table for you to enjoy a meal or beverage with a wonderful view.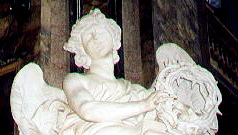 The name Angelina reminds us of two angel statues by the famous sculptor Bernini that live in the church across the street, Sant'Andrea delle Fratte. They were the models for his students to sculpt the ten angels on the Bridge of Angels that crosses the Tiber River in front of Castel Sant'Angelo. Hunting for the works of Bernini in Rome is a delightful pilgrimage.
Let the Angelina apartment enchant you in the Eternal City.