Orvieto is a gem of a town in Italy. Perched high atop an Umbrian hill, it has beautiful spaces, dramatic views, famous art and dramatic history for visitors to enjoy. The old part of the city is a bit of window into the past because it is virtually traffic-free.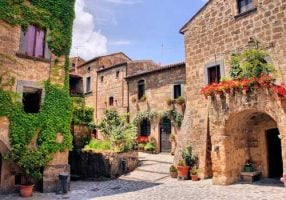 Only an hour-and-a-half north of Rome, the walled city of Orvieto is a great place to experience an ancient, important hilltown. It is convenient too, since it is fairly easy to reach from Rome or Florence.
Easy daytrip from Rome. You can even take the train. Or, for a relaxing outing we can recommend a private driver who will organize a day excursion so you can relax and take in the scenic views along the road.
Convenient drop-off point for a rental car when traveling to or from Rome, avoiding all traffic around the city…and you can visit the charming town and then hop on the train to Rome.
Stopping point for trips between southern points and northern ones. Nice to get off the highway and have a delicious lunch in the piazza.
Continue reading Orvieto, Hill Town Jewel, Easy Day Trip from Rome →